Estimated read time: 2-3 minutes
This archived news story is available only for your personal, non-commercial use. Information in the story may be outdated or superseded by additional information. Reading or replaying the story in its archived form does not constitute a republication of the story.
SALT LAKE CITY — El Departamento de Transporte de Utah está informando a los automovilistas que habrá una división de carriles en vigor en la I-15 en el sur del condado de Davis que se extenderá a la 2600 South en Bountiful a partir del martes, 3 de febrero.
Como parte del proyecto de mejoras de la I-15 en South Davis, las divisiones de carril minimizaran los retrasos de tráfico, permitiendo a las tripulaciones reemplazar los puentes sin cerrar partes de la autopista. Las divisiones se están extendiendo hacia el sur, mientras el trabajo en la 2600 comienza el intercambio sur de la I-15.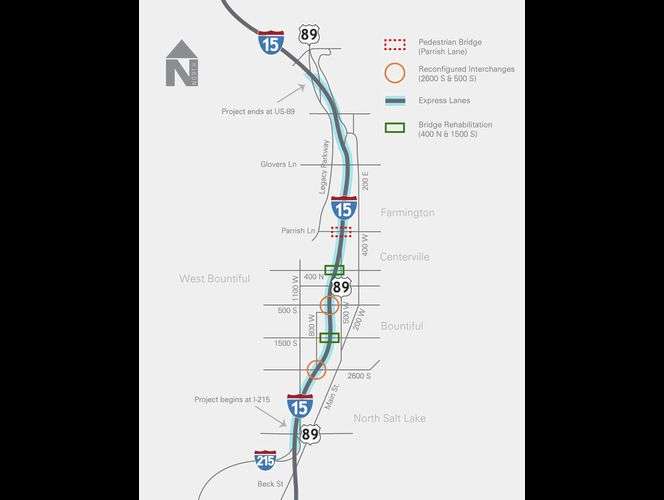 La extensión hacia el norte de la división afectará las salidas de Bountiful 2600 South, 500 South y 400 North. La noche del martes, hacia el norte la I-15 se reducirá a un carril mientras los equipos redefinen la I-15 entre la 2600 South y la división existente.
Las divisiones de carril en el sur ahora afectarán a la 500 South (state Ruta 68) y la salida de la 2.600 South. La autopista I-15 se reducirá a un solo carril para ser arreglada la semana siguiente, el martes 10 de febrero.
El límite de velocidad se reducirá a 55 millas por hora en las zonas de carriles divididos. Se anima a los conductores a prestar mucha atención para a los cambios de señalizaciones y cambiar a los carriles de la derecha lo suficientemente temprano para salir con seguridad. Para la north I-15, la división comenzará entre la I-215 y 2600 South en Bountiful. Para south I-15, los conductores que salen a 2600 Sur entrarán en los carriles de la derecha antes de la 500 South en Bountiful.
Una vez que las divisiones de carriles se extiendan, la construcción incluirá el reemplazo del puente en la 500 South y 2600 South y las operaciones de pavimentación. La construcción de la nueva modificación de flujo continuo de empalme, o MCFI, comenzará para el tráfico hacia el oeste en la 2600 South al dirigirse al sur de la I-15.
×
Most recent News stories