Estimated read time: 5-6 minutes
This archived news story is available only for your personal, non-commercial use. Information in the story may be outdated or superseded by additional information. Reading or replaying the story in its archived form does not constitute a republication of the story.
ALBUQUERQUE, N.M. — There was a point in Saturday's Gildan New Mexico Bowl when Utah State could've been the first team in the Football Bowl Subdivision to play five quarterbacks in a season.
The Aggies held a 7-3 lead in the second quarter when freshman Kent Myers took a snap just after picking up a first down at the Utah State 32-yard line. Myers looked downfield, back pedaled a few steps before falling to the turf in a heap when UTEP's Adrian James slammed into him. James jarred the ball loose and Miner teammate Alvin Jones dove on the fumble just 24 yards from the end zone with a little less than five minutes left in the half.
Myers left the game but returned before the end of the Aggies' next offensive possession to finish the 21-6 win and earn offensive player of the game honors in Utah State's third straight bowl win.
"It's a part of college football like coach said," Myers said. "Even if I was hurt, I was going to go back in anyways, send my seniors out right, come out with the 'W.' Regardless, I was going to come out and just play hard. I just wanted to go back out there and battle for my team."
The Aggies, like they have through the season-ending injuries of three quarterbacks before Myers, rallied on defense, forced a UTEP fumble with the short field, then started to rally around wide receiver Ronald Butler.
Butler, a former high school quarterback who has thrown two touchdown passes in 2014, ran for a New Mexico Bowl-record 61 yards on his first play as a signal-caller, then rushed for eight more yards on the next official play from scrimmage.
By that time, Myers was ready to come back in.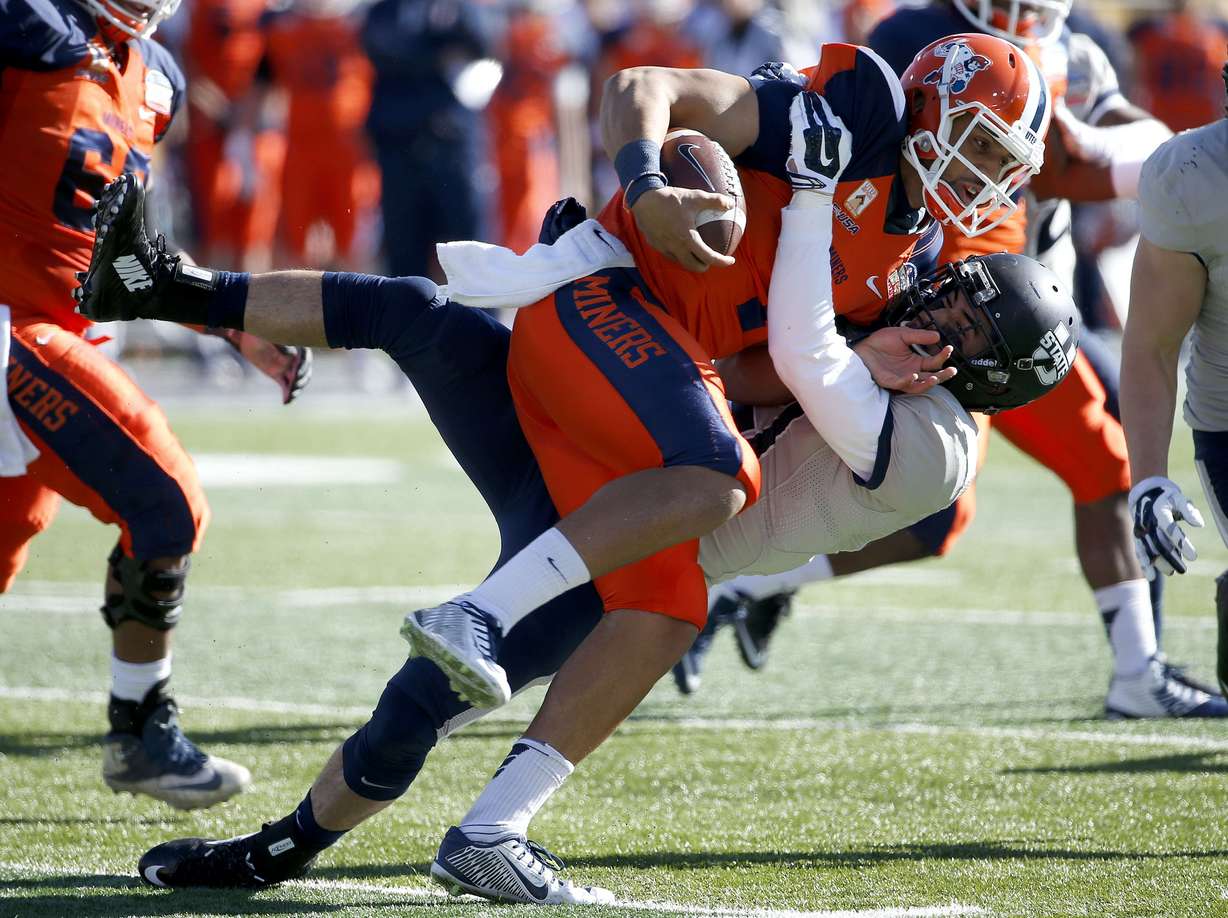 When the Aggies needed to rally, they've done so with remarkable consistency. Losing three starting quarterbacks, two wide receivers and three linebackers at various points of the season can damage any team's psyche, but Utah State showed heart throughout 2014, culminating in a 10-4 season and the second-most wins in program history (behind only the 12-win team of 2012).
The attitude has been individual, as in the case of Myers, as well as collectively around the team.
"I don't think you become tough and I don't think you become resilient right in the middle of the season when adversity hits," Utah State coach Matt Wells said. "You learn how to face adversity in the offseason in football. That's called January, February, it's called June and July. That's when we win games around Utah State; the time when none of (the media) are around, nobody really wants to do it. That's the hardest month at Utah State.
"When guys go down, we wrap our arms around the new guy and we play a little bit better around him on the other side of the ball. That's been the recipe."
When Myers came back into the game, his speed and ability to scramble — gaining positive yardage from a broken play or superior coverage — was crucial to the Aggie offense. Myers accounted for 138 of Utah State's 347 yards of total offense with 70 yards and a touchdown on 15 carries and 68 yards on 5-of-12 passing.
On the Aggies' second offensive possession, Myers looked downfield on a zone read, then found himself all alone on the left side of the pocket. The teenager from Rowlett, Texas, sprinted toward the sideline, got a downfield block from receiver Devonte Robinson and jumped across the goal line to give the Aggies a 7-3 lead — the only lead they would need on the day.
"They're a great defense," Myers said in complimenting UTEP's front seven, which finished with five tackles for loss and four sacks. "I took the opportunity when I saw the hole to take. With the carries I got, the majority of them were reads. I'm just reading my defender and going with it."
When Myers wasn't scrambling, handing the ball to linebacker/running back Nick Vigil eight times for 34 yards and a score, or throwing the ball to Hunter Sharp and JoJo Natson, the Aggies backed him up the way they have all year: with hard-nosed, stingy defense that allowed the fewest points since Nov. 7 at Wyoming.
"We wanted to come out and prove we were good," senior linebacker Zach Vigil said. "(UTEP is) a good football team, so give them credit. But for the most part, I think our defensive line did a really good job of keeping the O-linemen off of us."
Related Story:
The Vigil brothers combined for 16 tackles and a tackle for loss, and safety Brian Suite offered a season-high eight tackles in his final game with the Aggies. Suite and Zach Vigil joined fellow seniors Frankie Sutera and Kevin Whimpey as the game's captains. Sutera became the only Utah State player in program history to play in four bowl games, accumulating four tackles and a sack against UTEP. Those senior defenders have been a big part of Utah State's 30 turnovers on the season and 77 in the past 37 games.
In fact, Utah State's 21 points were the second-fewest by a winning team in New Mexico Bowl history. The Aggies barely surpassed the record in the final minutes with Joe Hill's first touchdown since Oct. 25 against UNLV. San Jose State scored 20 points in a win during the 2006 New Mexico Bowl.
The stiff defense and strong leadership has been witness to a culture change in Logan over the past four seasons. Before Utah State's recent string of bowl games, the Aggies were 1-5 in the postseason.
After going 3-1 in four straight bowl appearances, the Aggies are 4-6 — with the first three-game bowl winning streak in school history.
"I'm a firm believer that when you structure a program, you can't have rules without relationships," Wells said. "That's big in our building.
"The relationships we have with the players, that they have back, I think it's pretty deep. It matters. It really does. But unless the kids are willing to open up their heart and be coached hard, to be loved hard, to be held to a really, really high standard of discipline on and off the field, it's not going to work. So ultimately it's always on the players to be very, very coachable and have open hearts. That's what's changed right now."
×
Related stories
Most recent Sports stories