Estimated read time: 4-5 minutes
This archived news story is available only for your personal, non-commercial use. Information in the story may be outdated or superseded by additional information. Reading or replaying the story in its archived form does not constitute a republication of the story.
SANDY — A recent Utah Supreme Court ruling has unintended consequences for many foster families who decide to adopt. They're now facing huge legal fees they never saw coming.
Jackson, 3, and Liam, 6, are now part of one big family. It's hard to imagine the lives of these two carefree brothers were once anything but carefree. Jackson was just 16 months old when he was taken in by his new foster family. They say he had been abused.
"Just changing a diaper for the first time, he went white, pale, his body went stiff, his hands went up, it was just the scariest thing," remembers Doug, his foster dad.
Foster mom Janet told KSL, "I literally held him for four days. I could not put him down he was so afraid."
Liam was only 4 years old when he was taken in.
"He was having trouble getting along with other kids, and we're in the car and I said, why are you hitting?" Doug recalled. "And he goes, ''cause everybody hits me.'"
The boys came from a troubled home where police officers were seen as the bad guys.
"He was scared to death of policemen because policemen were the ones that came in the middle of the night and took them away," said Doug.
Two and a half years later, the boys were taken away from their parents and placed in foster care with Doug and Janet's family. Foster care is a cause very close to their hearts.
Rewind 50 years, to 1962. A front page article from the Salt Lake Tribune shows four children discovered in a filthy home. A baby was found in a crib with a bottle full of curdled milk.
Janet was one of those children. She was only 2 years old when she and her siblings were left for four or five days alone. Her mother was charged with child neglect. The children all went into foster care.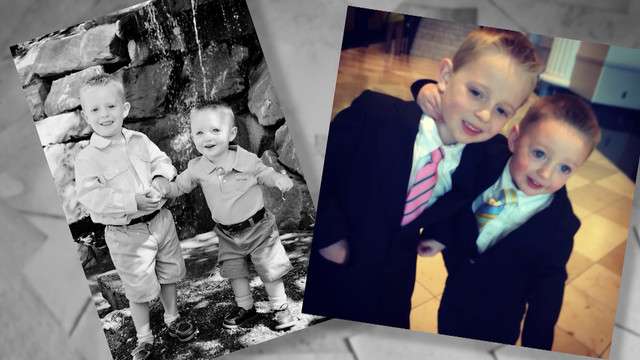 A child of the system, Janet always wanted to be a foster parent. She and Doug brought Jackson and Liam into their home. They decided to adopt the boys the following year after a judge determined their parents were unfit to care for them.
"It's like they're your kids," said Doug. "You can't imagine at this point someone taking these kids away from you."
But that's exactly what happened when the boys' aunt came forward also wanting to adopt.
When a child goes into foster care, the Department of Child and Family Services (DCFS) searches for relatives who want to take them. In the past, if no one came forward in four months, the foster family got preference for adoption.
In Jackson and Liam's case, their aunt came forward after that deadline. But it didn't matter, because a Utah Supreme Court ruling in 2013 changed everything. The ruling basically said forget the deadline, anyone who wants to adopt the child can throw their name in the hat, anytime.
That meant a hearing and for Doug and Janet, it meant a full-blown trial with lawyers, witnesses and court costs that just kept going up and up.
"This family versus this family, which one is the best for these kids?" said Doug. "It's not cheap at all."
The final bill was more than $35,000. The family believed DCFS would cover the fees, but the state can only pay up to $2,000 per family.
"In a normal situation it would more than cover the cost of an attorney and the filing of the court," said Marty Shannon, adoption specialist with DCFS. "But in these situations it doesn't even come close to covering the costs."
---
In a normal situation ($2,000) would more than cover the cost of an attorney and the filing of the court. But in these situations it doesn't even come close to covering the costs.
–Marty Shannon, DCFS
---
Shannon admits the new ruling had unintended consequences. She is now working with the Utah Attorney General's Office to change the law.
DCFS says there are now at least 19 families affected by the new ruling; all of them are facing huge legal fees.
"The highest I've heard is over $60,000," said David Carlson, an attorney with the Utah Attorney General's Office. "It's a lot of money, especially when it's unexpected."
Doug and Janet won their first fight. Jackson and Liam are officially part of their family. Now instead of fearing police officers, Liam wants to grow up to become one.
As for the family's second battle, it's just the beginning.
"I think our legislature, they're honest, good people. I think our governor is an honest, good person," Doug said. "I think if they knew about it, they would do whatever it would take to help the foster families in this state."
If the law is changed in the future, it will likely be too late for Doug and Janet's family. There is an account at Zion's Bank set up to help them out, called "Liam Adoption Fund."*
---
*KSL.com has not verified the accuracy of the information provided with respect to the account nor does KSL.com assure that the monies deposited to the account will be applied for the benefit of the persons named as beneficiaries. If you are considering a deposit to the account you should consult your own advisors and otherwise proceed at your own risk.
×
Photos
Related Links