Estimated read time: 3-4 minutes
This archived news story is available only for your personal, non-commercial use. Information in the story may be outdated or superseded by additional information. Reading or replaying the story in its archived form does not constitute a republication of the story.
AIR FORCE ACADEMY, Colo. — Air Force ended a nine-game losing skid across two seasons in the Mountain West Conference in a big way by knocking off arguably the league's marquee team.
Quarterback Kale Pearson ran the ball 20 times for 127 yards and a touchdown, and the Falcons picked off Boise quarterback Grant Hedrick four times in a 28-14 win for the Falcons' upset victory over the Broncos (3-2, 1-1 MWC).
Weston Steelhammer tied a single-game Mountain West record with three interceptions for Air Force (3-1, 1-1 MWC) and also added four tackles, two tackles for loss and a sack en route to Mountain West defensive player of the week honors. Steelhammer also tied Ohio's Quentin Poling for most interceptions in the NCAA this year.
Jacobi Owens added 108 yards and a touchdown on 24 carries for Air Force, and Garrett Brown caught three passes for 28 yards and a score.
Hedrick finished with 209 yards on 18-of-33 passing, and Ryan Finley completed 12 passes for 161 yards and a touchdown for Boise State.
Here's how the rest of the Mountain West Conference fared during Utah State's bye week.
Colorado State 24, Boston College 21
At Boston, Garrett Grayson's 12-yard touchdown pass to Charles Lovett on fourth down with just over a minute remaining led the Rams (3-1) to a win over the Eagles (3-2).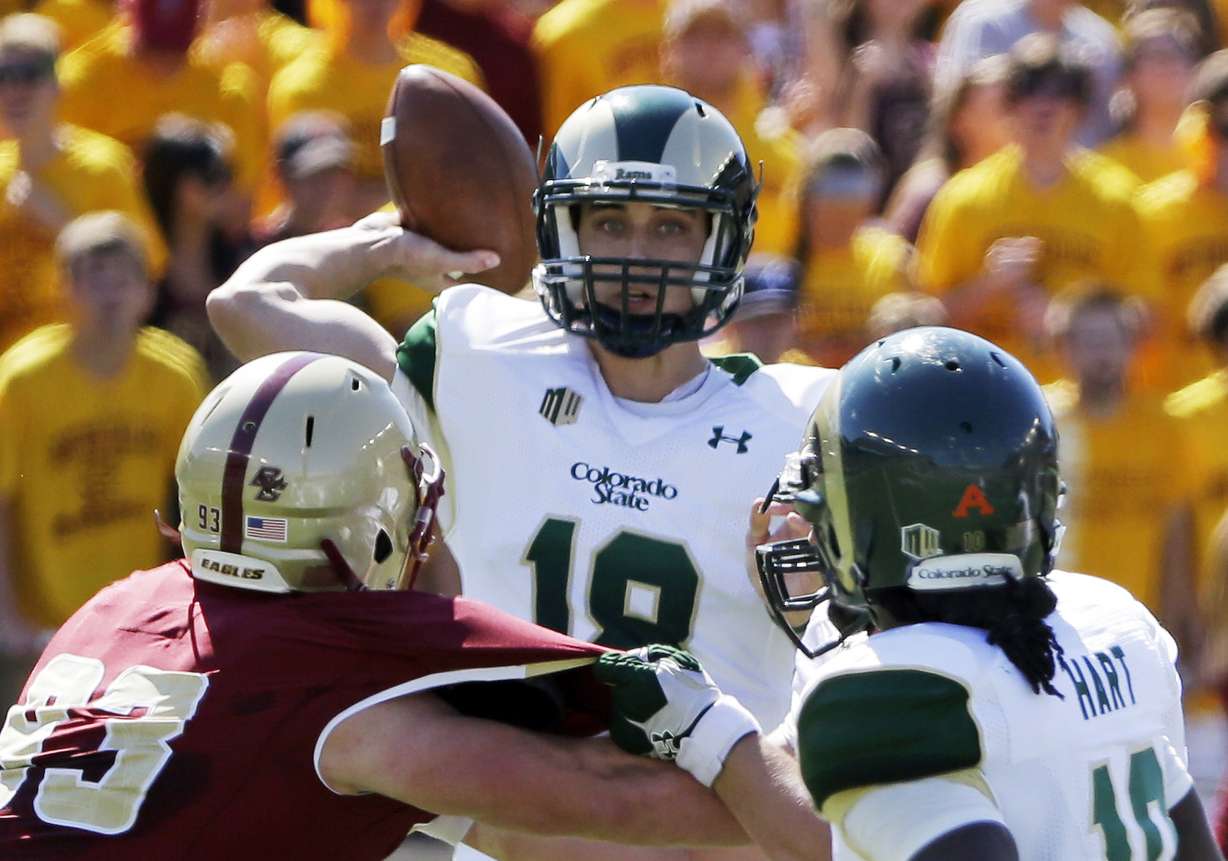 Dee Hart piled up 117 yards on 10 carries for Colorado State, and Grayson finished with 268 yards passing, two touchdowns and two interceptions.
Jon Hilliman led BC with 128 yards and two touchdowns on 24 carries, and Tyler Murphy added 79 rushing yards and a score.
Fresno State 35, New Mexico 24
At Albuquerque, Brian Burrell threw for 318 yards and three touchdowns as the Bulldogs (2-3, 1-0) opened conference play with a win over the Lobos (1-2, 0-1).
Crusoe Gongbay led New Mexico with 163 yards on 28 carries, and Jhurell Pressley added 70 yards and a touchdown on 14 rushes.
No. 9 Michigan State 56, Wyoming 14
At East Lansing, Michigan, the Spartans (3-1) spread the ball around en route to 533 yards of total offense in a rout of the Cowboys (3-2).
Jeremy Langford ran for 137 yards and a touchdown on 16 carries for Michigan State, and quarterback Connor Cook completed 8-of-12 passes for 126 yards and two scores.
Colby Kirkegaard led Wyoming with 188 yards and a touchdown on 16-of-24 passing.
San Diego State 34, UNLV 17
At San Diego, Donnell Pumphrey ran for 167 yards and four touchdowns on 22 carries for the Aztecs (2-2, 1-0) against his hometown team in a rout of the Rebels (1-4, 0-1).
Blake Decker threw for 346 yards, a touchdown and two interceptions on 18-of-21 passes, and Devonte Boyd hauled in four catches for 86 yards and a score for UNLV.
Nevada 21, San Jose State 10
At San Jose, California, Cody Fajardo scored two rushing touchdowns, including the game-winner with 12:43 remaining in the fourth quarter, to help the Wolf Pack (3-1, 1-0) rally by the Spartans (1-3, 0-1) in the league opener for both teams.
Nigel Hawkins sealed the win for Nevada with a 27-yard interception return for a touchdown with 9:06 remaining.
Joe Gray completed 32 of 46 passes for 276 yards with two interceptions to lead San Jose State.
×
Related stories
Most recent Sports stories