Estimated read time: 3-4 minutes
This archived news story is available only for your personal, non-commercial use. Information in the story may be outdated or superseded by additional information. Reading or replaying the story in its archived form does not constitute a republication of the story.
BOISE — Members of the Mountain West Conference didn't have the best of weeks, finishing 4-4 in all games, with the league's offensive player of the week Cody Fajardo losing a 35-28 contest at Arizona.
But a familiar name still finds itself on top of the standings after one quarter of the college football season.
Boise State rebounded from its opening weekend start to claim back-to-back victories after a 38-21 win over UConn. The Broncos are now 2-1, with their only loss coming against Ole Miss in a neutral site game that saw seven total interceptions.
Grant Hedrick completed 19 of 27 passes for 233 yards and two touchdowns for the Broncos, who also scored on a fumble recovery in the first quarter and an interception in the fourth while holding the Huskies (1-2) to 48 yards rushing.
Here's how the rest of the Mountain West fared in week three: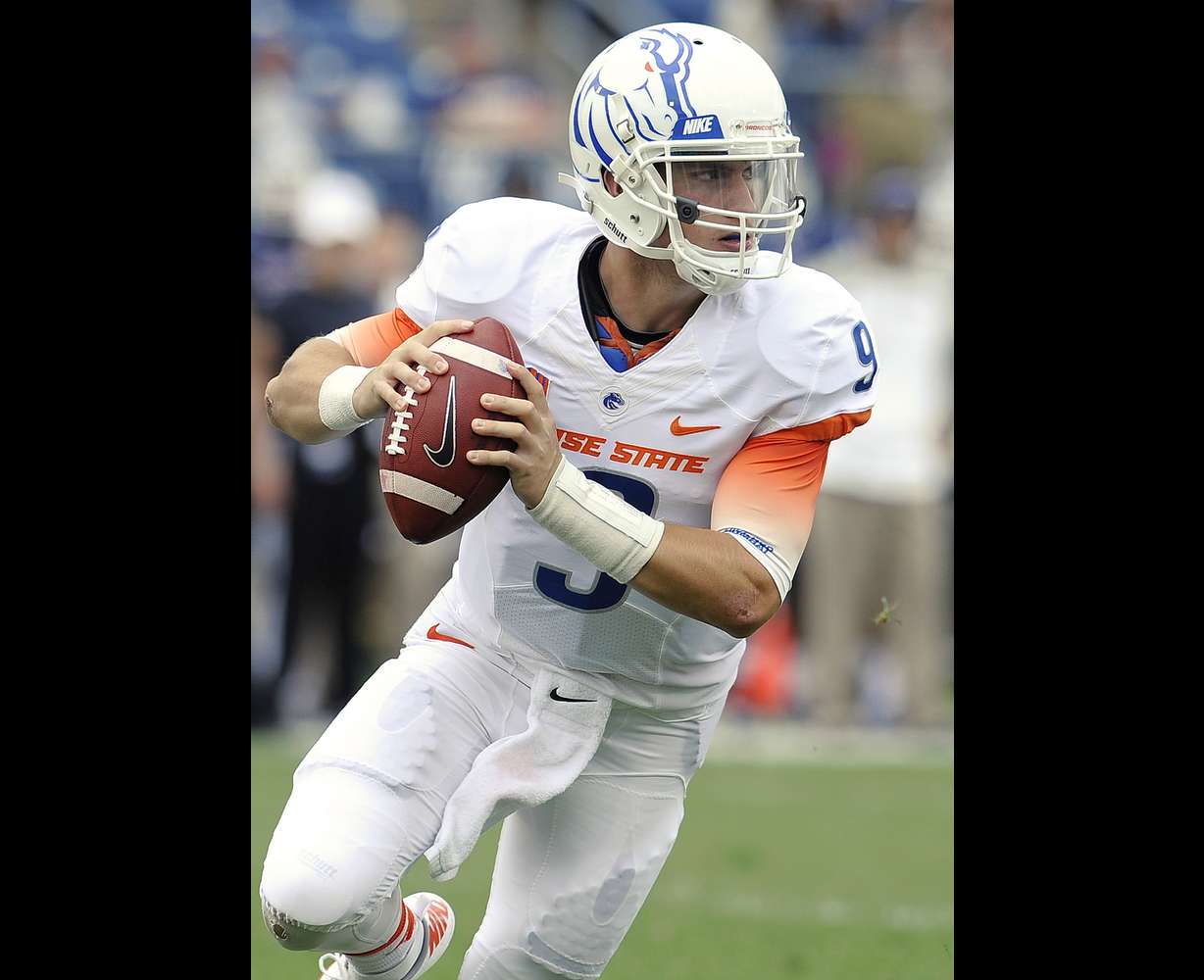 Air Force 48, Georgia State 38
At Atlanta, Kale Pearson scored twice on the ground and twice through the air to help the Falcons (2-1) blitz the Bulldogs (1-2).
Jacobi Owens added 122 yards and two touchdowns on 25 carries for Air Force.
Utah State 36, Wake Forest 24
At Logan, Defense led the way with Zach Vigil's 34-yard interception return for a touchdown as the Aggies (2-1) picked up their first-ever win over an Atlantic Coast Conference team at Romney Stadium.
Darrell Garretson had 121 yards and a touchdown on 11 of 16 passing after replacing Utah State quarterback Chuckie Keeton at halftime.
Colorado State 49, UC Davis 21
At Fort Collins, Colorado, Garrett Grayson completed 22 of 31 passes for 425 yards and four touchdowns — all in the first half — as the Rams (2-1) rolled the Aggies (1-2).
Rashard Higgins had 147 yards and two touchdowns on seven catches for Colorado State.
Hawaii 27, Northern Iowa 24
At Honolulu, Steven Lakalaka's 30-yard touchdown run in the third quarter helped the Warriors (1-2) pick up their first win of the year and hold off the Panthers (0-2).
Ikalka Woolsey threw for 188 yards and a touchdown in the win.
Arizona 35, Nevada 28
At Tucson, Arizona, Cody Fajardo had 321 yards and three touchdown passes in the loss as the Wildcats (3-0) overwhelmed the Wolf Pack (2-1).
Arizona quarterback Anu Solomon threw for 278 yards and three touchdowns, and Nick Wilson added 171 yards on the ground as the Wildcats rolled up 507 yards of total offense.
Nebraska 55, Fresno State 19
At Lincoln, Nebraska, Tommy Armstrong Jr. threw for 260 yards and three touchdowns as the Huskers (3-0) became only the second Big Ten team to stay undefeated on the year with a win over the Bulldogs (0-3).
Brian Burrell had 241 yards and a score on 30 carries for Fresno State.
Northern Illinois 48, UNLV 34
At Las Vegas, the Huskies (3-0) ran up more than 600 yards of total offense to down the Rebels (1-2) for their 17th-straight road win since 2012.
Blake Decker threw for 397 yards and two touchdowns with one interception for the Rebels, who got 150 yards and two scores from wide receiver Devante Davis.
×
Related stories
Most recent Sports stories