Estimated read time: 2-3 minutes
This archived news story is available only for your personal, non-commercial use. Information in the story may be outdated or superseded by additional information. Reading or replaying the story in its archived form does not constitute a republication of the story.
Ashley Hayes reportingA construction worker fell 20 feet inside an empty water tank. He is recovering at LDS hospital, but it was no easy task getting him out.
On top of a mountain, inside a water tank, a construction worker falls two stories. With severe injuries, he must wait for rescue crews to arrive. The only problem is:
Jay Torgerfsen/ United Fire: "It's very labor intensive equipment, labor intensive rescue operation."
One reason emergency crews say this rescue was so difficult is because they had to park their trucks and carry the rest of the equipment in smaller trucks up to the water tank.
Once at the tank, there are more obstacles. It's windy, crews must work in a confined space and maneuver an injured man up and then back down again more than 30 feet.
Doug Morgan/ Firefighter paramedic: "It was a very difficult extrication."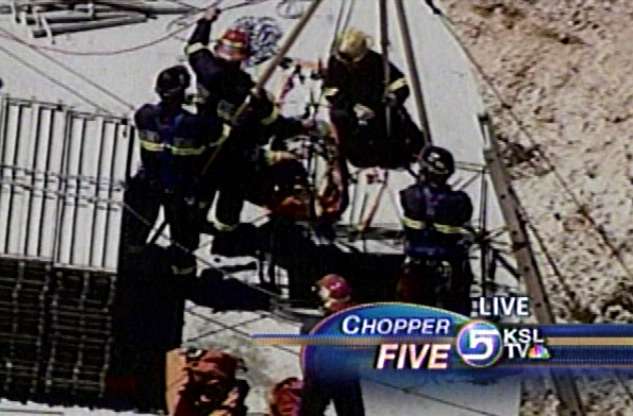 But it works, and a little more than an hour after the rescue operation began, the man is raised from the tank and lowered safely into an ambulance.
"He was talking, joking periodically. He's a pretty stoic guy."
And with two broken ankles and one bone protruding from his leg, that stoic guy is airlifted from the bottom of a tank at the top of a mountain to LDS hospital.
Construction workers were scaffolding inside the tank when the man fell. Fortunately there was no water inside that tank.
Training is crucial in rescues like this.
Doug Morgan: "We do train for this on a regular basis. In fact, right now, we're right in the middle of a rope rescue class."
It was the same type of rescue, when 71-year old Irene Berrett fell down an uncovered manhole, in January. Coincidentally, heavy rescue crews were in the midst of training, when they got the high-risk call.
In one real to life scenario, two mock victims were placed in a pipe, 30 feet down a trench wall. Crews had to get into the small space and safely pull the victims out.
Logistically, today's rescue proved to be difficult because the site wasn't easily accessible.
Doug Morgan: "We can't get any of our big rigs in here, so we had to hand carry in everything, put it in the back of a truck to get it here."
But they were ready for it, putting their training into action.
Doug Morgan: "We have some new members. So this is good experience for them to be exposed to the real thing."
OSHA is now investigating today's incident.
×
Most recent Utah stories