SALT LAKE CITY — About 50 South Korean immigrants — most of them mothers dressed in black — gathered at Liberty Park Sunday afternoon to remember the hundreds of victims of last month's ferry disaster off of South Korea's southern coast, where they believe rescue efforts were hindered by the South Korean government.
The ferry sunk on April 16, killing more than 300 passengers, many of whom were high school students. Initial local news coverage reported that most of the 476 passengers had survived thanks to a massive rescue effort. But many of the victims' families soon found out otherwise.
Sunday's group at Liberty Park joined similar crowds simultaneously gathered throughout the country to show their support for the victims' families and to draw attention to government actions they believe bungled rescue operations and misled Korean citizens.
Eunyoung Martineau, one of the women who hosted the rally, says motherhood was what brought most of them together.
"As mothers, we want the mothers and families in Korea to know that we support them," she said. "We wanted to raise (the question of) why these kids couldn't be saved."
Prior to the rally, an international initiative worked to raise money to post an advertisement in the Mother's Day edition of the New York Times and a later edition of the Washington Post. The ad expresses outrage with South Korea's president, Park Geun-hye, and suggests the ferry incident illustrates a regression of democracy.
Fundraising for the ad, as well as rally planning, was largely coordinated through a social media portal, missyusa.com. But many users reported their accounts being hacked and their comments and passwords changed.
"There's definitely something going on. We don't know what it is," Martineau said. "Now, we're using personal email to communicate."
Many at Sunday's gathering carried posters of the ad and personal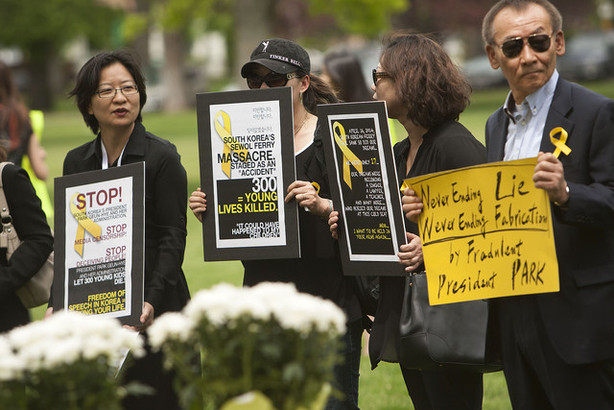 messages of grief as they walked through the park. Some wrote letters of condolence to families of the victims. All wore yellow ribbons as an expression of remembrance.
"I just want to say, we won't forget," Jieun Rasband said at the rally. "I want to support (the families) as much as I can. We will help (them) find the truth."
Rasband, who has lived in the U.S. for 6 years, says helping her children to cherish their family's South Korean heritage has become more difficult since learning of what may have occured in her home country.
"When I teach my kids where I came from, I want to say it proudly that I'm from Korea, where you can speak freely, where you have freedom," she said. "But not anymore. It makes me really sad."


×
Photos
Related Stories