Estimated read time: 4-5 minutes
This archived news story is available only for your personal, non-commercial use. Information in the story may be outdated or superseded by additional information. Reading or replaying the story in its archived form does not constitute a republication of the story.
PROVO — After defeating the Toreros of San Diego, 78-70, in a nail-biter Saturday, the BYU men's basketball team secured the No. 2 seed heading into this weekend's the West Coast Conference tournament — the highest seed the Cougars have had since joining the conference three years ago.
The Cougars have been playing some of their best basketball of the season when it counts the most. Coming into the home stretch of the regular season, the Cougars have won eight out of their last nine games and look to ride that momentum into Las Vegas this weekend.
"You get to this time of year and you really want to have some excitement around your team," BYU head coach Dave Rose told Greg Wrubell Tuesday night in the final Coach's Show of the season at Malawi's Pizza in Provo. "I think that is where we are, and hopefully we can have a couple good practices this week and get to Vegas and play our best to start this thing, and hopefully get a big win."
With the Cougs as the No. 2 seed, they will play either the No. 7-seeded Pilots of Portland or the No. 10-seeded Lions of Loyola Marymount. BYU split both of the regular season series' against the two schools, but Rose said there's a lot to learn from those games.
"It's hard to go back and evaluate your year," said Rose. "This late run from us has been a real gut-check by our guys and the success we've had over the past couple weeks has been because our guys have found a new resolve out of big disappointments."
Not only is the Cougars' new resolve showing up as a "W" in the column, but it's also showing up in the box score as well with a variety of players stepping up their offensive play, including Anson Winder, Matt Carlino, Nate Austin, as well as Luke Worthington. Each player had recorded a career-high in one or more offensive categories during the latter half of conference play.
"I think our guys feel really confident in each other," Rose added. "And that's a huge part of late-season success."
In a fitting finale to the show, the Cougar faithful were treated by having junior guard and captain Tyler Haws as this week's player-guest.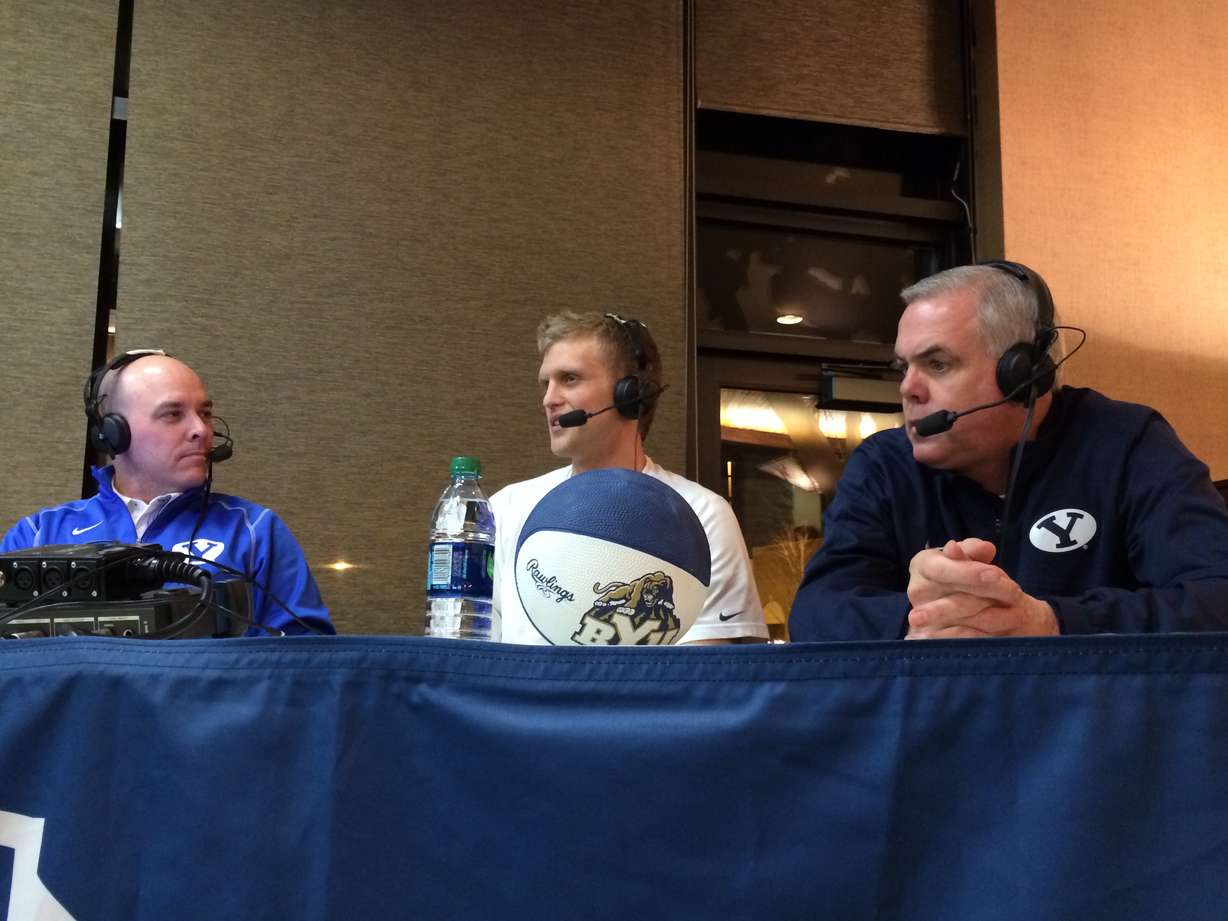 Haws, who was named the West Coast Conference Player of the Year earlier this week, took a few moments to shed some light on his short-lived and yet popular singing career based off of some YouTube music videos involving him and other teammates earlier in the season. He quickly transitioned into expressing how he feels the team has improved recently.
"I'm really proud of our guys and the way we've been able to bounce back from tough losses," Haws said. "All of us still believe in each other and it makes me feel really special knowing I've been a part of that."
Although Haws leads the WCC with a 23.4 points per game average and is the nation's sixth-best scorer, he is more excited for what hasn't happened yet, and what lies in store for the Cougars.
"I think we're very excited and we're very hungry," he said. "This is an exciting time of the year and I think we're ready."
During the Q-and-A portion of the show, Rose opened up on how much of a role his wife plays in his coaching life as well as that of her involvement with the team.
"She knows a lot more about the game when we lose than if we win," Rose said with a smile. "I think for my wife, Cheryl, this is all she knows because we got married when I was playing. The relationship that these guys have with our family has been a special experience for all of us, not only in the program, but outside as well."
Rose also noted that the younger guys on the team like Erik Mika, Winder, and Worthington have turned the corner and their increased confidence has played a huge role in the team's success as of lately in conference play. Brandon Crow is a Los Angeles native and broadcast major at Brigham Young University. Contact him at bcrowsnest@gmail.com.
×
Most recent Sports stories