Estimated read time: 6-7 minutes
This archived news story is available only for your personal, non-commercial use. Information in the story may be outdated or superseded by additional information. Reading or replaying the story in its archived form does not constitute a republication of the story.
PROVO — Coach Dave Rose joined Greg Wrubell and the Cougar faithful at Malawi's Pizza for his weekly show Tuesday night. Coach Rose reviewed his team's effort against Prairie View A&M and Utah before previewing the Cougars' upcoming matchup with No. 11 Oregon on Saturday.
"We played really well on Wednesday night (against PVAMU) and I thought our guys bounced back well from our loss against UMASS last Saturday." The Cougars were beat Saturday by rival Utah 81-64 and struggled all game. "I think the most disappointing thing was that we didn't really recognize how we were playing and we couldn't find a way to fix that."
Against Utah, the Cougars struggled again from the free throw line as they shot only 54.8% from the line. "We didn't shoot the ball well at the free throw line and that puts guys sideways sometimes on how we want to execute because maybe they don't want to go back to that foul line after they've missed a couple." Coach Rose also expanded on the Cougars offensive deficiencies from Saturday saying, "We played hard and we challenged, but we were all over the place and we weren't ourselves. We didn't have patience at all offensively and instead of trying to get the best shot, we took the first shot. We never really clicked and found ourselves."
The Cougars know that they will have to shoot a lot better in both aspects of the game in order to go on the road and beat an undefeated Oregon team currently ranked No. 11 in the country. "We need to see how our guys respond because (Utah) was a really disappointing loss. We have a similar challenge in Oregon this Saturday. It'll be a hostile crowd on road, and a Pac-12 foe, so it'll be a good test."
******
The Cougars are in the middle of Finals week, which always make for a unique challenge preparing for a game. While the players are looking forward to the end of the semester and Saturday's game, the team is excited for its annual Christmas with Cancer foundation tradition.
This year's event is called Mac's Gift Christmas foundation after the founder, Mac Boyter. An emotional Coach Rose shared Mac's story on air. "Mac was a former cancer patient who wanted to make a difference. Once he beat his cancer, he started this Christmas for Cancer foundation for children struggling with the same thing. Mac passed away in October, and so they named it after him."
Donations can be made at macsgift.com. Coach Rose and the BYU Basketball team have been involved in this foundation for 17 years and it has become even more special for Coach Rose considering his recent cancer experience.
"The support group for these kids and these families makes this event a highlight for me and my team every Christmas season."
****** BYU is in the middle of what may be the toughest non-conference schedule in school history. The Cougars are facing four ranked teams in their non-conference schedule for the first time in team history. BYU's four losses have come to teams with a combined record of 37-1. The four ranked teams on BYU's slate are Iowa State, Wichita State, UMass, and Oregon.
While the Cougars haven't been able to come out on top in these games, Coach Rose said he likes playing these games because, "we want to get better and improve. We want to be in that group of teams in the top 25 with great records. The bottom line is you've got to win games, and you have to win the close games. We need to concentrate on getting our team better."
The Cougars are returning a game with Oregon after they visited the Cougars in the ESA a couple of years ago. "They're already a deep team with multiple scorers. They like to push the ball, and they're a really fast team. It'll be a real challenge for us." BYU will face Oregon's point guard Jonathon Loyd, the brother of former Cougar Mike Loyd. When asked how this team compares, Coach Rose shared, "They remind me of Iowa State's program because of how they are set up with young kids, talented freshman, and then a lot of transfers."
******
Instead of a player guest, strength and conditioning Coach Bob Medina joined the show to talk about how he came to BYU and his experience elsewhere. Medina comes to BYU after five years of coaching experience at UNLV, where they won a national championship and played in three Final Fours. Medina also spent time in the NBA, spending five seasons in Seattle and the last sixteen seasons in Portland. Medina is native to Utah. He hails from West Jordan. Coach Rose chimed in on Medina's impact on the team.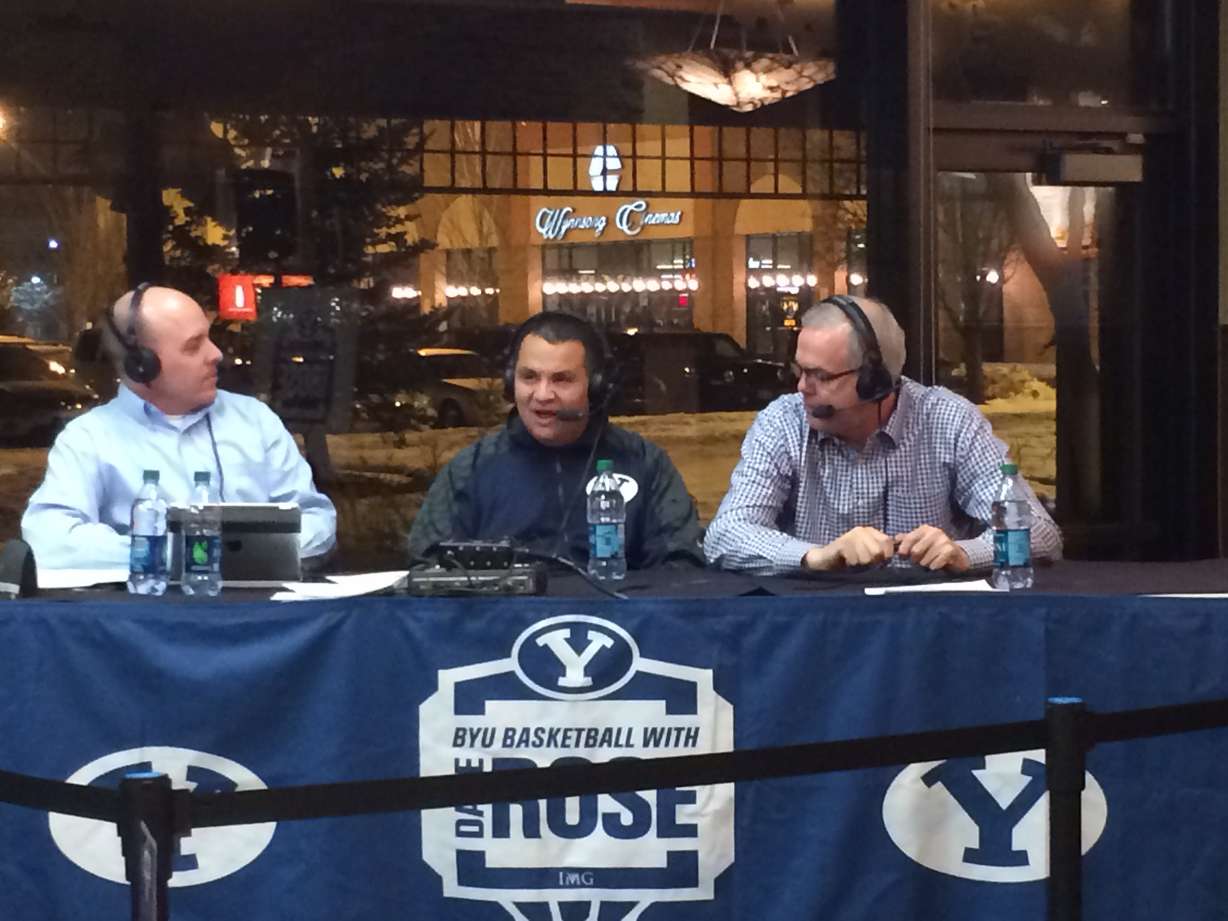 "Bob's been a great addition to our staff. He brings great experience and instant credibility with the players. He really helps our team be bigger, stronger, and he works well with the players. He's been a great addition to not only the physical but also the mental part of the team."
Medina shared three main reasons as to why he came here to BYU. The first two were his family, who live here, and the "unbelievable fans and great people here in the BYU organization." His final reason was because of Coach Rose. "The biggest thing is this man right here. He has this amazing trust in me and he has a vision of what he wants this program to be. Coach wants to get to the Final Four. He cares about the kids, he does it the right way here, and I would want my son to play for him. I think we can find a way to win here. I'm excited to be a part of this."
Having so much NBA experience, Medina shared that the players are always asking stories, "about the great ones and how they train." Medina also shared his insights into how he works with the players. "I train and treat our guys like NBA players. They have been very responsive and I like where they are at."
Having so much experience, Coach Rose is excited what Medina has brought to the team. They both have made it an emphasis to help the players grow and progress, especially ones just coming off their missions. When asked about Kyle Collinsworth, Medina responded, "He comes in and does something every day. We're doing lots of flexibility work. He says his legs and body feels great right now. He's taking care of it. Kyle is probably most in tune with his body of anyone on this team."
Finally, Coach Rose shared the impact Medina is having on his young team. "The players' work ethic and enthusiasm are great. The energy grew and he brought it out in them. He does a great job of keeping guys together and on track. He's been a huge part of preparing the guys. These guys feel good because he's doing his job."
******
Medina shared the key to this week's game and what the Cougars expect going forward. "You can't rely on one game. Our guys are excited to give it to the Ducks on Saturday. Our goal right now is to beat Oregon and then go win the West Coast Conference."
******
Cougar Fans can catch Saturday's match-up with the Ducks on KSL Newsradio 1160 AM/102.7 FM with pregame starting at 7 p.m. MST, and tip off beginning at 8 p.m. MST.
******
Reggie Lewis is a KSL Newsradio BYU intern
×
Most recent Sports stories