Estimated read time: 2-3 minutes
This archived news story is available only for your personal, non-commercial use. Information in the story may be outdated or superseded by additional information. Reading or replaying the story in its archived form does not constitute a republication of the story.
Aurelien Collin anotó ayer sábado el empate en el segundo tiempo de la final de la MLS y después marcó el penal definitivo para darle al Sporting de Kansas City una dramática victoria sobre el Real Salt Lake, y su primer título de liga desde el año 2000.
El costarricense Alvaro Saborío, que se había perdido por lesión la final de la Conferencia del Oeste, adelantó al Real Salt Lake a los 52 minutos con un potente remate tras un pase de lujo de Kyle Beckerman, que lanzó el envío mientras miraba en otra dirección.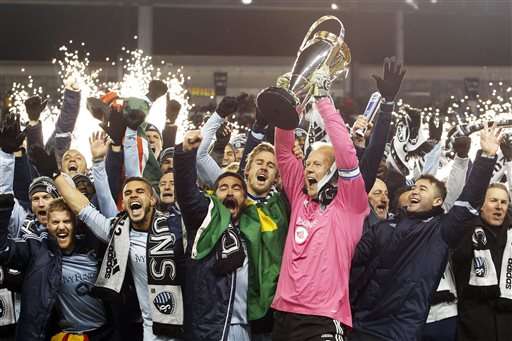 Pero Collin respondió a los 76 con un certero cabezazo para el Sporting. La igualdad persistió durante el tiempo regular y los 30 minutos de tiempo adicional, y entonces los equipos se entregaron a la definición por penales más larga en la historia del campeonato, en la que ambos tuvieron oportunidades de ganar antes de que el remate de Collin y la atajada de Jimy Nielsen le dieran a Sporting el triunfo final por 7-6.
Cada equipo cobró 10 remates.
Graham Zusi tuvo chance de definirlo para el Sporting en la primera tanda de penales, pero elevó demasiado su disparo y el argentino Javier Morales convirtió el suyo, con lo que la definición se prolongó. Real Salt Lake tuvo su oportunidad cuando Lawrence Olum falló su tiro, pero Nielsen atajó el remate del colombo-estadunidense Sebastián Velásquez.Dos rondas más tarde, Collin superó al portero Nick Rimando, y Lovel Palmer no pudo definir, con lo que los jugadores del Sporting corrieron a celebrar y los fuegos artificiales comenzaron a aparecer sobre un abarrotado estadio Sporting Park.
Fue la tercera ocasión en que la final de la MLS se definió en la tanda de penales. Houston venció a Nueva Inglaterra en 2006, y el Real Salt Lake superó 5-4 al Galaxy de Los Angeles en 2009 para su único título.
Real Salt Lake estuvo a punto de rematar el partido en dos ocasiones. Beckerman primero envió un disparo al poste que le rebotó a Nielsen, y después Morales sacó un tiro al poste opuesto que estuvo cerca de colarse en el rebote. El Sporting respondió a los 76 minutos cuando Zusi cobró un tiro de esquina y Collin se levantó para desviar de cabeza el balón al fondo de la red.
×
Photos
Most recent Latino stories