Estimated read time: 3-4 minutes
This archived news story is available only for your personal, non-commercial use. Information in the story may be outdated or superseded by additional information. Reading or replaying the story in its archived form does not constitute a republication of the story.
La batalla por una reforma a las leyes de inmigración ha girado mayormente en torno a quiénes regularizan su situación y cuándo. Pero rara vez se habla de otro tema que está siendo abordado esta semana por más de 600 activistas y funcionarios reunidos en Miami: ¿qué se puede hacer para que los inmigrantes se integren mejor a la sociedad estadounidense, sin importar su status legal?
El encuentro se produce en momentos en que una esperada reforma que resolvería la situación de unos 11 millones de personas que se encuentran en el país ilegalmente está estancada en el Congreso, sin esperanzas de que sea aprobada este año. El hecho de que el Congreso no logre sacar adelante la reforma, no obstante, podría dar impulso a quienes tratan de ayudar a que los inmigrantes tengan una participación más activa en sus comunidades, que vaya más allá de aprender suficiente inglés como para aprobar el examen de la ciudadanía, expresó uno de los participantes en la conferencia, Demetrios Papademetriou, director del Instituto de Políticas de Inmigración, con sede en Washington.
"En última instancia, el objetivo no es que la gente consiga una tarjeta verde (de residencia), sino que pasen a ser miembros de la comunidad", expresó Papademetriou.
El encuentro de Miami atrajo personas muy diversas, incluido Alain Nahimana, un ex funcionario de gobierno de Burundi que se refugió en Estados Unidos y vive en Portland, estado de Maine, quien habló de cómo ayudar a que médicos y abogados africanos dejen de lado los trabajos mal pagados y puedan desempeñarse en sus profesiones.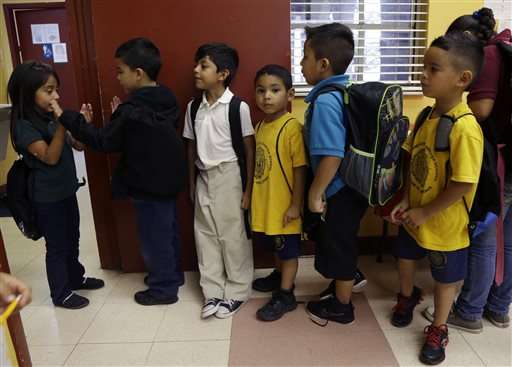 Tom Negri, ex ejecutivo de hoteles y director interino de la Comisión Metropolitana de Relaciones Humanas de Nashville, Tennessee, describió cómo su ciudad mejoró económicamente desde el 2009, en que rechazó una campaña para declarar el inglés como único idioma.
A partir de entonces la municipalidad aprobó medidas a favor de los inmigrantes, como un curso intensivo de siete meses sobre temas cívicos y comerciales para personas con dotes de líder elegidas por sus paisanos. Negri dijo que espera que estos líderes ayuden a otros inmigrantes a integrarse e incluso se postulen algún día a cargos públicos. Paralelamente, la ciudad ha estado atrayendo más inversiones y empresas.
En representación de High Point, Carolina del Norte, vino Alavena "Al" Heggins, cuya comunidad de 100.000 personas incluye nativos de raza negra, blancos de bajos ingresos e inmigrantes recientes de América Latina y Vietnam. High Point es una de dos docenas de municipalidades y condados que se ofrecieron como "Welcoming Cities", o ciudades que le abren los brazos a los inmigrantes. Atlanta y Nashville son asimismo parte de este programa que busca generar un ambiente en el que los inmigrantes se puedan sentir a gusto.
Heggins, quien hace poco fue homenajeada en la Casa Blanca, dijo que parte de su trabajo es llamar la atención al impacto que los inmigrantes pueden tener en otros grupos. Por ejemplo, indicó, algunos afroamericanos han perdido sus viviendas porque sus propietarios prefieren alquilársela a inmigrantes con mejores perspectivas económicas.
"¿Mejoraron las cosas para todos? ¿Estamos creando una nueva población de inmigrantes y negros y blancos pobres?", preguntó la mujer. Heggins dijo que la existencia de sitios seguros y productivos donde se pueda hablar de estos temas es uno de los elementos que contribuyen a crear ciudades donde los inmigrantes se pueden sentir bien.
Los derechos laborales son otro tema relevante. El secretario de Trabajo de Estados Unidos Thomas E. Pérez dijo que es vital que el inmigrante esté informado de las protecciones laborales y las normas que garantizan la seguridad de los trabajos para evitar que empleadores inescrupulosos burlan esas regulaciones para abaratar costos.
El encuentro es organizado por la Coalición de Inmigrantes de la Florida, integrante de la Alianza Nacional de Nuevos Estadounidenses (National Partnership for New Americans), la cual es auspiciada por la Knight Foundation.
×
Most recent News stories