SALT LAKE CITY — Media day for the Utah Jazz, or any NBA team, is normally about the step toward a successful season. This year's media day was about the first step for successful years to come.
In one month the Jazz will be playing the Oklahoma City Thunder in the first regular-season game. For now, there is a lot of talk and optimism, even if it isn't all about wins this year.
All the players invited to training camp spoke with the media, as well as head coach Tyrone Corbin, general manager Dennis Lindsey, president Randy Rigby and COO of Miller Sports Properties, Steve Miller. There was a lot to discuss, so instead of trying to go point by point, here are some highlights of the event:
In a telling reveal of the extent of the rebuilding project underway on the court, the biggest news of the offseason was the first topic of discussion: the new video board.
Miller said the new video board would be ready, "knock on wood," for the first preseason game, but the full fan experience wouldn't really hit until the first game of the season.
When asked about whether Corbin would receive a contract extension, Miller and Rigby avoided a direct answer, deferring to Lindsey (who also avoided a direct answer). Rigby said he wouldn't judge this team just on wins and losses.
Lindsey went over some of the goals that he would use to assess the team:
1. Build a championship caliber defense.
2. Develop players.
3. Be very disciplined.
He called these the "3 Ds" — defense, development and discipline. He noted that discipline was an attribute that applied from top to bottom in the organization.
"I think it would be hypocritical for me to say 'Hey, be disciplined,' to Ty, or the scouts or the players and not be disciplined in our salary cap outlay," Lindsey said.
Lindsey re-emphasized his stump speech from the summer, reminding everyone that the Jazz are rebuilding and that they won't skip steps. He mentioned the importance of establishing Gordon Hayward and Derrick Favors' as leaders of the team.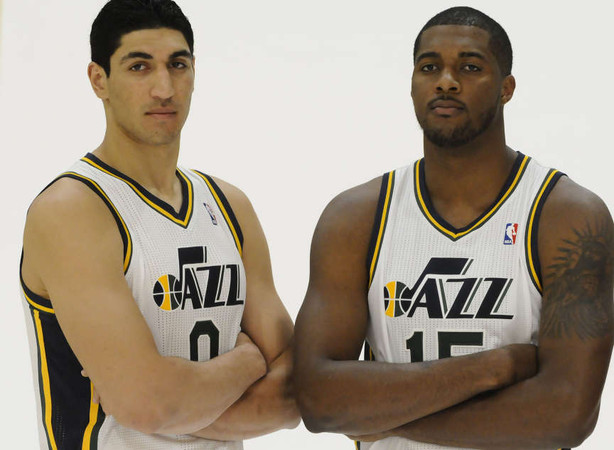 Will they be ready?
"We'll find out, right guys," Lindsey said.
So, what are the exact expectations?
"For us to compete every night when we step out on the floor," Corbin said.
---
After years of pleas from fans to get greater involvement from Jazz alumni, legends Karl Malone and John Stockton both worked out with current Jazz players during the offseason.
Enes Kanter and Favors worked with Malone. Rookie Rudy Gobert said that he had plans work with Malone in October; Alec Burks and Trey Burke both went to Spokane, Wash., to work with Stockton.
Favors talked about how much he learned and what he did this offseason. Mostly Favors said that Malone taught him to come to work in shape.
Kanter told a story about how Malone gave him some bruises playing one-on-one. Kanter talked about being in awe of Malone's physique still, and kept asking Malone's wife, Kay, how he does it.
"It was so much fun, man. It's not just about basketball," Kanter said. "I had so much fun with him. Even when I first met him, you could tell just (by) how he talked why he was a legend."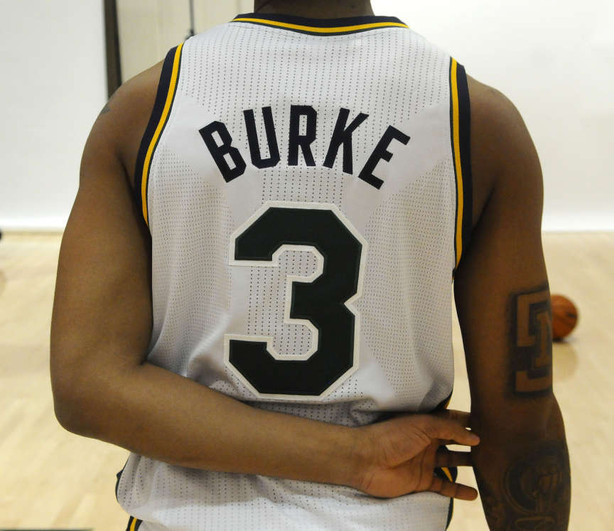 Kanter talked about playing with his legs, balance, lower body and "some secrets that I can't talk about."
"The game is mental as much as it's physical," Burks said. "Just a lot of little teaching things he taught me and Trey to make our games better."
Burke added how much he learned from Stockton and how much he felt honored just to meet Stockton.
"We worked on a lot of shooting, a lot of pick-and-roll things," Burke said.
Burke became a great shooter at Michigan. His 3-point shot to help Michigan advance could be the defining play of his college career. Stockton told him how to become a better shooter.
"He said something that stuck with me: 'The better passer you are, the better scorer you are going to be,'" Burke said. "Guys expect you to pass — a lot of times you are going to be open when you come off that pick-and-roll."
Burke still has the summer league struggle hanging over his head, but his teammates have faith from seeing him out of the games.
"People seen him struggle a little bit, but they weren't there for the practices where he was making some pretty amazing things happen," Burks said. "I've been working out with him a lot this summer. With him being in Spokane and P3, he's a great player and going to bring a lot to the team with a bright future."
Al Jefferson and Paul Millsap were the leaders in the locker room in seasons past, but if media day is any indication, this is still a close-knit group.
Richard Jefferson — the oldest player on the team — already seemed to have a good relationship with Hayward. Hayward's interview was winding down and Jefferson was poking fun at him for being too nice of a guy. Jefferson has the makings of a fan favorite, if only for one year, with his off-the-court behavior.
This was the first time the media met with Jefferson, Brandon Rush and Andris Biedrins, who all came to the Jazz from Golden State. Jefferson was funny, calm and relaxed. While the core of the Jazz is just getting started, he knows that his time is winding down.
"I feel like I have something left in the tank," Jefferson said. "My goal is to, after this year — I want to play for two or three more years."
New and old players talked about the usual topic of how great the organization and fans are. Even the new players talked about enjoying the city.
Burke said he has already gone to many restaurants and went to Lagoon a few days ago. Jefferson talked about how fans already know players on the team that haven't played yet. Favors talked about wanting to stay, especially not getting traded because he just bought a house here.
Listen to full audio of the interviews in the attached links. The Jazz will put on their annual open scrimmage Saturday with preseason less than two weeks away.
×
Photos