NAIROBI, KENYA — Utah native Greg Jackson and his family were inside the Westgate Mall in Nairobi, Kenya when it came under attack.
"It was just a massive, massive amount of gunfire all at once," Jackson said.
Jackson recalled the very moment he knew something was wrong at the mall, and he still can't believe how quickly he moved to protect his family.
"There was so much kind of mental churning," Jackson said. "You just don't have time to be afraid. Not because you're all heroic and tough, but your brain just kicks in."
Jackson — who grew up in Salt Lake City and graduated from Brighton High School — has been living in Nairobi for the past year with his wife, Patty, and their children.
They moved to Nairobi because of Jackson's job.
This past Saturday, after picking his daughter up from soccer practice, the Jackson's were heading to Urban Burger at the Westgate Mall for lunch.
However, just as they were about to leave his daughter's school, Jackson stopped to talk to his daughter's friends and her mother.
Jackson stopped the car and got out to say hello.
"I even wondered myself why I was getting out of the car to talk to them. I don't know. She was on Patty's side of the car and we could have just rolled down Patty's window," Jackson said.
That 2-3 minute decision may have saved his life and the lives of his family.
Related Stories:
When the Jackson's arrived at the Westgate mall, they pulled into an underground parking garage.
Almost immediately, they heard an explosion.
"That's the first thing we heard was just a loud explosion. And right after that there was another one, and then gunfire started," Jackson said.
They thought about driving back up the ramp they came in, but they knew traffic at that spot was always heavy, so they wouldn't have been able to quickly get out.
"All of a sudden all these people started running back down that ramp, and not just kind of running like, 'Hey, let's get out of here.' They were running fast, getting away from something," Jackson said. "And then, that's when we heard gunfire."
Jackson said that additional gunfire was coming from behind them in the parking garage.
"We got low in the car while Patty and I tried to figure out what to do or where to go. Tons of car alarms were going off, and people were running all over and there was a lot of smoke."
At that point, Jackson said they heard gunfire at the top of the ramp, and their car was still sitting at the bottom.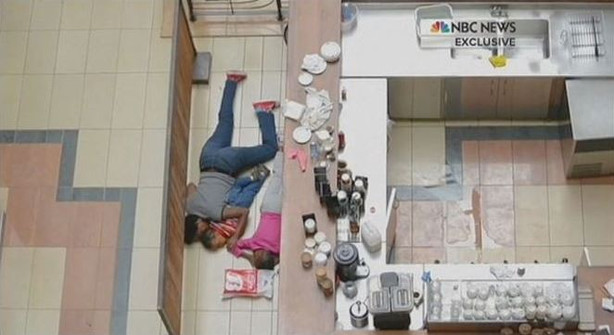 "We clearly needed to get away from that ramp or we would be sitting ducks in our car if terrorists came down the ramp," Jackson said.
They decided to get out of their car and noticed a maintenance closet near them.
"Luckily it was there and we saw it was open. We made a break for (the closet), so we were very lucky. Just blessed and lucky."
They stayed quiet along with others who took refuge in the closet. They heard gunshot after gunshot while texting the US Embassy to let them know where they were and to get information about what was happening in the attack.
"They were letting the Muslims stand up and they would ask them a verse or they would ask them the name of Mohammed's mother," Jackson said. "If they knew the answer, they'd let them go. If they didn't, they would shoot them."
The Jacksons also wanted to make sure their children were doing well mentally, so they told their kids it was a robbery.
---
It was just a massive, massive amount of gunfire all at once.
–Greg Jackson
---
"We told (our children) that it was robbers and that if they came into the closet where we were hiding, we would just give them our stuff and they would leave us alone," Jackson said.
One of the women in the closet with them was texting her husband who is a police officer.
Her husband texted back that he would find them and save them.
About four hours later, they were startled when someone started banging on the closet door from the outside.
"All of a sudden there was pounding on the door, which was really kind of scary because we thought, 'Oh, they found us,' " Jackson said. "The guys in there wanted to open it, the maintenance workers we were with."
Jackson said he didn't want them to open the door, but then someone called out and said the name of the wife of the police officer. The woman recognized the voice of her husband.
---
All of a sudden there was pounding on the door, which was really kind of scary because we thought, oh, they found us.
–Greg Jackson
---
That's when the group decided to run for it.
"We stayed low, took cover behind cars, and kept going," Jackson said. "As we were running out, I saw blood on the sidewalks and some in the street. When I looked back toward the front of the mall, sure enough there was a body lying there, but the kids didn't notice the blood when we ran out."
They all made it out safely.
Jackson said if it wasn't for that little talk he had with his daughter's friend's mother at school, they would have been inside the Urban Burger, close to where many of the shootings happened.
"We feel very blessed," Jackson said.
Both of their children have gone back to school, and the family is seeing a psychologist to talk through everything they experienced that day.
×
Photos
Related Stories