Editor's note: The following is an opinion piece from one of Utah's congressional representatives. This article is intended to provide our readers with a better understanding of the positions and decisions of this state representative. The opinions expressed are not necessarily those of ksl.com, its management or ownership.
SALT LAKE CITY — This past week we joined together to honor our heritage as Utahns and celebrate Pioneer Day. Whether you spent the day watching the Days of '47 Parade, enjoyed the beautiful summer weather with family and friends or shared fireworks in the evening with your kids — it is a great day and reminder of our state's special history.
I have always enjoyed the reason we celebrate Pioneer Day on July 24th — the story of the arrival of the first Mormon pioneers in the Salt Lake Valley. We can all imagine how beautiful the Valley must have looked to travel-weary families as they made their final trek through the Wasatch Mountains and down Emigration Canyon.
In the very first days, by most accounts only four days after arriving in the Salt Lake Valley, the pioneers, under the direction of Brigham Young, set about organizing and presenting a city plan. This effort has been widely recognized as an extremely significant, and forward-looking, responsible urban plan. There is no doubt it was critically important to future survival and organization, as over 2,000 settlers arrived in the Valley in a matter of months. The detailed plans greatly influenced how our state would take shape and how it functions today.
You only have to look around the Salt Lake Valley today to see the magnitude of Brigham Young's vision as an urban planner. His vision included a location for the Salt Lake Temple, where the southeast corner still marks the center for the modern grid system of the entire Valley, and laid the basis for width and direction of the roads we use every day. Building upon this, pioneers began to cultivate the high desert into the downtown city blocks we are familiar with today, to grow commercial and ecclesiastical centers, and encourage more settlers to make the journey west.
---
Over the past 166 years, our prosperity, quality of life and growth in the Salt Lake Valley can be directly traced to the same water we receive from the Wasatch Range. From a small number of hearty pioneers we have grown to well over 1 million strong in the Salt Lake Valley. As we look to our future growth, it is critical that we act as good stewards of our precious water supplies.
---
It is also important to note that from the earliest days of pioneer settlement in the Salt Lake Valley a critical resource for survival was clean, plentiful water. Every year, as the snow melted high in the Wasatch Range, it provided a renewed and pristine source of water, a valuable and life-sustaining resource in the arid West.
Over the past 166 years, our prosperity, quality of life and growth in the Salt Lake Valley can be directly traced to the same water we receive from the Wasatch Range. From a small number of hearty pioneers we have grown to well over 1 million strong in the Salt Lake Valley. As we look to our future growth, it is critical that we act as good stewards of our precious water supplies.
There are many current projects throughout the state that help to support steady water resources, especially in high growth areas like Salt Lake and Utah Counties. Most of us are familiar with the Central Utah Project — Utah's largest water resource development plan — and its series of reservoirs, pipes and canals. The CUP initiative is one that has allowed Utah to both relocate water from the Colorado River and to store snow melt from the mountain peaks for use in the Bonneville Basin. In both cases, the water is used for a wide variety of municipal and industrial purposes in our current Salt Lake Valley population centers.
In addition to the Central Utah Project, there are several cities in the Salt Lake Valley that receive water directly from the Wasatch Canyons, just as the pioneers did when they arrived in Utah. These cities have grown and prospered, reaping the benefits of annual snowmelt stored for their future use.
Regardless of the system used, we all agree that the ability to capture and store water is vital for economic and population growth. In order for us to continue to attract new businesses to Utah and sustain the growth we have already experienced, securing a healthy and abundant water source remains a top priority.
With the future of our state in mind, again this year I have introduced legislation to protect and preserve Utah's precious resources. This week I was proud to file the Wasatch Wilderness and Watershed Protection Act in the U.S. House of Representatives. My legislation, first introduced in 2010, addresses the need to plan for Utah's future needs, whether population growth or economic opportunity.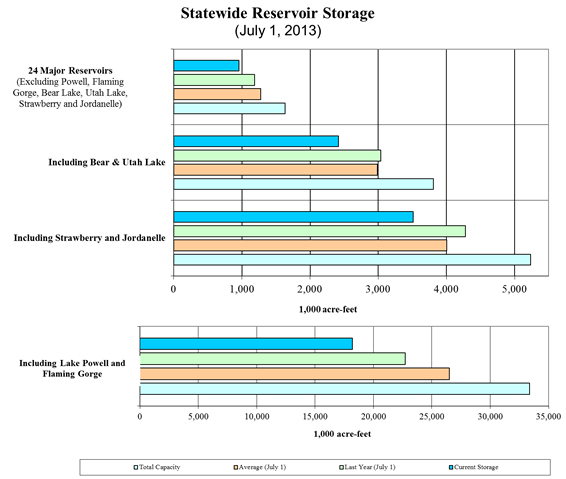 Specifically, the bill protects critically important parts of the Wasatch Range by establishing additional wilderness areas on Grandeur Peak, Mt. Olympus, Twin Peaks and Lone Peak. Within these boundaries, more than 10,000 acres contained in "special management areas" strengthen watershed protection.
As I have said many times, I am especially sensitive to the importance of balance when proposing legislation to manage lands in our state. The Wasatch Wilderness and Watershed Protection bill is no exception.
Beginning with my first introduction of this legislation in 2010, I have been committed to following a lengthy stakeholder process. I have brought together representatives from the ski industry, outdoor recreation and canyon user groups, environmental organizations and local municipalities. Through an open and collaborative process this diverse group met for over a year, hammering out compromises on many issues that led to the initial language of the bill. Since its first introduction, the bill has had a congressional hearing in which the Forest Service offered several suggestions that have been incorporated into the current version of the bill.
One important provision that resulted from stakeholder conversations relates to economic growth in our area. I have discussed the value of clean water with regard to industrial and commercial growth, but the Wasatch Range has also become a tremendous economic driver in its own right as an unparalleled ski, snowboard, hiking, biking and outdoor recreation destination.
As a result, my legislation provides for the continued practice of helicopter skiing; and resolves conflicts between backcountry skiers and potential ski resort proposed expansion into White Pine Canyon and Flagstaff. It also provides access to maintain private water supplies and allows for avalanche control to ensure public safety.
I firmly believe that the time is now to have serious, bipartisan discussions about the future of our state. Since 1847, we have been blessed to live in a remarkable, beautiful and inspirational place. We have been fortunate to see steady growth and to establish a robust economy. There are many stakeholders that have made this success story a reality and who are committed to continuing a path of prosperity in the future.
Watershed protection and enhanced recreation opportunities in the central Wasatch are a critically important part of this discussion and my legislation, a locally-driven, open and transparent public lands collaboration, will provide a path forward to accomplish our goals.
---
Congressman Jim Matheson represents Utah's 4th Congressional District in the United States House of Representative, where he is currently serving his seventh term. He is a member of the House Energy and Commerce Committee. Matheson worked in the energy industry for 13 years prior to his service in Congress.
×
Related Links
Related Stories