SALT LAKE CITY — Hey Utah and BYU fans — remember the days of the Mtn.? That's right, the television network that carried all Mountain West Conference programming, all the time? Remember how long it took for you to actually be able to watch your favorite teams play if you had DIRECTV or Dish Network?
Yeah, those were the good old days, weren't they? You had to go over to a buddy's house that had cable or try to find a restaurant or sports bar to watch your respective team play only to barely be able to make out what was happening on the grainy non-HD picture. At least you were guaranteed to see the big rivalry game every season since the Utes and Cougars were joined at the hip in the MWC — unlike now of course. But that's another rant for another time.
Boy times have changed, right? For BYU they have. While you can argue whether independence is really the way to go for the football program when it comes to reaching the new playoff system or BCS bowl, their long-term television partnership with ESPN at least guarantees that BYU fans can see all their games on one of their several channels each week. Now granted every once in a while they'll throw the Cougars on ESPN3, only accessed via ESPN.com on one's computer, but the overall point is BYU fans can at lease see their games every week.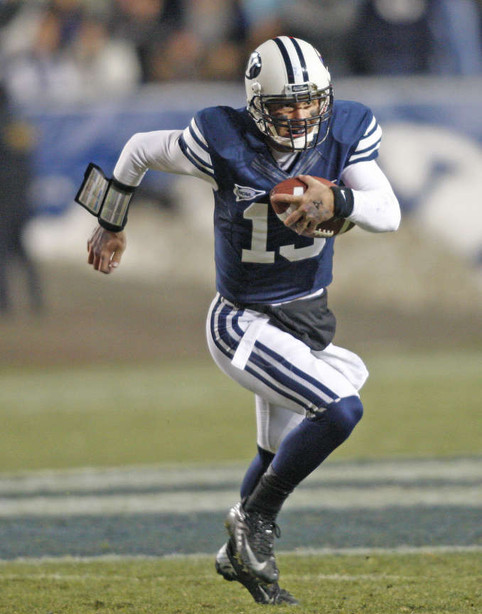 As for the University of Utah, that isn't the case. Here we are about four months away (and yes we're counting down the days) from the start of another college football season and if you're a DIRECTV subscriber at this point you still won't be able to see your Utes play every week in the comfort of your own home. And that's because the Pac-12 Network still doesn't have a deal with the largest satellite television provider. And according to a recent story in the Salt Lake Tribune, it's still not even close to getting done. Amazing to think the Utes could move into a high-profile BCS power conference with the added popularity and the riches that come with it, but a large portion of the fan base still can't see the Utes' games.
Now when the Mtn. originally failed to get their network on the satellite providers, the fans were spitting mad. I know because I took the angry calls on my radio show day after day at the time. Yet, since Pac-12 Commissioner Larry Scott trumpeted the Pac-12 Network to one and all as a game changer to TV coverage of a conference, promising fans across the country will be able to see their favorite teams play — the outcry here in Utah has been minimal.
Maybe it's because Ute fans are still just thankful to be in the Pac-12 and treat Scott as some sort of hero for allowing their school a chance to play on the big kids' playground. Whatever the case, after finishing with a mediocre 5-7 record a year ago, expect the Utes to have most of their games picked up on the Pac-12 Network, which means unless something gets done before the first kickoff, everyone with DIRECTV will be out of luck again.
So what should you do? Well according to Scott you need to call DIRECTV and tell them you want the programming or just switch to another provider. So basically he wants you to do his job for him or go through the inconvenience to changing to a different service. Meanwhile according to DIRECTV, the Pac-12 wants too much money to carry the channel so that's why the deal isn't done.
And of course that is what it boils down to — the almighty dollar which in the end comes straight out of your pocket. You see, cable and satellite networks are required to pay a fee, in this case to the Pac-12, for every household that will receive the channel. Now do you think they just eat that cost? Nope. They usually add a surcharge to your bill. So therefore everyone "makes it rain" — the Pac-12 Network and the cable/satellite providers.
Well everyone except the fans who just keep paying out the cash. If it's not enough to lay out the money for tickets to actually see games live to go along with the parking, food, team merchandise, or possible donations you send to the school, why not pay more to see them on TV as well, right?
It doesn't make sense, but at least unlike the old Mtn., the Pac-12 does provide its channel in HD. Just too bad a large number of fans can't experience that either.
×
Related Stories