Estimated read time: 3-4 minutes
This archived news story is available only for your personal, non-commercial use. Information in the story may be outdated or superseded by additional information. Reading or replaying the story in its archived form does not constitute a republication of the story.
SALT LAKE CITY — The University of Utah men's basketball program has added three players, Ahmad Fields, Kenneth Ogbe and Princeton Onwas, to its roster for the 2013-14 season. They join Marko Kovacevic, Brandon Miller, Parker Van Dyke and Delon Wright as the newest additions to the Runnin' Utes.
"These three players all bring an outstanding skill set to our program," Head Coach Larry Krystkowiak said. "They are all similarly blessed with great offensive and defensive attributes and are the types of players that can fit right in to the Pac-12 style of play. What's also impressive about these young men is their character. They will all fit in nicely with the type of student-athlete we currently have in the Utah program."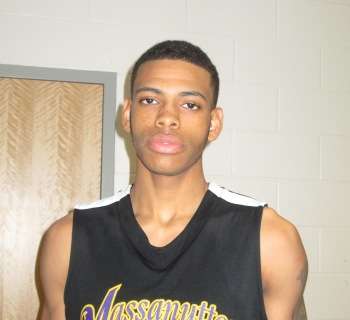 Fields, a 6-foot-5 shooting guard out of Washington DC, is a versatile wing that can shoot from the perimeter as well as attack the glass and break defenders down off the dribble. His length and quickness, as well as court awareness, are welcome additions to the Utes backcourt. Fields, who can play multiple positions, selected Utah over Colorado, USC, St. Joseph's, Drexel, Ole Miss and Miami.
During his senior season, at Massanutten Military Academy in Virginia, the left-hander averaged 17 points per game. Fields also suited up for DC Assault, one of the most renowned AAU programs in the country.
"Ahmad is a playmaker, plain and simple," Krystkowiak said. "He's a slasher with the ability to get to the bucket and earn points at the free-throw line. He will excel in our transition game and adds to our depth and rotation of skilled, athletic players on the roster this upcoming season."
Ogbe hails from Ehingen, Germany where he played in one of the country's top leagues. Another athletic perimeter player at 6-foot-6, he was a member of the German national squad that participated in the 2011 Nike Global Challenge and is currently competing in the German High School National Championships.
Kenneth Ogbe ( red ) # 10
Recently, Ogbe led his regionalliga squad, Ursping, coached by Michael Spoecker, to a championship at the Arby's Classic in Bristol, Tennessee. Ogbe was named MVP after scoring 24 points and snatching eight rebounds as Ursping became the first international team to capture the tournament in its 30-year history. "Kenneth will be a valuable player in the backcourt," Krystkowiak added. "His size on the perimeter will help immensely on the defensive end of the court. He matches a high-level skill set with a great knowledge for the game."
Onwas has earned a reputation as being one of the most explosive wings in the junior college ranks this season. The 6-foot-5, 210-lb. wing earned All-Region honors at Navarro College while playing for one of the nation's most well-respected coaches in Johnny Estelle.
Princeton Onwas #23 Seven Lakes Basketball Dunk
His team's top scorer at 11.5 points per game, Onwas was also the vocal leader for a Navarro team that finished its season in the Region XIV championship game. A good shooter who is constantly improving, he received interest from a number of programs including Kansas State and TCU. Onwas played in high school at Seven Lakes in Katy, Texas. His senior year, the team went 32-7 in District 5A.
"Princeton will be asked to step in and play the role of a Cedric Martin-type player, tough with a defensive mindset," Krystkowiak stated. "He has good feet which allow him to defend high-level wing players that we see nightly in this conference. His passing skills add another dimension to our offense and he is another athlete in our class that can play above the rim."
The Runnin' Utes finished last season with four wins in their last five games, including victories over eventual conference champion Oregon and NCAA Tournament participant Cal. Utah also reached the Pac-12 Tournament semifinals for the first time in program history and won two postseason games for the first time since winning the Mountain West Conference championship in 2009.
×
Related stories
Most recent Sports stories