SALT LAKE CITY — A California man suffering from a major head injury and missing since Thursday morning was found safe but confused in Salt Lake City Friday.
Matthew Austin Abraham, 20, of Scotts Valley, Calif., sustained a head injury when he fell from a trestle while mountain biking in Henry Cowell State Park on March 9, according to the Santa Cruz Sheriff's Office in California. The injury is believed to have caused his erratic behavior.
Abraham was located in the Salt Lake City Main Library about 6 p.m. He was unsure why he was in Utah and possibly didn't realize he was considered a missing person, said Salt Lake Police Lt. Josh Scharman.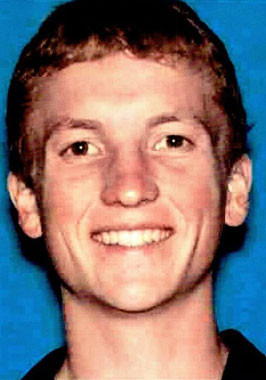 "It sounds like actually he met up with an associate that he met here in town," Scharman said. "They were doing some research as to who he was or why he was in Salt Lake, and they came across a news article from California listing him as missing, and they contacted the agency in California."
Police confirmed Abraham's identity and transported him to an area hospital for a medical evaluation. Abraham was in good health despite his head injury, and was waiting at the hospital for family members who were flying to Utah, Scharman said. 
The search for Abraham crossed California and Nevada, the sheriff's office reported.
After a day's search near the man's home in Scott's Valley, police received word Friday morning from a bus company that Abraham had traveled to Sparks, Nev., and they confirmed his identity through surveillance footage. 
As the search shifted to Nevada, a traveling companion contacted Santa Cruz deputies from Salt Lake City. Abraham had originally asked the individual to help him get to the East Coast. 
×
Photos
Related Links