Estimated read time: 2-3 minutes
This archived news story is available only for your personal, non-commercial use. Information in the story may be outdated or superseded by additional information. Reading or replaying the story in its archived form does not constitute a republication of the story.
SALT LAKE CITY -- Hundreds of senior citizens received a huge thank you from Salt Lake County Tuesday. The volunteers provide hundreds of thousands of hours of service every year, and county coordinators say they couldn't do it without them.
Connie Newtsie volunteers dozens of hours every month to Globus Relief. Her supervisor says Connie's skills and education are invaluable in sorting and packing medications for humanitarian shipments.
"There's so much to do in every aspect, in every organization. It's just nice if you can dedicate any time," Connie said.
Connie is one of more than 1,200 senior volunteers who donate 200,000 hours of service throughout Salt Lake County every year. Five hundred of them were honored for their dedication to teach children to read, help the hungry and homeless and visit the homebound; 12 received certificates of appreciation, and five others were given outstanding volunteer awards.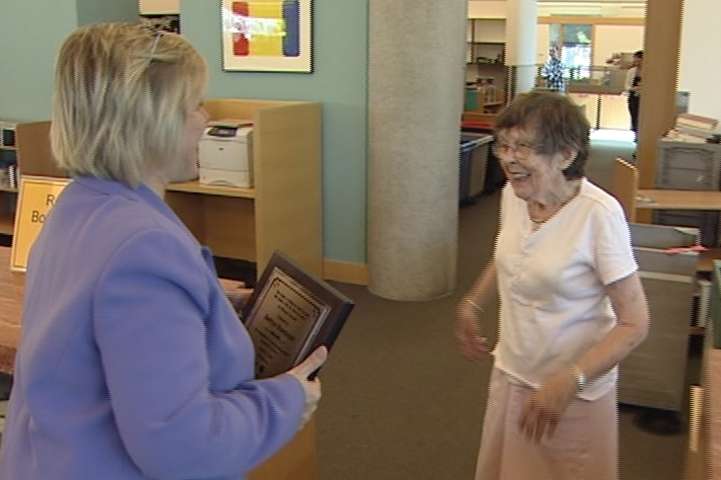 "It seemed like just a good way to use my time, now that I'm retired, and it turned out just exactly like that. It's a great, great way to use your time; very rewarding," said Gerry Leonard, 2009 Outstanding Volunteer Award recipient.
Gerry volunteers three days a week driving people to medical appointments. He was one of Tuesday's five award recipients, along with George Barnes, Lowell Kenedy and Mary Martinez; Bettye Stanhope said she just couldn't come to the ceremony.
"I said, 'Bettye, you're winning an award.' And again … she said, 'I can't come. I'm too busy,'" explained Ann Hunter, senior and volunteer program coordinator at Salt Lake Regional Medical Center.
KSL News found Bettye at the City Library working at one of her two, full-time "volunteer jobs." Why do so much? To meet young people, she says, along with one more reason.
"I have to pay for my Social Security," Bettye laughed.
Salt County Aging Services coordinators say they know there are many more who would enjoy volunteering. If you are interested in finding out how and where you can help, CLICK HERE to visit the agency's website, or call 801-468-2527.
E-mail: cmikita@ksl.com
×
Related links
Most recent News stories