Estimated read time: 2-3 minutes
This archived news story is available only for your personal, non-commercial use. Information in the story may be outdated or superseded by additional information. Reading or replaying the story in its archived form does not constitute a republication of the story.
OGDEN -- Ogden High School is home to what some call the most beautiful school auditorium in the nation.
It's undergoing a renovation to restore its art deco style from the 1930s. The $9-million project is part of larger $90-million plans to restore the entire school. Work has been underway for two months, and the lead decorative painter on the job is amazed at what he found on the auditorium's wall.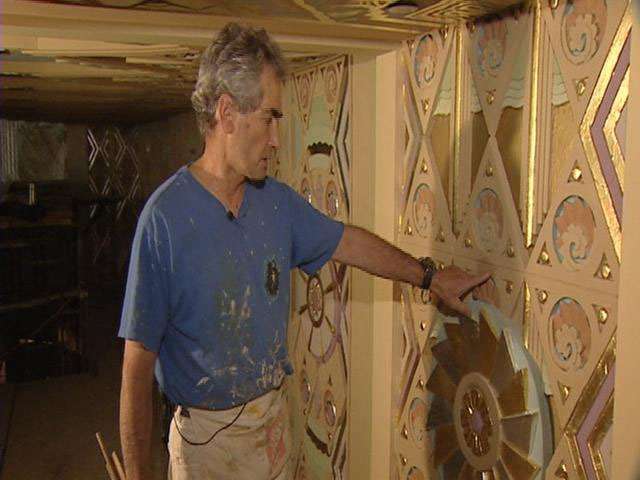 The project includes silver and gold leafing, plus matching 25 different colors, all done by hand.
Painter Chuck James says, "All the stuff in the relief is all real gold, 23-karat gold."
It's worth $25,000 according to James, who has restored temples of The Church of Jesus Christ of Latter-day Saints all over the world, as well as the Utah State Capitol and the LDS Tabernacle.
---
I've never seen anything like this. That's why it's so unique.
–Chuck James
---
He says the detail and art work at the auditorium, all in art deco style, tops them all. "I've never seen anything like this. That's why it's so unique," he says.
One of the most exciting parts of this job came when he spotted five signatures in the rosette focal point near the ceiling. "When I first saw them, I said, 'Wait a second. I know these guys!' I knew them all," he explains.
The signatures are those of Chuck's mentors decades ago.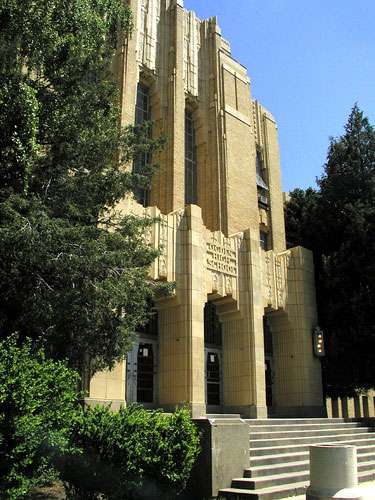 "They showed me how to bevel a straight edge and use a mall stick and use the leafing brushes," he says.
The five men were from Northern Europe, brought to America to work on LDS temples, the only craftsmen of their kind. When they were in their 70s, Chuck tracked them down to learn their trade and bought their tools. Chuck feels history is repeating itself as he uses the same techniques and equipment those men used in the 1930s.
The project is being financed through bonds and private donations. Donors and alumni have been given tours of the restoration. Larry Leatham took a look and says it's a magnificent sight. "To see the workers lying on their backs, working, I thought Sistine Chapel. It is as magnificent as that," he says.
The signatures have all been sealed with varnish as a reminder of the past. Chuck hopes to do just as fine of a job as his mentor did.
The decorative painting should be completed in two months. The auditorium should be finished by the beginning of the next school year.
E-mail: abutterfield@ksl.com
×
Photos
Related links
Related stories
Most recent News stories