This archived news story is available only for your personal, non-commercial use. Information in the story may be outdated or superseded by additional information. Reading or replaying the story in its archived form does not constitute a republication of the story.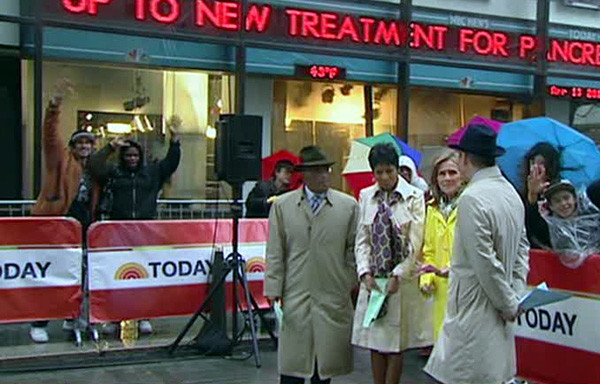 NEW YORK CITY -- The Today Show, which debuted in 1952, is the fourth longest-running American TV series. Over the years it has featured Barbara Walters, Jane Pauley, Tom Brokaw, Bryant Gumbel, Katie Couric, plus current hosts Matt Lauer and Meredith Vieira.
We spent a day behind the scenes of the show and focus today on Matt Lauer.
After just a few seconds behind the scenes, we witnessed the hum of a well-oiled machine, a powerhouse that flexes its muscles every morning as the top-rated morning news program in America.
For long-time host Lauer, it's all about routine and preparation.
"I get up at 4:10 a.m.," he said. "I'm here by 4:45 every morning."
---
The adrenaline gets going every morning when you wake up and you realize what you're going to be talking about.
–Matt Lauer
---
He says he's a very routined person. "I like to get in here early enough so that I can get in the wires, get in the newspapers. I've got people who come and we go over segments. It's just the way I like to go about it."
And that's the way Lauer has gone about it for the last 15 years, gaining a reputation as one of TV's top-rated personalities and top interviewers.
"We've all seen some people do interviews where they have a list of 10 questions on a page, and they're going to get through those 10 questions, no matter what the guy or woman they're interviewing says," he explained.
"I like to try and let the interviews be a little more organic. If … in one of the first answers to my questions you say something that surprises me, well, that's where I want to go. I want to find out more about that and forget the other eight topics I wanted to talk about."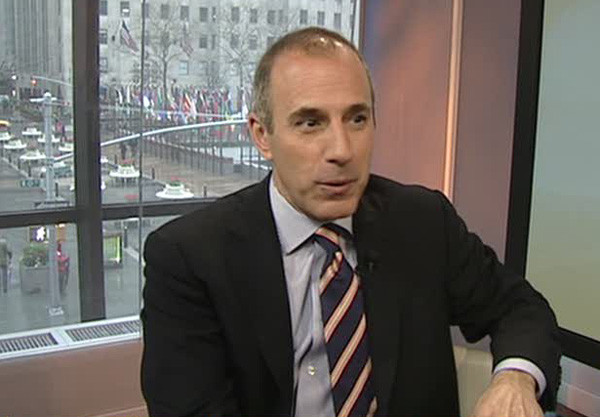 "I can't imagine phoning it in. I really can't. I mean, yes the format of the show is pretty much the same and has been over a long period of time. And yes, I've done this for 15 years. But in reality the news and the events we talk about are different every single day," he said.
We noticed about Lauer, as he shook hands and posed for pictures with fans, that apparently what you see is what you get. The Matt Lauer we watch at home every morning seems to ring true away from the set.
Lauer loves Utah
Lauer told us he loves Utah and often brings his family here to visit.
"I know this is like blasphemy for the people of Utah, but I kind of change my time between Colorado and Utah, bouncing back and forth every year," he said. "I know, 'Greatest snow on earth.' I love the state, it's great."
Ask anyone who knows Lauer and they'll tell you he enjoys great food and the great outdoors, which is why he fell in love with Utah when he first visited for the Olympics in 2002.
---
The people (of Utah) could not have been more welcoming, and it stuck with us.
–Matt Lauer
---
"It's not an easy undertaking to pick up the entire group and bring it on location. Occasionally we ruffle some feathers because we don't travel light as a group. But the people could not have been more welcoming, and it stuck with us. I think that's why a lot of us keep coming back," he explained.
"You've got this incredible natural beauty -- you've got the wilderness, you've got skiing, you've got people who love outdoor recreation. I like to fish also, love horses," he said.
"I love the fact that you can go into Salt Lake City and Park City and you can have a nightlife. Let's face it, I'm not a big nightlife person. I go to bed at 9:30. But I like good food. I like restaurants. I like a little bit of a sense of activity. I think Utah has that too, and it's convenient. I can get out there in a few hours. I'm a big fan."
Coming up:
When it comes to fans, Lauer has plenty of them who pack the plaza in New York City every morning for their chance to be on TV for a few seconds, and perhaps meet Lauer, Al Roker or Meredith Vieira. And even after 15 years, Lauer says it never gets old because the news is different every day.
"The adrenaline gets going every morning when you wake up and you realize what you're going to be talking about," he said.
"I think that would be the worst possible thing for the viewers to wake up and tune in and say, 'This is a guy who is just going through a routine.' That's not what they want to see," he said.
Story note from Scott Haws: It's fascinating to see someone who's in the same line of work as you and get a glimpse of how they operate and pull things together. Lauer really does have a soft spot for Utah and Utahns, and came across very genuine and engaged during our conversation.
E-mail: shaws@ksl.com
×
Photos
Related Links