Estimated read time: 5-6 minutes
This archived news story is available only for your personal, non-commercial use. Information in the story may be outdated or superseded by additional information. Reading or replaying the story in its archived form does not constitute a republication of the story.
SALT LAKE CITY — The events and announcements coming out of BYU and Utah over the past week prove without a doubt the football rivalry has never been more intense.
With Robert Anae at the center, Bronco Mendenhall and Kyle Whittingham may have played a game of tug-of-war. Somewhere, there is truth.
During an interview broadcast on BYUtv last week on national Letter of Intent signing day, Mendenhall made a point to say "Utah made a strong push at the end" to hire Anae, who left the staff at Arizona for his second stint as the BYU offensive coordinator. It's easy to surmise that Mendenhall was saying Anae could have had a job at Utah if he wanted it.
"Not many people know that," Mendenhall said, obviously wanting to reveal this insider information.
But maybe the push wasn't all that strong, after all. At Monday's press conference to announce Utah's new co-offensive coordinator, Whittingham said only Dennis Erickson was offered the newly created position.
Related:
"He was the only offer," Whittingham said. "That was it. As I went through the process he was the only guy I offered [and] fortunately he accepted."
So which is it?
In more of an anecdotal observation, the philosophical differences between the signing day presentations for both schools provided quite a contrast.
Attired in a suit, Mendenhall began his press conference with a testimonial of his job description as the BYU football coach. Mendenhall never backs down from his foundation, knowing full well that the "football is fifth" philosophy irritates many of the BYU faithful.
Four hours later, the Utah coach took a far more casual approach. Wearing a Utah golf shirt and jeans, Whittingham joked that it was good to see the media types again before running through all the recruits the Utes signed earlier in the day.
So what do we take from the opposite styles? Draw your own conclusions.
Speaking in a studio inside BYU's state-of-the-art media facility, Mendenhall presented a message that was broadcast across the globe on the university's television station. In addition to the 10-15 media representatives from traditional outlets, roughly another two dozen BYU employees who have some sort of media responsibilities also were present in the background. And most rank among the most loyal Cougar fans.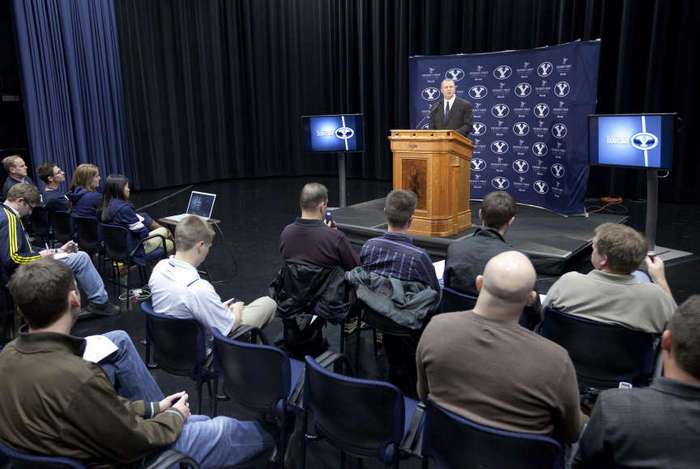 On the day designed to announce the new recruiting class, Mendenhall spoke for 10 minutes before mentioning any new player.
"The intent has been really to design the most complete program in the world," he said. "I didn't say best program, I said the most complete. And that is in specific to the standards that are asked of me here at BYU."
With that, Mendenhall delved into those standards. In order, he is responsible to develop each of his players spiritually, intellectually and character-wise along with providing service opportunities.
"And then after, I was asked to be really, really good in football," he said.
During his discourse, which included a slide presentation on two televisions flanking each side of him, Mendenhall touched on numerous topics ranging from the number of players who serve church missions to the legacy of LaVell Edwards and success of the program during his eight years as head coach. As if still needing to justify the decision to jump from the Mountain West to being an independent, Mendenhall spoke of the program's worldwide following through ESPN and BYUtv. In terms of television availability of its games, BYU plays with the big boys.
"No one is seen more than us," he said.
Mendenhall spoke on the new incoming players for nearly 10 minutes, followed by answering questions for almost 20 minutes on any topic related to his program. With that, he turned over the podium to Anae.
In stark contrast, Whittingham's press conference did not include a faith-promoting presentation. The simple affair was held in one of several portable trailers that house the Utah players and coaches as they await completion of the new football facility that is under construction.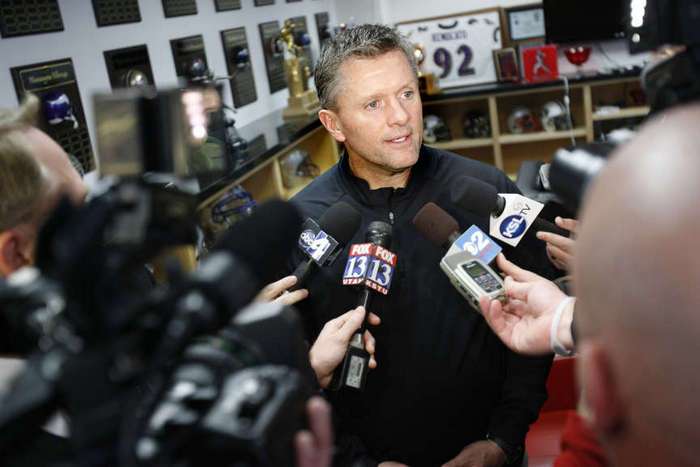 Whittingham spoke before a similar number of media members, which didn't include a large contingent of in-house employees. But his brother, who serves on the football staff, was there.
As he always does in every media session, Whittingham jumped right into the meat of remarks before taking questions. The entire press conference lasted about half the time Mendenhall used.
"We definitely feel we became a bigger, faster football team with this recruiting class," Whittingham said.
For the sophisticated ear, it seemed both coaches got subtle shots at each other. Or maybe they were merely coincidental.
Acknowledging he didn't sign every targeted in-state recruit, Whittingham said Utah lost some players to "BCS schools." BYU is not a BCS school.
Speaking on signing Gary Andersen's son, Chasen, Mendenhall noted that his friendship blossomed with the elder Andersen once he stopped coaching at Utah. This isn't new, though, as Mendenhall has frequently referenced his close association with Andersen and how well the Cougars are treated each time they play in Logan.
Mendenhall also boasted that BYU has played in a bowl game in each of his eight seasons. Interestingly, he emphasized the point after Utah didn't qualify for the postseason for the first time under Whittingham.
"When the regular season is over, we're still playing — every year," Mendenhall said.
Whatever your persuasion, it makes for good offseason fodder.
×
Related stories
Most recent Sports stories