SALT LAKE CITY — If you were ever disappointed in watching Utah's offense during its discouraging 5-7 campaign in 2012, it turns out you probably weren't alone.
The Utes finished 108th in total offense, managing a meager 324 yards per game in their second go-round in Pac-12 play.
In 2013, the Utes aren't taking any more chances.
Who is Dennis Erickson?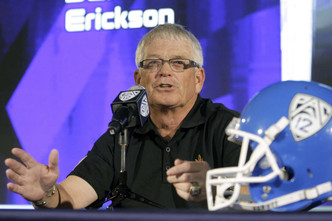 Coaching Career
1969
Montana State (GA)
1970
Billings CC HS (MT)
1971–1973
Montana State (assistant)
1974–1975
Idaho (OC)
1976–1978
Fresno State (OC)
1979–1981
San Jose State (OC)
1982–1985
Idaho
1986
Wyoming
1987–1988
Washington State
1989–1994
Miami (FL)
1995–1998
Seattle Seahawks
1999–2002
Oregon State
2003–2004
San Francisco 49ers
2006
Idaho
2007–2011
Arizona State
2013–
Utah (co-OC)
Profile
Head Coaching Record:
179–96–1 (college)
40–56 (NFL)
Accomplishments:
• National Championships (1989, 1991)
• Pac-12 Titles (2000,2007)
• Pac-12 Coach of the Year (1988, 2000, 2007)
• Sporting News College Football Coach of the Year (1992, 2000)
On Monday, the Utes announced that they have hired coaching veteran Dennis Erickson to be co-offensive coordinator alongside 26-year-old Brian Johnson.
"Dennis Erickson brings a wealth of knowledge and coaching experience to our program," Utah head coach Kyle Whittingham released in a statement Monday. "He has been labeled as one of the original architects of the spread and we are looking forward to the impact he will have on our offense. Coach Erickson also has recruiting connections across the country which should benefit us on that front as well."
The 65-year-old Erickson has been a head college coach for 23 seasons, in which he won two national championships with Miami in 1989 and 1991. His coaching history also includes stops with the Seattle Seahawks and San Francisco 49ers.
---
(Erickson) has been labeled as one of the original architects of the spread and we are looking forward to the impact he will have on our offense
–Utah head coach Kyle Whittingham
---
"I want to thank Kyle Whittingham and the University of Utah for the opportunity to get back into college football," Erickson said. "Being around football players and coaches has been my life and that's why I'm coming out of retirement. I will do whatever I can to help the players and coaches at Utah be successful and I am excited to get back out on the football field."
While the list of schools Erickson has coached at is impressive, its how he is able to turn a program around that really turns heads. He lead an Oregon State team to its first winning season in 29 years in his first year at the helm in Corvalis. In his second year with the Beavers he lead Oregon State to an 11-1 record with a Fiesta Bowl win over Notre Dame.
Dennis Erickson and Brian Johnson are listed as co-offensive coordinators, but make no mistake about it - this will be Erickson's offense, and he will have the final say.
"You don't bring in a guy like (Erickson) without handing him the reigns," Whittingham stated.
Erickson's first day with the Utes will be February 19th.
Notes: In other staff moves, Whittingham has changed the coaching assignment of assistant Iliasa Tuiaki. Tuiaki takes over as the defensive line coach after managing the tight ends and fullbacks last season. Tuiaki got his coaching start on the defensive side of the ball, serving as a defensive graduate assistant for Utah's 2008 Sugar Bowl team.
Video contribution: Mike Grant
×
Related Stories