SALT LAKE CITY — What is the biggest challenge the Jazz could face after beating a team who was starting to surge? Probably having to beat them again the next day on their home court.
The Jazz seized control of the Trailblazers early in their 86-77 victory. They made adjustments found ways to score and held off runs the Blazers were making. Neither team played great and now the Jazz have to find a way to beat them again in Portland.
So on Groundhog's Day they have to regroup, travel and find a way to carry their momentum to face a team they just beat and looking for revenge.
Simple enough.
It isn't the first time the Jazz have had to go home and home with a team. Actually it will be their third this season, they split with the Kings, each winning at home, and lost both to the Clippers during the Clippers run. They have been the home team first each time.
Last year they split with the Spurs, each team winning at home. But is it still a little weird to turn around in the middle of the season and play the game again?
"Nah, I've been doing it for a while now, you just kind of get used to it," said Al Jefferson. "We passed the first test. We got one on our home floor now go and get one on their home floor. And we're in pretty good shape."
Jefferson was a big reason why the team was able to pick up the first win. He had 21 points and 10 rebounds, including scoring the last four points for the Jazz to put the game away. The Blazers will have to adjust their game a little to compensate for what Jefferson brings. Exactly how Jefferson isn't sure.
"That's a question you'll have to ask them," Jefferson said. "I hope they keep it the same. They were double teaming, did a good job, and had us out of sync a little bit with the double team because it was coming from the cutter, but like I said we made an adjustment. They have a great defensive-minded coach. They play defense very well in my opinion. So I know they are going to try to make an adjustment tomorrow night."
Jefferson was hot, then the Blazers adjusted to slow him down with a double team. The cutting man was being left by his man to double Jefferson. Then coach Tyrone Corbin decided to stop sending a man to cut and the Jazz were able to close the game.
Jefferson was joined by Derrick Favors and Paul Millsap to control the game. Favors played 23 minutes and grabbed 12 rebounds with 7 points. Millsap scored 15. Their offense wasn't nearly as impressive as their defense. They were a key to holding the Blazers to three quarters under 20 points.
A big key was slowing down LaMarcus Aldridge. The All-Star scored 16 points and grabbed 10 rebounds, but he had to take 17 shots to get there.
"We're going to try and make him have the same kind of night tomorrow night," Corbin said. "It's on their home floor. He's an All-Star in this league. So he'll be ready against us and got to be ready to make him work hard."
Damian Lillard had 26 points, but was 10 for 23 shooting. He got hot and scored 20 points in the second half. The Jazz used DeMarre Carroll, Earl Watson, Marvin Williams and Randy Foye to guard him and he beat them all, with either 3-pointers or speeding past them.
The most interesting part of the rematch is how much different it will be. Watson was hurt late in the game and might miss the second game. Two former Jazz players, Wesley Matthews and Ronnie Price, went down and might miss the game as well.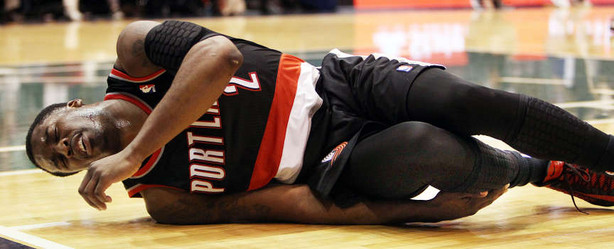 The Blazers injuries hurt an already shallow team. Matthews is averaging 35.5 minutes per game and adds 15 points while Price is the main backup for Lillard and Matthews, averaging 13 minutes. Now Will Barton will probably become the starter and go from 10 minutes per game to taking Matthews' minutes.
Watson's injury will pose similar problems for the Jazz. The backup point guard has been playing roughly 20 minute per night and has been key late game. Now the Jazz only have Jamaal Tinsley as a pure point guard. Alec Burks and Foye will have to shoulder the load.
"Well it's another guy down," Corbin said. "We only have one real point guard in Jamaal left. Alec going to have to play some more we have to move some things around."
Adjustments must be made for both sides, to overcome injuries and to simply play better. The second night of a back-to-back shouldn't have many surprises, but these two games will look very different when all is said and done.
×
Related Links
Related Stories