RIVERTON — A couple of days before Christmas, Isabel and Gavin King were playing in their front yard in Riverton when a deer stopped by to play. Their dad caught it on video.
"I was asleep on the couch and I heard the kids say, 'Come play with the deer! Come play with the deer,'" Jamie King said.
He wandered outside, still groggy from his nap, and marveled at the sight of his kids, ages 7 and 5, playing with the doe, like she was a pet.
The doe was calm, and then jumpy, and after a few minutes, wandered off.
"At first, I was like, 'Whoa, that deer is a lot larger than my kids,'" King said. "But by then it was already too late, and my kids were already petting it. Once I saw my kids pet it, and I saw the deer jump like it did, I could tell they were fine."
When ksl.com put that video online, people responded; so did the Division of Wildlife Resources, which raised questions about how we should interact with animals in our neighborhoods.
"I don't know if I've ever seen anything like that, to be honest with you," said Kevin Bunnell, the Wildlife Section Chief with the DWR.
Snow and cold temperatures in the mountains often force deer and other wildlife into our neighborhoods. For kids, it's tempting to play, but wildlife experts say stay away.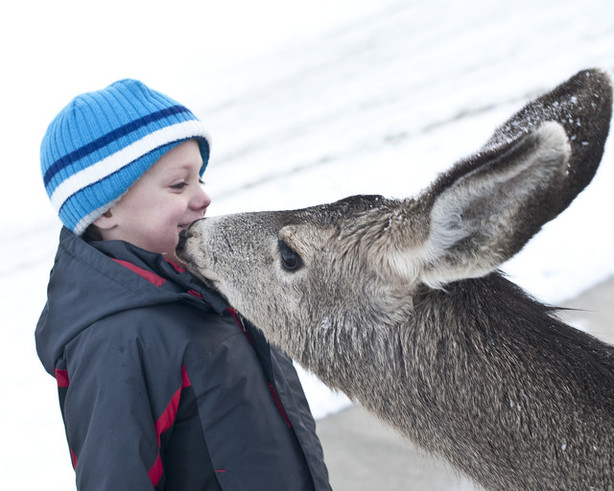 Still, for Isabel and Gavin, their time with the deer was a priceless Christmas moment.
"It was cool to be petting a deer," Isabel said. And Gavin said he wasn't afraid because it was fun. He even chased the animal across the yard.
Their dad grew up around horses, and said he sensed the doe was not a threat.
"I think that if there was a reason to feel threatened, I would have felt threatened," Jamie King explained.
Another woman in King's neighborhood took photos of her kids standing face to face with a deer, even racing the deer on a sled hill. She thinks it might be the same deer because other neighbors have had similar experiences, and they say small herds of eight or 10 deer wander through the neighborhood at times.
The doe appears healthy, even playful, by the way she darts around and tosses her head in the video.
"I would guess by the fact that they are getting as close as they are, that the animal has had a lot of contact with people," Bunnell said.
When he first saw the video, he knew it was a thrill for the kids. But he's also concerned the children could have been seriously hurt if the animal had panicked.
"They're actually capable of causing quite a bit of damage. They lash out with their front feet," he explained.
That's the main reason the DWR advises people to steer clear of wildlife that wander into their neighborhoods.
---
I would say keep your distance, regardless of whether the animal lets you approach it or not. You never know if it's going to panic.
–Kevin Bunnell, DWR
---
"I would say keep your distance, regardless of whether the animal lets you approach it or not," Bunnell said. "You never know if it's going to panic."
The more we welcome wildlife, he said, the greater the threat to the animal and humans. Wildlife are easy targets for cars, and large congregations of deer attract predators and disease.
But King's comfortable with this deer, should it ever wander through his Riverton neighborhood again.
"If the deer came by again, I would totally let my kids play with it," he said. "I've heard several of my neighbors make comments (like), 'Oh, we've pet that deer before, we've played with it.' "
For his family, it a holiday moment they won't soon forget.
"How many parents can say a deer came to visit right before Christmas?" King said. "It might've been from Santa, it might not have been; I don't know."
×
Photos
Related Links
Related Stories