SALT LAKE CITY — Time to get this out of the way first: Don't overreact. Keep calm and remember that a 40-point loss means the same as a 1-point loss. It can just be more embarrassing.
There was very little good to pull out of the Jazz's 125-80 crushing at the hands of the Houston Rockets. Okay, maybe that isn't true. There might be nothing good to pull from last night's game.
The Rockets shot 47 percent from behind the 3-point line. They out-rebounded, out-assisted, out-stole and out-played the Jazz in every aspect.
But the Jazz team won't panic. If anyone believes great teams don't have off days they can look at the Jazz's own history to see a 96-54 drubbing in the '98 NBA Finals at the hands of the Bulls.
So breathe, relax and have patience.
Everyone can, and probably a lot will, argue that this shows the Jazz need to make a move or several, but for now it was just one game and that is how the Jazz are treating it.
"One loss," Coach Tyrone Corbin said when asked about what he would say to his team.
---
One loss.
–Coach Tyrone Corbin
---
One loss. But it was by 45, doesn't that sting a little more?
"A loss is a loss," Paul Millsap said.
The loss moves the Rockets closer to the Jazz, both are three games over .500 now with the Jazz holding on to the 7th seed by percentage points. It might come back to haunt the Jazz come playoff time as they battle for position, but for right now...
"It's one loss," Corbin said. "You got to understand why we lost the game. How did we play? We didn't show up with a lot of energy, we didn't execute, we didn't get stops, we didn't get back. Pick your poison. We didn't do anything on the defensive end. We didn't do much on the offensive end."
The Jazz have a chance to play again Wednesday when they welcome the New Orleans Hornets to EnergySolutions Arena and by then need to indeed find a solution for their energy.
The Jazz were without Gordon Hayward who suffered a mild shoulder sprain and is day-to-day against the Pacers. He is arguably the team's best perimeter defender and a threat to shoot. He probably isn't 45 points valuable, but it is hard to believe he couldn't have added something to the game.
---
It was a tough night for us I think. In 82 games you are going to have one of those nights. They just came in and beat us, and beat us badly.
–Gordon Hayward
---
"Of course we missed him, but I don't think G could have put up 50 points," Millsap said. "I just think we were just all out of sync, period. I don't know if G would have been part of that or not. G could have been a part of that, but the whole team we were just out of sync tonight."
The Jazz weren't happy-go-lucky after the game. They took this loss hard, but have a perspective that they have to play again.
"It was a tough night for us I think," Hayward said. "In 82 games you are going to have one of those nights. They just came in and beat us, and beat us badly."
Earl Watson got in foul trouble early and really didn't see much playing time. His blood runs hot and he was visibly upset after the game. He doesn't cool down quickly and wasn't in the talking mood.
Al Jefferson and Millsap joke back and forth like comedians on most nights, but Jefferson was somber and serious. The team knows that this isn't who they are deep down.
Hayward had a chance to be a spectator with his injury and he had a hard time with what happened.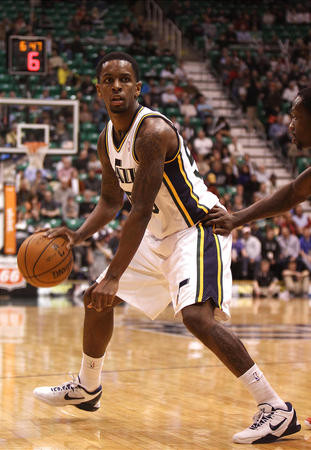 "It was difficult to watch," Hayward said. "You can't really do anything so it's always difficult when you are sidelined."
For anyone looking for a small positive it is extended minutes for young guys. Rookie Kevin Murphy had as many minutes last night as he did in all games going back to November combined.
"It's a lot of experience," Murphy said. "Just being able to play against NBA-type level guys. You get a lot of experience from that. Just learning how to move without the ball, how to defend certain players. It's good."
That might have been the only time "it's good" was said last night, but it is something for the Jazz. Jeremy Evans got 11 minutes. Alec Burks got 26. They probably would have rather won than played, but they are still getting good time to learn.
The Jazz will have to have a short term memory on this game. It is a cliché, but if this game defines them then the season will fall apart. At the same time, Corbin will look at the tape to learn from it.
"I have to take something from it," Corbin said. "So I may watch and see if I can find something, so we can grow from it. But I don't think the guys need to see this one."
This team is still learning. They are still in the playoff race, have a favorable schedule and have won 9 of their last 12.
Ultimately, the lesson that people might take from this is: This loss doesn't hurt if no one expected them to win.
×
Related Links
Related Stories