Estimated read time: 3-4 minutes
This archived news story is available only for your personal, non-commercial use. Information in the story may be outdated or superseded by additional information. Reading or replaying the story in its archived form does not constitute a republication of the story.
LAS VEGAS — For every awesome gadget you see at the international CES gadgets show in Las Vegas, you see another that is just plain weird.
The show is a chance for both tech giants — like Samsung and JVC — and startups to find some footing in the tech industry or show off new products. And the show isn't just about phones or TVs; some gadgets seem to be destined to line the walls of a novelty souvenir shop.
Here are five head scratchers from CES 2013:
iPottyYep. It's a toilet with an Apple product attached. Parents who don't think their kids are getting their daily dose of tech off the toilet can now sit Junior down in front of an iPad while he does his business.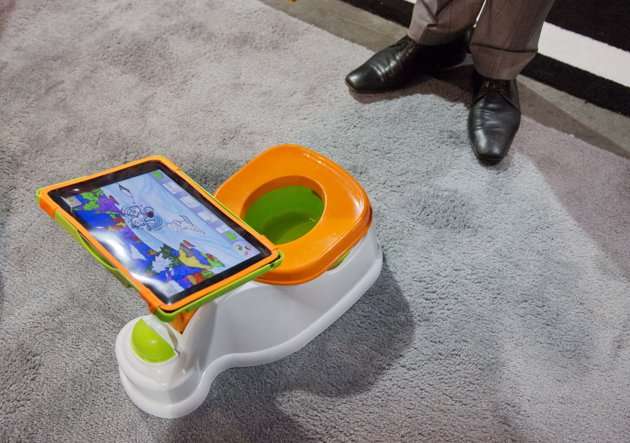 The device has a special holder for an iPad and costs $40. It apparently comes with splash guards to protect your tech.
The iPotty will go on sale in March, first on Amazon.com. CTA Digital, the product's creator, said it is looking at finding ways to work with tablets of other brands, according to the San Francisco Chronicle.
MotorheadphonesLemmy Kilmister, frontman of Motorhead, debuted the band's own line of headphones at CES. meant to compete with Dr. Dre's Beats, the Anti-Beats put the emphasis on mid-range sounds instead of bass. They've been available in the U.K. for some time now, but will make their U.S. debut in April, according to Music Feeds. Basically, they're just a set of really loud headphones that will retail for about $50. They're branded as the "loudest in the world," but do you really want to follow in the footsteps of Kilmister, who has suffered from tinnitus for decades?
Brainwave Cat EarsA few sensors and some circuitry are apparently supposed to make these cat ears just as embarrassing as every other pair of cat ears a worthwhile investment. The $99.99 ears are equipped with motors that move the ears based on your brain activity.
Like Tech & Gadgets on Facebook:

Like Tech & Gadgets on Facebook for up-to-date tech and gadget news from Utah's online news, sports, weather and classifieds source.
It is unclear whether the ears are meant to serve any useful purpose, but they do work, according to PC Mag.
Mondo SpiderWhat is it? A gigantic, rideable robotic spider. Eight legs and 1,600 pounds of metal to keep you company the next time you decide a car or public transportation isn't good enough to get you around town. It's been around since 2006, but was at the CES for the first time this year. The spider crawls around at about 5 mph and lasts about an hour on battery power. You can check out the spider in action at Engadget.
SpnKiX motorized skate shoesSpnKix are like a combination of Heelys — which are awesome — and Segways, which are not. Throw in a sprinkling of Skechers Shape-Ups, and you have SpnKix. The motorized skate shoes are like rollerskates that strap over your shoes and propel you along at up to 10 mph. There is no release date or price set, according to the Verge.
×
Related links
Most recent News stories