Estimated read time: 2-3 minutes
This archived news story is available only for your personal, non-commercial use. Information in the story may be outdated or superseded by additional information. Reading or replaying the story in its archived form does not constitute a republication of the story.
SALT LAKE CITY — A company wants to make targeted TV ads a part of the normal viewing experience, and it's likely not a question of "if," but "when."
Gracenote has developed an ad replacement system that works similar to the system Hulu currently implements, by combining viewing habits with personal information to show viewers more relevant commercials.
The company will start trials of the product in 2013, although it is not yet clear exactly how the new system would be implemented, according to TechCrunch. One possibility is that all new TVs would come with the product already installed.
The company's creators believe the product will be a boon to both advertisers and consumers. Right now, companies target specific demographics they believe will likely be viewing a program at a given time — which is why we see beer commercials during the Super Bowl. Now, advertisers can target ads based on who they know is watching a TV show, so a young single mother and a teenage boy in the same neighborhood would see two different commercials at the same time during the same show.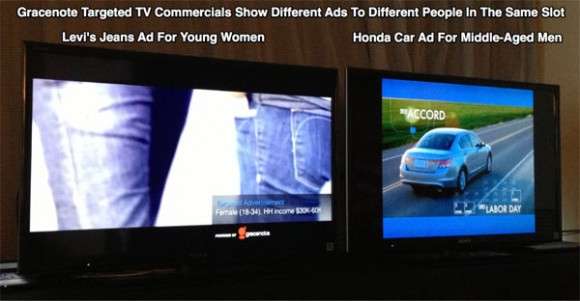 Gracenote hopes viewers will be attracted to the technology, as well, because of the opportunity it provides to only see ads for products they may actually be interested. Some have raised privacy concerns, though, because the technology will necessarily track viewing habits.
The ad replacement system uses video fingerprinting to track what a person is watching and identify when the show will go to commercial. It pulls public information such as gender, age, income and credit profile information to decide which ads to show.
The process is similar to other companies' tracking habits, such as Facebook or Google, but some blowback about personal data collection is expected, due to the general exclusion of the TV from tracking developments before now.
×
Related links
Related stories
Most recent News stories