BLUFF, San Juan County — A Southern Utah town will burn a 16-foot effigy of a mammoth Friday to celebrate the winter solstice and draw attention to the historical significance of the area.
The town is relying on the wooden mammoth to hopefully catch the attention of researchers. The effigy, built to scale, was built over the course of three weeks by Pachak and Bluff residents, using only sticks and two support poles.
The 8 p.m. ceremony will include drumming, and Gulliford said the effigy won't be set on fire with just matches.
"What's really gonna be fun is they're gonna set it on fire with primitive Native American technology, meaning they're either going to use bows and arrows or they're going to use atlatl spears," said Dr. Andrew Gulliford, a professor of history at Fort Lewis College in Colorado. "It'll be fun to see if they can even hit the thing with a flaming atlatl dart."
The mammoth is meant to represent the discovery of mammoth petroglyphs near Bluff, a town of a few hundred people located on the San Juan River. Rock expert and local artist Joe Pachak first discovered the petroglyphs in 1987, but they have been a source of controversy ever since.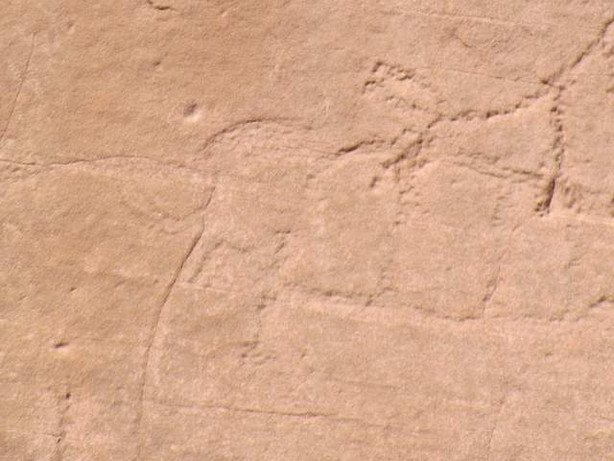 Gulliford has worked to bring the findings to light. He said the petroglyphs, which are between 11,000 and 13,000 years old, could mean a great deal to our understanding of history in the desert southwest.
"We're concerned about climate change now, but it was totally different when there were mammoths," he said. "The fact that this rock art proves they're mammoths is really important to what is now a desert environment, because obviously mammoths are hairy, woolly creatures."
Gulliford is pushing for protection of the site and further scientific analysis of the area, a 4- to 5-mile stretch of what he calls "some of the finest rock art in North America."
Detractors from the effort say the petroglyphs cannot be as old as Gulliford and Pachak say they are, because the sandstone panels would have eroded, leaving the petroglyphs unrecognizeable. But Gulliford says the possibility of finding 11,000 years' worth of human history is one worth checking out.
"It could be really important," he said. "It's just going to take more study." ---
×
Photos
Related Links