Estimated read time: 3-4 minutes
This archived news story is available only for your personal, non-commercial use. Information in the story may be outdated or superseded by additional information. Reading or replaying the story in its archived form does not constitute a republication of the story.
PROVO — The Brigham Young University men's basketball team sent the Eastern New Mexico University squad away for Christmas with a loss, with the Cougars winning 95-62 at the Marriott Center on Tuesday night.
The Cougars were led by team captains Tyler Haws and Brandon Davies, who combined for 36 points and 11 rebounds in limited minutes.
"It was a good win for our team," said coach Dave Rose. "I'm happy for some of the bench guys who got in and had big nights. Hopefully that will help their confidence and our team."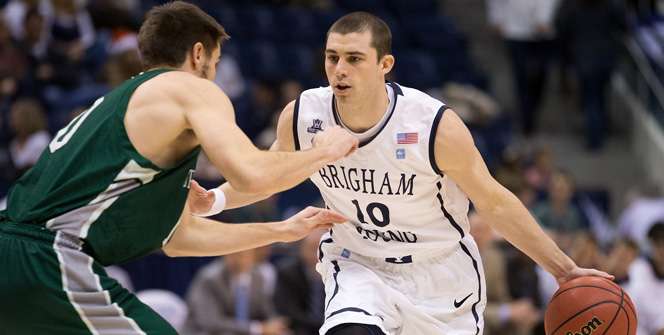 BYU was able to give bench players more minutes than usual, with Anson Winder, Raul Delgado, Cory Calvert, Ian Harward and Agustin Ambrosino playing above their season averages for minutes. The five bench players combined for 77 minutes, more than a third of the available minutes.
---
I think the chemistry of the team is really good. You can see that on the floor, everybody sharing the ball and being unselfish.
–BYU forward Agustin Ambrosino
---
"We kind of knew that they (ENMU) would not be a really good team, but they played hard, and he (coach Rose) gave us minutes, the players on the bench. And I think we needed to have more confidence and help the team," said Ambrosino after the game.
Ambrosino and Delgado, the two junior college players who are both in their first year with BYU, received a large portion of playing time. The two players took advantage of the minutes, with Ambrosino scoring 14 points on 6-13 shooting while Delgado played facilitator, finishing the game with four points, six rebounds, three assists and two steals. Delgado made an athletic dunk for two of his points, and threw an impressive pass to Josh Sharp for an alley-oop late in the second half.
Both players spoke after the game about the chemistry they have developed with the team.
"I'm having a blast so far," said Delgado. "This team is unbelievable; we have a really good relationship off the floor and on the floor."
"I think the chemistry of the team is really good," Ambrosino said in agreement with Delgado. "You can see that on the floor, everybody sharing the ball and being unselfish."
The team has been competitive in practice, according to coach Rose. That competitiveness will help determine who plays, and is a factor going forward as the coaching staff tries to figure out rotations.
"We're going to see (about rotations), depending on matchups, practice, how guys are playing," said Rose. "We're really trying to become solid in certain positions on the team. The one, the three, and the five are areas where I think we've really progressed, and that two and four spot are areas where we are going to play it by ear."
Tuesday's game featured a different starting lineup for the Cougars, with Nate Austin getting the nod over Josh Sharp for Austin's first start of the season. Craig Cusick started again, continuing his streak of games in the starting lineup, this time taking the spot filled by Brock Zylstra earlier in the season.
This much is certain — the Cougars will need to play consistently in their next three games. BYU travels to Waco, Texas, for an away game against the Baylor Bears, who defeated BYU in a nail-biter last season. BYU then plays a home game against Northern Arizona before playing a neutral game against Virginia Tech in Salt Lake City.
Following those three games, BYU enters West Coast Conference play against Loyola Marymount. What will the rotations be when the team faces off against the Lions of Los Angeles?
So far, the coaching staff has given the majority of minutes to Haws, Davies, Cusick, Matt Carlino, Sharp, Austin, Ambrosino, Zylstra, Calvert and Delgado. Will Winder earn minutes in practice? Will Delgado's defense give him an advantage? Will Calvert's ability to limit turnovers (three in 72 minutes) keep him off of the bench?
The answers will be on the court, starting against Baylor on a Friday evening in Texas — provided the world doesn't end during that Dec. 21, 2012 day.
Daniel Lewis is an intern with KSL.com, and currently attends Brigham Young University, earning a degree in communications with an emphasis on multimedia journalism.
×
Related links
Related stories
Most recent Sports stories