Estimated read time: 1-2 minutes
This archived news story is available only for your personal, non-commercial use. Information in the story may be outdated or superseded by additional information. Reading or replaying the story in its archived form does not constitute a republication of the story.
SALT LAKE CITY — Google is making changes to mobile ads to help cut down on wasted clicks due to hard-to-avoid ads or "fat fingers."
The company introduced Thursday a small change to in-app image ads: when the ads are clicked, the prompt to "Visit site?" will appear, allowing people who were trying to avoid the ad the opportunity to do so.
The prompt will only appear when the outskirts of an ad are clicked.
The accidental clicks can lead to numbers for mobile advertisers that seem too good to be true — and they usually are, according to eMarketer, a marketing and commerce research firm. Research shows that between 13 and 38 percent of click-throughs on mobile ads are accidental, depending on the type of ad.
Analysts argue that these accidental click-throughs lead to inaccurate data on the efficacy of mobile ads, due to the size of the average smartphone's screen and the likelihood a click was unintentional. The numbers could lead to inflated prices for advertisers.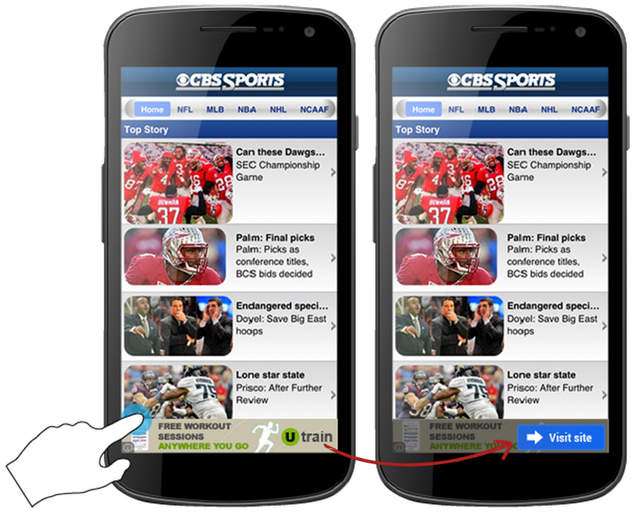 The new prompt may lead to lower advertising prices, but a Google spokesman told Forbes the company is not worried about decreased mobile revenue due to fewer clicks, and would rather focus on pleasing consumers.
"These are weeding out the vast majority of accidental clicks," he said.
As far as the battle for a convenient mobile ad experience goes, Google's Allen Huang wrote in a blog post that "this is only the beginning. As devices continue to converge there will be new challenges in the fight against what many have called the 'fat finger' problem."
×
Related links
Related stories
Most recent News stories