Estimated read time: 4-5 minutes
This archived news story is available only for your personal, non-commercial use. Information in the story may be outdated or superseded by additional information. Reading or replaying the story in its archived form does not constitute a republication of the story.
SALT LAKE CITY - Al Jefferson finished the night with 31 points, and was writhing in pain after his 15th rebound. After all it is hard for one man to carry a team on his back.
Jefferson had a scary moment late in the Jazz's 87-81 win over the Magic when he grabbed a rebound, grimaced a little, tossed the ball to Mo Williams then grabbed his back and collapsed after trying to make it down the court.
He was helped off the court by Jamaal Tinsley and trainer Gary Briggs, his face was filled with agony. The early reports aren't as bad as what it looked like, simply back spasms, but without Jefferson this team would look a lot different.
Right now Jefferson is day-to-day, he said that if he can walk he'll play, "I don't miss games."
"That's the reason I bought the $25,000 bed."
Jefferson has been the centerpiece for this Jazz team for two years. Leading the team in scoring and rebounds last year and this year so far. Before his back spasms he had his season-high of 31 points, 23 of them in the second half when the Jazz were struggling to score.
If Jefferson were to miss a game or two it would come at a very tough time with fellow big Derrick Favors suffering from plantar fasciitis. The logjam would suddenly become a thin line with only Paul Millsap, Enes Kanter and Jeremy Evans available, but for now the team won't focus on that.
"We're not thinking like that," Millsap said, who carried the Jazz early with 16 of his 22 points in the first half. "We're thinking that he's going to play."
The official report is of course day-to-day, but DeMarre Carroll thinks he'll be able to tell earlier if Jefferson is going to play.
---
And while I'm talking about the bed, the only reason it was $25,000, it was only $15,000 but it was going to take 6-8 weeks. By me paying 25 I got it done in a week-and-a-half.
–Al Jefferson
---
"I got to see if he's joking in the morning," Carroll said. "I can definitely let you know that in the morning. If he's joking in the morning that means he's on. If he comes in not talking there might be a chance, cause Al is always talking and always laughing so I'll know in the morning."
From what Big Al is saying right now it doesn't look that good. He was having trouble getting his shoes on and off.
"If I'm laying down or standing up I'm good," Jefferson said. "But if I'm sitting down or bending over that's when the pain comes in. I'm going to get that medicine in me, do what they tell me to do. Keep icing it, cause I don't sleep after games so I'm going to be up all night pretty much."
Basketball does require some bending and when they aren't playing they sit down on a bench, interestingly the rebound actually didn't seem that awkward. He came down and was basically standing straight up, but then it hit him.
He hasn't missed a lot of games due to injury, other than the end of the '09 season where he tore his ACL, and hadn't had problems with his back until this year.
"Before this summer, no," Jefferson said. "I was sleeping on a soft bed this summer in Santa Barbara and that caused it. That's why I went and got that real bed"
The real bed has been the talk of the town earlier this season when the receipt was sent out and Mo Williams took a picture of him in it. The bed cost as much as most people's car, but for someone who is nearly seven-feet tall there is a lot of back that can be damaged.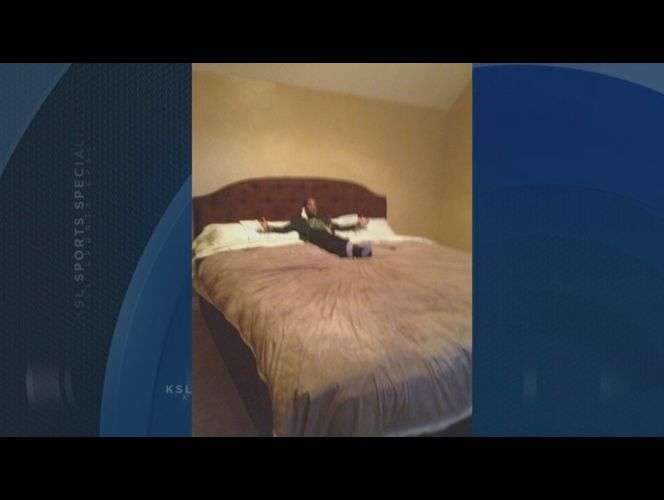 "Worth every dime that's why I can't wait to get home to get in it right now."
Jefferson wanted to clear up some things about the 10-foot long, 12-foot wide bed before he ultimately went home to get in it.
"And while I'm talking about the bed, the only reason it was $25,000, it was only $15,000 but it was going to take 6-8 weeks. By me paying 25 I got it done in a week-and-a-half."
He put the Jazz on his back for a victory over the Magic, and now that his back is having issues the fate of Jazz Nation rests on the $25,000 luxurious piece of furniture. Where his back is in two days is still to be determined, but if anyone is wondering where Big Al's mind is on the matter.
"There's no way in the world I can't see myself playing on Friday."
×
Related links
Related stories
Most recent Sports stories