SALT LAKE CITY — Over the weekend there were several reports that BYU football's Bronco Mendenhall was not only a "viable contender," but had spoken with Colorado about its head coaching vacancy.
Mendenhall has spent the last eight seasons at BYU and has spoken openly about the difficulty of the 2012 season.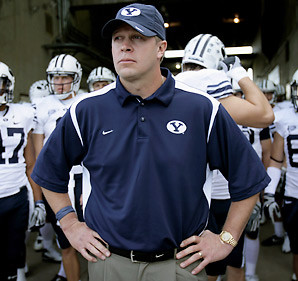 After just two season and a 1-11 2012 campaign CU fired head coach Jon Embree and reportedly have Mendenhall on a short list of candidates that also includes Cincinnati's Butch Jones.
However, Monday morning ESPN's Joe Schad reported on Twitter, "Does not sound like Bronco Mendenhall-Colorado is active."
Last season, Mendenhall's name was swirling around the coaching rumors. In fact, Mendenhall admitted he seriously considered leaving BYU for a different job. Last January, he said he received an offer to be the head coach at a FBS program, but turned down the offer to remain at BYU.
Mendenhall wouldn't reveal the the school, but Deseret News columnist Dick Harmon reported in December of last year Mendenhall "had removed his name from the list at UCLA."
Mendenhall's current contract expires after the 2013 season.
Karl Malone, Athletic Director?
What a crazy college bowl season and none of the games have even been played yet.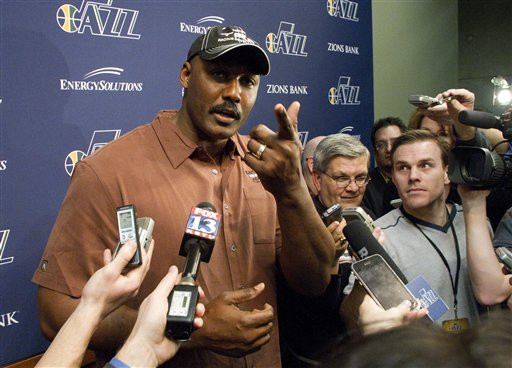 First you have the MAC's Northern Illinois making it into the BCS almost by default.
No. Illinois finished No. 15 to get in and will play Florida State in the Discover Orange Bowl.
To get the bid, NIU (12-1) finished in the top 16 and ahead of at least one conference champion from an automatic qualifying conference, which it did by finishing ranked above both the Big East's Louisville and the Big Ten's Wisconsin.
NIU's guaranteed spot knocked out No. 11 Oklahoma, projected as an at-large selection, from going to the Sugar Bowl, which caused a chain reaction that ultimately left the 9-3 Louisiana Tech Bulldogs without a bowl game.
"Under no circumstances did I ever think there was any possibility at all that we would not play in a bowl game," coach Sonny Dykes said in a statement. "It is a shame that our nationally recognized team and its 31 seniors have to end the season this way."
According to ESPN, Louisiana Tech was invited to play Louisiana-Monroe in the Independence Bowl, but turned it down because it expected an offer to play in the AutoZone Liberty Bowl.
But Oklahoma's exclusion pushed Iowa State out of the Heart of Dallas Bowl and into the Liberty Bowl leaving the Bulldogs with no bowl game and that fired up proud alum and former Jazzman Karl Malone.
---
This ... is exactly what is wrong with our university. Now it's time to get former athletes to run our program. I'm (6-foot-9) and not hard to find.
–Karl Malone
---
"I am Bulldog to the core, I am heart broken and embarrassed that our university would do this to Tech Nation," Malone wrote on Twitter. "To our football and staff this ... is exactly what is wrong with our university. Now it's time to get former athletes to run our program. I'm (6-foot-9) and not hard to find."
Malone also demanded an explanation and a change in leadership.
"Wouldn't it be nice to hire a person doing it for university, and not somebody doing it for a bigger and better job in their mind?" he wrote.
"To Bleed tech Blue, you got to be Tech."
Costas on gun control
During halftime of NBC's broadcast of the "Sunday Night Football" game between Philadelphia and Dallas, well-respected sportscaster Bob Costas took a moment to share his thoughts on the tragic murder-suicide involving Kansas City Chiefs linebacker Jovan Belcher.
Costas spent nearly two minutes quoting heavily from a column by FOX Sports columnist Jason Whitlock, in which Whitlock writes poignantly about gun control and the lack thereof.
Costas ended his editorial with this quote from Whitlock, "In the coming days, Jovan Belcher's actions and their possible connection to football will be analyzed. Who knows? But here, wrote Jason Whitlock, is what I believe. If Jovan Belcher didn't possess a gun, he and Kasandra Perkins would both be alive today."
Twitter erupted with opinions on both sides. Many questioning Costas' choice of platform and accusing him of overstepping his bounds. Others were complimentary of Costas and his willingness to address such a touchy topic.
Jeremy Evans: Dunk champ and artist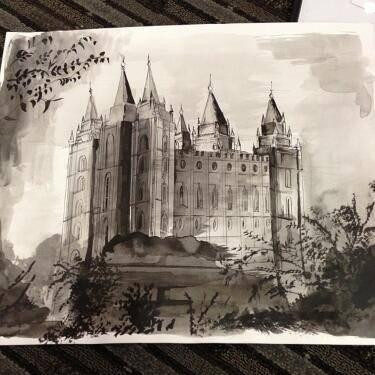 So apparently Jazzman Jeremy Evans is not only a phenomenal dunker, he's also a fantastic artist.
Last week, Evans' teammate Earl Watson posted a picture of a detailed ink drawing, by Evans, of the Salt Lake Temple.
According to Jody Genessy of the Deseret News, "Evans said it was interesting and tough to draw the 119-year-old edifice of The Church of Jesus Christ of Latter-day Saints, with all of its arched windows and familiar spires."
"I didn't want to mess up. It's their temple," Evans told Genessy. "I had fun doing it. After I got done, I was proud of it."
And if you're wondering, no Evans is not a member of the LDS faith.
×
Related Stories