SALT LAKE CITY -- Just as the first red air quality alert of the winter season was announced, state officials on Monday unveiled plans to abandon the time-tested three-color system.
Green, yellow and red day declarations have guided Utahns through the winter air pollution season for the last two decades. But now the state is moving to a six-color system that attempts to more precisely delineate the health risks at each level of pollution.
"We're actually making it more effective," said Bryce Bird, director of the state's Division of Air Quality.
But the new six-color system is already drawing fire. "I don't think anyone's interests are served by having the public confused about the issue," said Dr. Brian Moench, president of Utah Physicians for a Healthy Environment.
---
We're actually making it more effective.
–Bryce Bird
---
Monday's forecast of a red day on Tuesday applies to Salt Lake, Weber and Davis counties. It resulted from a typical winter phenomenon: a temperature inversion traps colder air in the valleys and the stagnant air gets thicker and thicker with smog from cars, industry and wood-burning stoves.
Since the early 1990s the state has used a simple green-yellow-red system to describe the worsening conditions. On a red day, residents are ordered to shut down wood-burning stoves and motorists are encouraged to drive less.
That system, coupled with fines for people who ignore the no-burn orders, have been highly effective, according to the state's air quality monitoring chief, Bo Call. During temperature inversions, officials can smell wood smoke on the filters at air monitoring stations.
"Back in the day," Call said, "they would just reek of wood smoke. Just like you'd been right there, right around a campfire."
But these days when an inversion kicks in, the smell on the filters fades in the days following a declaration of a red no-burn day.
"When we say it's a no-burn, people really do quit burning," Call said.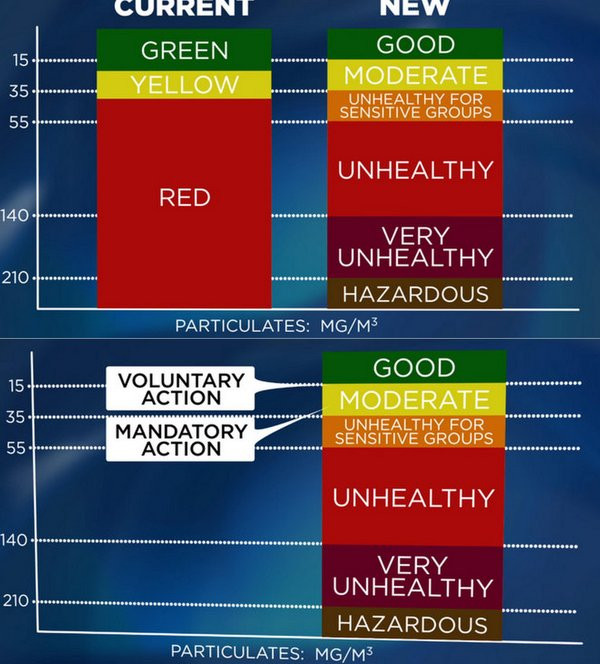 Part of the intent of the new system is get warnings out earlier, so people will cut back on polluting activities before an inversion gets serious. The six-color scheme is also aimed at letting individuals know when their own health is at risk.
Amanda Smith, Utah Director of Environmental Quality, said the old three-color system caused problems for the public. "It has been confusing for people who thought that the red meant that it was unhealthy. Really what the red meant was that it was a mandatory no-burn day in winter," she said.
The new system is an attempt to separate the two issues. At higher levels of pollution, there will be health warnings that discourage people from outdoor exercise. But at lower "moderate" levels, there will be action alerts so people will cut back on polluting activities.
"So the result of that will be that we're calling those days earlier in the inversion period," said Bird.
The level that would trigger a red day under the old system, 35 micrograms of particulate pollution per cubic meter of air, will now be considered an orange day. Utahns will be warned that it's "unhealthy for sensitive groups" such as "people with lung disease, older adults and children."
The red level will be set at 55 micrograms per cubic meter. That amount of pollution will be labeled "Unhealthy; everyone may begin to experience some adverse health effects."
At lower levels of pollution, however, the new system will trigger voluntary and mandatory actions. At 15 micrograms per cubic meter, the state will declare a yellow "Moderate" day, calling for voluntary cutbacks in wood burning and driving.
---
I don't think anyone's interests are served by having the public confused about the issue.
–Dr. Brian Moench
---
If small-particle pollution exceeds 25 micrograms, wood-burning restrictions will become mandatory.
That will "reduce the air pollution and at least delay those days that we'd exceed the (federal health) standard," Bird said. "But we wouldn't trigger people maybe inappropriately taking health precautions when it is not necessary."
But Dr. Moench said the change is confusing and misleading.
"Just a very small amount (of pollution) will hurt everyone," Moench said, "not just sensitive groups."
Moench believes the new system will send an inappropriate signal that people of ordinary health shouldn't worry about moderate pollution levels.
"The medical science is rock solid and has been over the last several years that air pollution actually harms everyone's health, no matter how healthy they are," Moench said.
State officials insist the revised system, and 23 new regulations, will help everyone's health. Residents will be informed that they need to cut back on driving and burning at an earlier stage of an inversion, before the pollution gets too thick.
Bird said if health warnings are set at too low a threshold, healthy people may be inappropriately discouraged from activity.
"There are certainly benefits to exercise," Bird said. "There are benefits to getting out and doing things actively."
The new system takes effect in January.
×
Photos