Estimated read time: 1-2 minutes
This archived news story is available only for your personal, non-commercial use. Information in the story may be outdated or superseded by additional information. Reading or replaying the story in its archived form does not constitute a republication of the story.
According to an article in USA Today, it seems we pay a lot of attention to what our boss drives. Only 10% of us don't know what the top dog drives. We know, and we care. Whether our boss is like Wal-Mart founder Sam Walton who drove an old pick-up, or Warren Buffet who drove a 2001 Lincoln, or the the most preferred car of CEOs everywhere - the BMW.
Speaking of driving, Grant found a story this morning of a woman who drove for 82 years without having an accident. Muriel Gladwin, who taught herself how to drive when she was a child, is hanging up her driving gloves at the age of 94.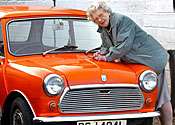 We talked today about how advertisers are gathering information about us not only through putting cookies on our computers when we shop or research online, but combining our voting and other public records. We had several KSL listeners text us that you can remove cookies from your computer by going into the internet options on your computer or downloading software like AskEraser from Ask.com.
Plus, last but not least, Grant found this little gem. The headline reads "Parrot Forces Man to Keep Changing His Ringtone." Stuart McNae has had to change the ringtone on his phone five times and will probably soon have to change it a sixth time because his blue-fronted Amazon parrot has learned to mimic them. The parrot has already learned the BBC Match of the Day tune, Lou Bega's Mambo Number 5, Soul Limbo by Booker T, the Nokia theme, and Bob Marley's No Woman No Cry. He chooses to mimic the current ringtone when McNae is out of the room.
Have a good one! We'll see you in the morning.
×
Most recent News stories