Estimated read time: 4-5 minutes
This archived news story is available only for your personal, non-commercial use. Information in the story may be outdated or superseded by additional information. Reading or replaying the story in its archived form does not constitute a republication of the story.
LOGAN (AP) - The Utah State Aggies already have had quite the week.
They went on the road to beat a nationally ranked team in overtime then arrived back in Logan to the cheers of several hundred fans who didn't mind waiting in the rain.
Now, after earning a spot in the AP poll for the first time since 1961, the 25th-ranked Aggies have a chance to make more history in Saturday's regular-season finale against Idaho.
"There are a lot of 'nevers' out there," said coach Gary Andersen, who was moved to tears after his Aggies beat high-powered Louisiana Tech last weekend to guarantee at least a share of the Western Athletic Conference crown.
"There are a lot of things that they can do that have never happened in the history of Utah State football. That's pretty special."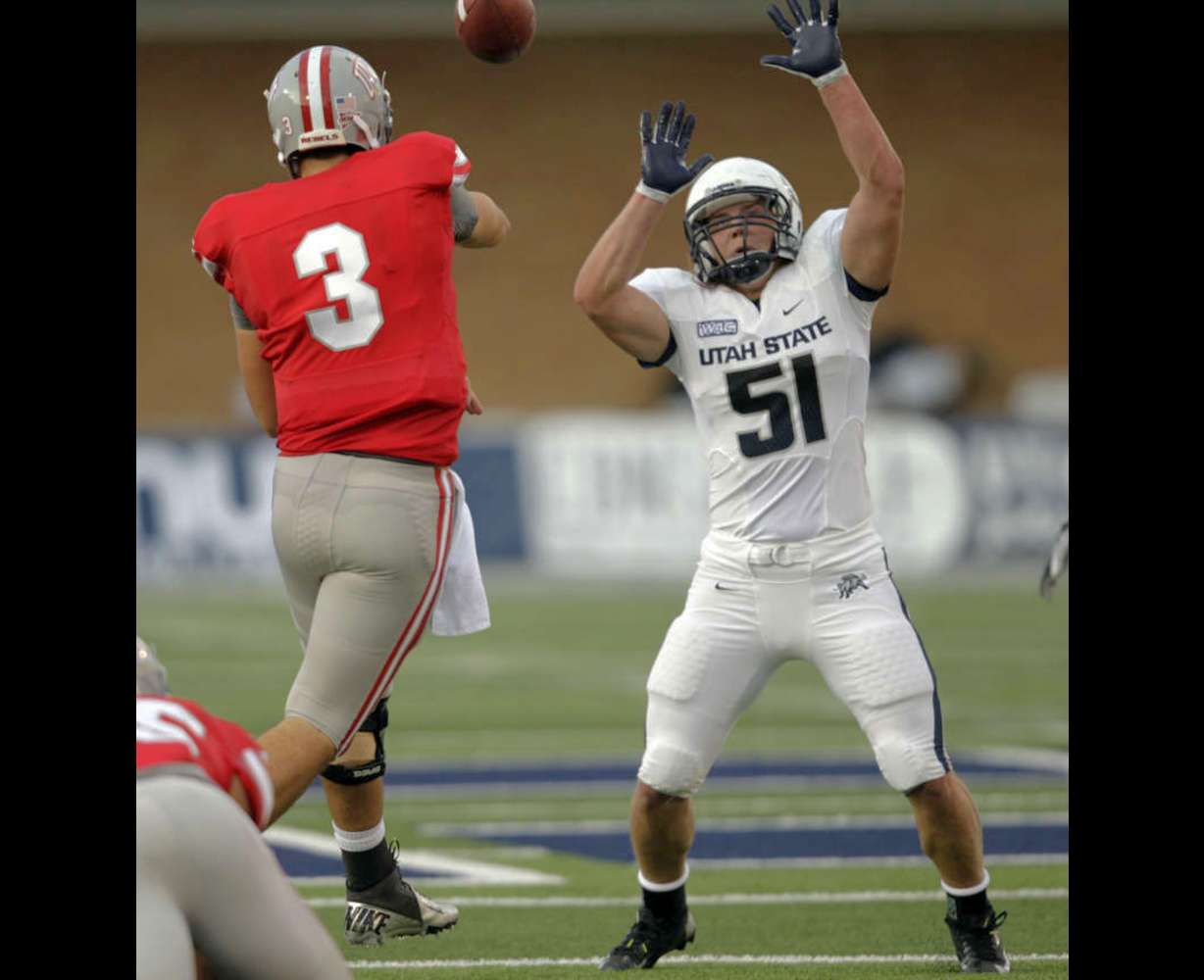 The Aggies (9-2, 5-0) can secure the program's first 10-win season and first 6-0 mark in conference play.
Though they are 39-point favorites against Idaho (1-10, 1-4), history has taught Utah State not to take anything for granted.
Last year they needed double-overtime to beat the Vandals in Moscow, prevailing 49-42 on Robert Turbin's 2-yard TD run.
"Idaho is going to come in here prepared to play," Andersen said.
Just as the Aggies have much on the line, so do the Vandals, who have played the last three games under interim coach Jason Gesse, who is making a pitch to keep the job.
"Kids want to beat the champion," Andersen said. "It's always a driving force for competitive kids."
Utah State is eligible to play in the Famous Idaho Potato Bowl for the second straight year, but another win conceivably could vault the Aggies to a bigger postseason payout.
"We couldn't ask for much more out of our season, but we still have goals in front of us," Utah State quarterback Chuckie Keeton said of winning the WAC title outright, then a bowl game.
Keeton entered the week ranked 11th in the nation in total offense (321.6 yards per game) and 25th in passing (273.3). Now he faces an Idaho defense that is allowing 42.2 points and 493.3 yards a game. He needs 258 yards passing to break Utah State's single-season record.
Utah coach Kyle Whittingham certainly knows what Keeton can do, having lost to the Aggies in early September in a game that saw the sophomore QB complete 22 of 32 passes for 216 yards and two TDs and rush for what then was a career-high 86 yards.
"He is just like the dual-threat quarterbacks we faced this year (in the Pac-12)," Whittingham said, drawing comparisons to the most recent opposing QB, Arizona's Matt Scott.
"On those zone reads, if (Scott) doesn't have the speed and athleticism to get around the edge, we make the tackle for no gain or (a loss) instead of a ... 20-yard gain," Whittingham said. "That's a huge difference to have that element in your offense. He's surrounded by a good back, good receiver ... it's not just him. But (Keeton) certainly is the catalyst that makes it go."
The other is senior running back Kerwynn Williams, who ranks 10th in the nation in all-purpose yardage (164.3) and is one of 19 seniors playing his final home game.
Then there's Andersen, who has been asked if Saturday will be his final game as Aggies coach, considering all the times his name pops up for a vacancy.
"I get that 24/7, but my love has been Utah for a long time," said Andersen, who recently signed a contract extension to keep him in Logan through 2018.
He said there are no guarantees for anything in life, especially coaching, "But I love where I'm at and expect to be here for a long period of time."
Andersen said he knew this was a special group after the 6-3 road loss to Brigham Young before the Aggies went on their five-game winning streak.
"That was a tough loss and the way those kids bounced back and prepared as early as that Monday made me take a step back and realize how much it truly meant to them, how important it was for them to break the huddle every day they walked off the practice field and say 'WAC Champs,'" Andersen said.
Now the title is official. The Aggies just want it all by themselves.
(Copyright 2012 The Associated Press. All rights reserved. This material may not be published, broadcast, rewritten or redistributed.)
×
Most recent Sports stories