Estimated read time: 4-5 minutes
This archived news story is available only for your personal, non-commercial use. Information in the story may be outdated or superseded by additional information. Reading or replaying the story in its archived form does not constitute a republication of the story.
SALT LAKE CITY — The Runnin' Utes will look to bounce back from a disappointing 74-71 loss to Sacramento State last Friday when they host a Thanksgiving tournament at the Jon M. Huntsman Center.
The tournament will begin Wednesday afternoon at 4 p.m. with Wright State taking on Central Michigan. Utah will then take the stage for the nightcap, facing Idaho State at 7 p.m.
Each of the four teams will play one another over the course of four days, with no games Thursday in observance of the holiday.
The Utes' first Turkey Day foe is the one with which they are most familiar. They beat Idaho State, 71-59, nearly a year ago, on Dec. 16, 2011. Senior guard Cedric Martin led that Utah squad with a career-high 19 points.
This season, Martin has been leading the Utes in two different categories. Through the first two games, he has averaged team highs in assists (5) and steals (3) per game.
Junior Glen Dean and senior Jarred DuBois lead Utah in scoring with 13 points per game apiece.
DuBois hopes to improve his leadership efforts to ensure his team doesn't squander another double-digit lead at home.
"When it was in the clutch time last game, I don't feel like I showed any type of leadership," DuBois said. "I don't think I kept our team poised, and that's what cost us the game. So hopefully if we get in that situation, I won't let that happen to me."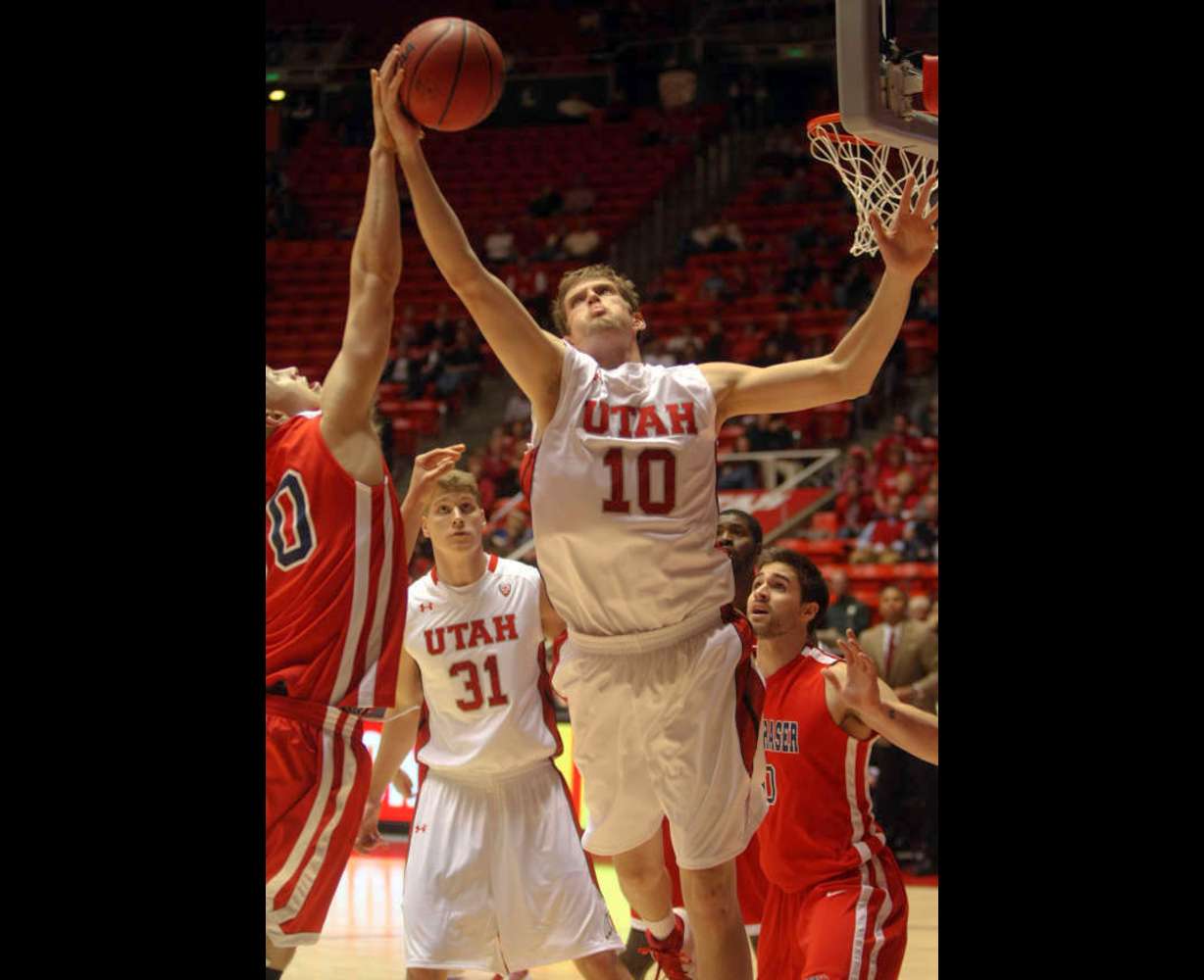 Freshmen Justin Seymour and Jordan Loveridge are also scoring double figures, averaging 11.5 and 11 points, respectively.
After an impressive debut, Loveridge struggled with foul trouble against Sacramento State. He ended up playing just 17 minutes, finishing with four points and three assists. Loveridge will look to bounce back with a big showing at the tournament.
"I need to stay in games so I can help my team win," Loveridge said. "Just playing smarter, trying to compete every game and win every game."
"I know he'll bounce back," DuBois said of Loveridge. "He's not going to have a slump that will last two games, I can promise you that."
Centers Jason Washburn and Dallin Bachynski are both scoring 10 points per game to round out the Utes' double-digit scorers. Bachynski, a sophomore, also leads the team in rebounds with 8.5 per contest.
The Bengals of Idaho State are still looking for their first win of the season, having lost to Utah State and Portland, both on the road (In fact, ISU will only play a single home game until 2013, when the Bengals host Western Montana on Nov. 29).
Melvin Morgan leads Idaho State with 14 points per game. The senior guard also leads the team in rebounds, averaging 4.5. The Bengals' only other double-digit scorer is Chris Hansen, a sophomore guard who averages 11.5 points. Junior guard Tomas Sanchez scores 7.5 points with a team-high 4.5 assists.
Idaho State's two losses have come by an average of 5.5 points, both low-scoring, grind-out contests.
"They're a team that will try to slow you down," Utah head coach Larry Krystkowiak said of the Bengals. "They'll be more patient offensively."
The Utes will hope to improve in every aspect of their game, including an improvement upon their 1-1 record, over the course of the tournament.
"Defensively, it starts in transition," Krystkowiak said of the improvements he hopes his team will make. "Getting back and limiting early looks and open looks. If we're in a position where we have a lead, we can't try to change the way we play. And rebounding, and finishing possessions. Those are the keys, I think, throughout the tournament."
"We hope to be better as a team Saturday than we are in Wednesday's game," DuBois said. "And in Wednesday's game, we hope to be better than we were in last week's game. Just improve every day, offensively and defensively and rebounding."
After a turkey dinner on Thursday, Utah will open Friday's proceedings by facing Central Michigan at 5 p.m. Idaho State and Wright State will square off at 7:45 p.m.
The tournament will conclude on Saturday, when Central Michigan plays Idaho State at 4:30 p.m. The Utes will then try to wrap everything up with a win over Wright State at 7:30 p.m.
Each of Utah's Thanksgiving tournament match-ups will air on the Pac-12 Network and on the radio at AM 700.
Tyson Maddy has covered University of Utah athletics as a contributing writer for KSL.com sports since 2011.
×
Related stories
Most recent Sports stories