Estimated read time: 3-4 minutes
This archived news story is available only for your personal, non-commercial use. Information in the story may be outdated or superseded by additional information. Reading or replaying the story in its archived form does not constitute a republication of the story.
SALT LAKE CITY — With just more than 10 minutes remaining in the game, the Runnin' Utes held a double-digit lead over Sacramento State Friday night at the Jon M. Huntsman Center.
But they were unable to secure the victory.
Sophomore guard Dylan Garrity nailed a jump shot with 1:29 remaining to give Sacramento State its first lead of the second half, 72-71. Utah had no answer, and the result was a 74-71 loss.
#box
"Offensively, I thought we were pretty solid for about three quarters of it," said Utah head coach Larry Krystkowiak. "Our big guys, if you look at the shooting percentages, did exactly what we were looking for. We kind of went away from that late."
"I think we played really well for three-fourths of the game," junior guard Glen Dean said. "But we got to learn how to close."
Garrity scored 19 to lead the Hornets, also dishing out five assists. Senior forward John Dickson added 16 points and six rebounds.
It appeared as if Utah was on the brink of pulling away multiple times during the second half, but the 3-point shot kept Sacramento State in the game. Big shots from downtown allowed the Hornets to linger all night, until they found themselves in striking distance late in the contest. They were then able to execute down the stretch and steal the win.
Sacramento State hit a total of 10 3-pointers in the night, shooting 43.5 percent from beyond the arc. Utah defended the perimeter well for the most part, so the Hornets deserve credit for knocking down big shots from long range.
"We knew coming in that they could shoot the ball," Krystkowiak said. "And they filled it up tonight."
Dean led the Utes with 16 points, hitting four of the team's five 3-pointers on the night. Senior guard Jarred DuBois added 13, while sophomore center Dallin Bachynski put in nine points with seven boards.
Cedric Martin, a senior guard, had a solid night on the stat sheet. He only scored four points, but managed to record seven rebounds, as well as career highs in assists (7) and steals (4).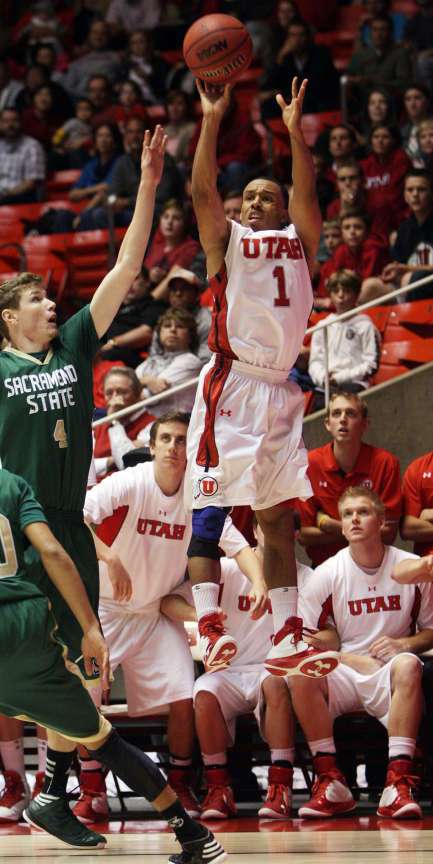 "We need to learn how to win the game," Martin said. "We were up by 10. They grabbed a lot of offensive rebounds, and we took some iffy shots. At the end of the day, we need to know how to buckle down and take the game."
After a promising season opener, true freshman Jordan Loveridge struggled against Sacramento State. He was in foul trouble from the get-go, registering just four points and three assists in 18 minutes of play, before fouling out in the final minute of the game.
"I was hoping that (Loveridge) could learn this kind of a lesson after a win, sitting and realizing the importance of not overdoing it on the level of physicality," Krystkowiak said. "This one hurts all of us to get him in early (foul) trouble, for sure."
The Utes will have to learn what they can from this game and then shake it off. Next week they welcome Idaho State, Central Michigan, and Wright State to the Huntsman Center, where the four teams will compete in a Thanksgiving tournament.
"The big thing for us, we've got to learn how to win," Krystkowiak said. "We've got to put ourselves in the position where it's the same sense of urgency on every possession.
"There aren't any little things. Missed free throws, missed block-outs — letting the pedal off the metal when we had a chance to extend our lead was costly. I asked everybody in the locker room to take a good look at themselves. There's probably 100 lessons for us at the end of the day."
The Thanksgiving tournament will begin Wednesday, and will then resume Friday after taking Thanksgiving Day off, before concluding on Saturday.
Tyson Maddy has covered University of Utah athletics as a contributing writer for KSL.com Sports since 2011.
×
Related links
Most recent Sports stories