This archived news story is available only for your personal, non-commercial use. Information in the story may be outdated or superseded by additional information. Reading or replaying the story in its archived form does not constitute a republication of the story.
SALT LAKE CITY — The Night with the Runnin' Utes is an annual thing that I always like to attend. I find it a sort of a rebirth, something that the Utes need most right now. And Wednesday night in the Huntsman Center, an entirely new cast of Utah basketball was born.
The Utes are getting a much needed new start after the worst season in school history, but let's be honest, they didn't belong. Larry Krystkowiak needed a new bunch to build with and from what I saw Wednesday night, that might be possible.
From the first possession the freshman Jordan Loveridge was a player teammates were looking for to take the shot, to put them on his back and carry them.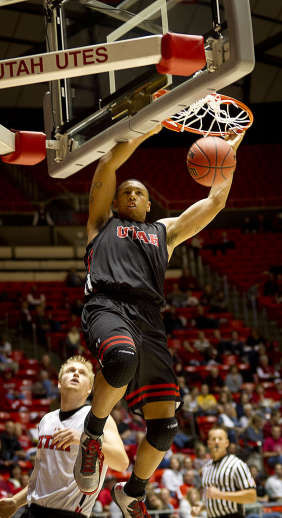 They had a new vocal leader in Glen Dean.
There was some size and athleticism with Dallin Bachynski.
Cedric Martin looked like he improved from a season ago.
I know, I know, it was the "Night with the Runnin' Utes." Can't a guy get excited about a team that seems to believe?
This team did seem different than teams the last few seasons. There was intensity in the Huntsman Center. I was down on the floor and I felt it. There wasn't anyone joking around. They looked like they knew what they were doing.
Let me repeat myself. They looked like they knew what they were doing.
This is going to be an interesting team to watch. They are much more athletic. There are players that can hit the outside shot.
This team has a shot to win some games this year especially because their non-conference schedule is so awful. Utah should beat teams like Willamette, Sacramento State, Idaho State, Central Michigan, Wright State, Boise State, SMU, Cal State Northridge, and the College of Idaho. Are those not nine games the Utes should win?
There are a few questions I have for some readers. 1. Is there interest in the basketball team? 2. Why don't the students go to the basketball games? 3. Can Utah be a football and basketball school? I hope to hear some feedback because just going by what I saw tonight, there is serious hope for hoop, but nobody saw it.
As always, feel free to give me your comments or suggestions anytime, on Twitter @mikegrantksl and email, mgrant@ksl.com
×
Photos
Related Stories