Estimated read time: 5-6 minutes
This archived news story is available only for your personal, non-commercial use. Information in the story may be outdated or superseded by additional information. Reading or replaying the story in its archived form does not constitute a republication of the story.
You know the old sports saying right, "the stats don't lie." That can definitely be applied to the Utah Utes' offense this year. In fact, the numbers are downright offensive, and not the football definition of the word.
Through seven games, the Utes' offense ranks 114th in the country. That's right. Only six programs are worse. A team that won eight games a year ago by running the ball is 109th in that category. They are ranked 92nd in passing yards and 106th in scoring offense. Obviously much of the blame for the Utes' 2-5 record can be placed squarely at the feet of those on the offensive side of the ball.
Utah Utes
Offense
| | | |
| --- | --- | --- |
|   | Season Stats | Rank |
| Total Yards | 303.3 | 114 |
| Passing Yards | 198.3 | 92 |
| Rushing Yards | 105 | 109 |
| Points Scored | 20.1 | 105 |
| Field Goal % | 37.5 | 121 |
What has gone wrong and why? Here are five reasons for their struggles:
1. "In Wynn we trust." The first mistake that Utah made this season was putting all its hopes on the arm, or should we say shoulder, of Jordan Wynn to be the starting quarterback. When healthy, Wynn showed he was a capable player. Unfortunately that has rarely been the case, and in the second game against Utah State the junior was lost for the season, leading to his retirement with another shoulder injury.
Just like last year, in came senior and previous Division II quarterback Jon Hays who had improved from a year ago but still showed he wasn't a true Pac-12 quarterback. After a win over BYU, followed by losses to Arizona State and USC, the decision was made to go with freshman Travis Wilson — a kid that can develop into being a Pac-12 quarterback.
In his first game, he was solid, throwing for 220 yards, exceeding any previous start by Hays the last two seasons. But with a freshman also comes growing pains, including an interception in the UCLA game and two turnovers that led to touchdowns in his second start against Oregon State. Utah fans will now have to be patient as he continues to grow and get experience that should benefit the team next season.
2. It all starts up front. Coming into the season, the Utes had to find replacements for both their tackles, including first team All-Pac-12 performer Tony Bergstrom who moved onto the NFL. The offensive line was a concern in spring ball and continued during fall camp. That led to issues as the season started, which resulted in position switches that took the line time to form chemistry. As any football coach or player will tell you, "the game is won in the trenches." And when you lack the talent up front, it can bring an offense to a complete halt.
3. Where is the John White we used to know? In 2011, White set the school single season rushing record with more than 1,500 yards. This season, he is a fraction of the player he was a year ago with only 413 yards, a 3.8 average and only one touchdown. His struggles are not all his fault. Adding in the offensive line issues, he also suffered an injury that kept him out of the BYU game and since then has been working his way back to health. By all accounts he is now 100 percent, but for some reason, he is still trying to find his way.
"A little bit of a question," said offensive coordinator Brian Johnson on White's struggles during "Gunther and Graham" Tuesday on 1320 KFAN. "What it boils down to is just the mindset of just finishing runs, being aggressive and know every play is not going to be a 60-yard touchdown. Understand that you knife forward for four and five (yards) and finish in the run game with violence and take on corners and take on safeties and pound those guys throughout the game and as the game wears on, you'll start breaking those tackles."
As coach Kyle Whittingham noted this week, White's lack of production has led to junior Kelvin York being called on to run the ball more.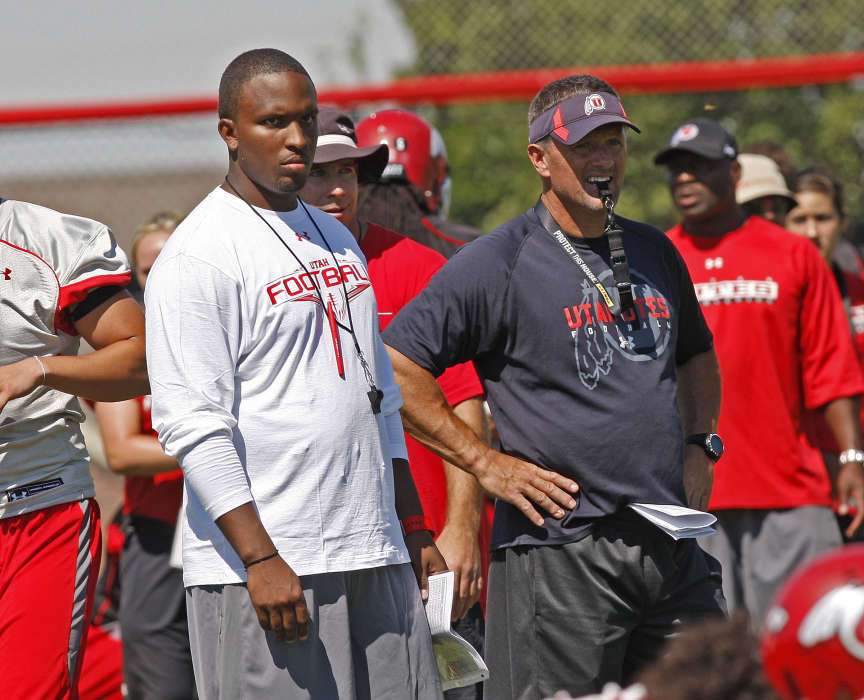 4. Play calling. Being an offensive coordinator isn't easy. Add in all the issues that have been stated up to this point, along with changing the philosophy of the offense to a spread, to the upper-echelon programs you face in the Pac-12 — you couldn't blame any offensive coordinator for struggling this year. Especially one who is in his first year of calling plays and is perhaps the youngest coordinator in college football history. But that's the hand that has been dealt to the 25-year-old Brian Johnson, making him earn every cent of the big contract he got in taking over the position.Clearly Johnson is learning on the job, and I believe in due time he will be a successful coordinator and, who knows, maybe one day a head coach. The challenge for him is it's a "win-now" mentality, and several of his calls have been highly questionable. The most controversial has been his goal-line decisions where in two straight games he has yet to hand the ball off to a running back, instead settling for quarterback draws and trick plays such as the end around pitch to DeVonte Christopher that ended up in a crucial fumble in the loss to Oregon State.
When I asked Johnson about the play selections, he responded, "We're going to call what we think works, and that's pretty much that." Fair enough, but the unfortunate thing is the calls haven't worked up to this point.
#poll
5. Ultimately it comes down to coach Kyle Whittingham. For as successful as his defenses have been over the years, the offense has always seemed to lag behind. In his ninth season as head coach, Johnson is already his fifth offensive coordinator. The offense has gone from the spread to a hybrid to a pro style and back to the spread this season. His program has consistently lacked an offensive identity.When Utah was in the Mountain West Conference, he could get away with an average offense and win with his usually dominant defense. However, that formula cannot work in the Pac-12. While the Utah defense is solid, one cannot expect that side of the ball to win every game for you. The offenses in this league are just too explosive, and therefore the head coach needs to put some focus on the "O" if he wants his program to continue to be a consistent winner.
×
Related stories
Most recent Sports stories