Estimated read time: 7-8 minutes
This archived news story is available only for your personal, non-commercial use. Information in the story may be outdated or superseded by additional information. Reading or replaying the story in its archived form does not constitute a republication of the story.
SALT LAKE CITY - The Jazz are three games into this season and are 2-1 with plenty of positives to look at, they might be the cause of playing reserves or against inferior or superior competition, but there are still two teams playing to win.
They started the week with a loss to the Warriors in Oakland, took the week to regroup and played the Western Conference powerhouse's Thunder and Lakers, at home and on the road respectively, and they got two wins.
#poll
Now we'll try to look at how the Jazz team is doing through the eyes of the enemies to get a better look at how the Jazz are doing three games in.
First is a look at the game against the Warriors. In the Sbnation blog goldenstateofmind.com the 83-80 loss to the Warriors was broken down.
The names that came up consistently were Paul Millsap, Al Jefferson and Enes Kanter. He talked about Jefferson and Millsap doing some things well, but ultimately not being able to get a consistent game going against the Warriors front-court, writing, "Landry might not be the best defender, but neither Al Jefferson nor Millsap did anything significant offensively during that time - Ezeli just doesn't give up anything on the block and Millsap wasn't losing Landry."
The big positive was the play of "Big Turkey." He started his string of great play with this game where he had 12 points and 11 rebounds.
"Part of that was blown assignments, but part of that was the duel between Ezeli and Kanter on the left block. To put it simply, despite picking up two more blocks, Ezeli looked exhausted when trying to guard Kanter at this point - Kanter would just back Ezeli down for a second or two and then drop step or spin for the score. To Ezeli's credit, he did force Kanter into a bad angle on one possession, but suffice it to say that he lost that defensive battle overall."
Jefferson ended the first game with only two points, Millsap had 13, which won't get the job done especially when the counterpart David Lee gets 19 points and 14 rebounds. These starting battles are a big part of the preseason and if this is how these games will go the Jazz might be in for a long season.
Marvin Williams had a few good plays as well and was brilliant for stretches. This is the last piece from the Warriors point of view, "Landry came in shortly thereafter at the 3:20 mark and though they did a better job defending the post, but Jefferson came in for Thompson and couldn't stop Marvin Williams at all - Williams earned 6 free throw attempts in the final 3:20 of the quarter."
The Thunder game showed more front-court prowess against a team that seems to have that area figured out. The Thunder didn't play Russell Westbrook or James Harden, but the domination was upfront.
The Jazz were without Milllsap this game, so Favors stepped in. He didn't produce on offense, but had his defensive game working great against Cole Aldrich who had been playing great. This is what dailythunder.com said this about Aldrich after the game, "There's still time, but Cole Aldrich seems to have a firm hold on the backup big spot. Another pretty impressive outing from Aldrich. He notched a second straight double-double and a second straight night with three blocks."
Aldrich is tied for the preseason lead in blocks, but Favors and Kanter were able to do some work on him.
This synopsis came from Greenfieldreporter.com, "Cole Aldrich added 11 points, 10 rebounds and three blocks for the Thunder but had several of his own shots swatted by Favors. Favors finished with three blocks but didn't get the call on a few others, including a hustle play when Jackson appeared headed for a fast-break layup after a Jazz turnover. He said he felt "cheated" out of a few blocks, but wasn't worried about shooting 0 of 5 and finishing with 1 point. 'I'm a defensive player; the shots will fall,' Favors said."
They also talked about Aldrich as a double-double machine, which might be the new title given to Kanter. He finished that game with 12 and 12 against Aldrich and Hasheem Thabeet, who finished with 7 points and five rebounds.
Kanter finished an impressive week with his third double-double in the Jazz's 99-86 victory over the Lakers. The blog Lakersnation broke down the game and the L.A. Times looked at five things the game showed the Lakers.
The Jazz again played against a team without one of their stars, Dwight Howard, is still recovering.
An interesting spotlight in this game was the play of rookie Robert Sacre against Big Al and Turkey. Sacre played 27 minutes at center and had 10 rebounds with six points. Both L.A. publications raved about his play, Lakersnation said this, "Sacre, who is almost a lock to make the roster at this point, looked strong once again in the first 12 minutes. He pulled down seven rebounds in the first 12 minutes of play, and continues to thrive in the absence of Dwight Howard and Jordan Hill."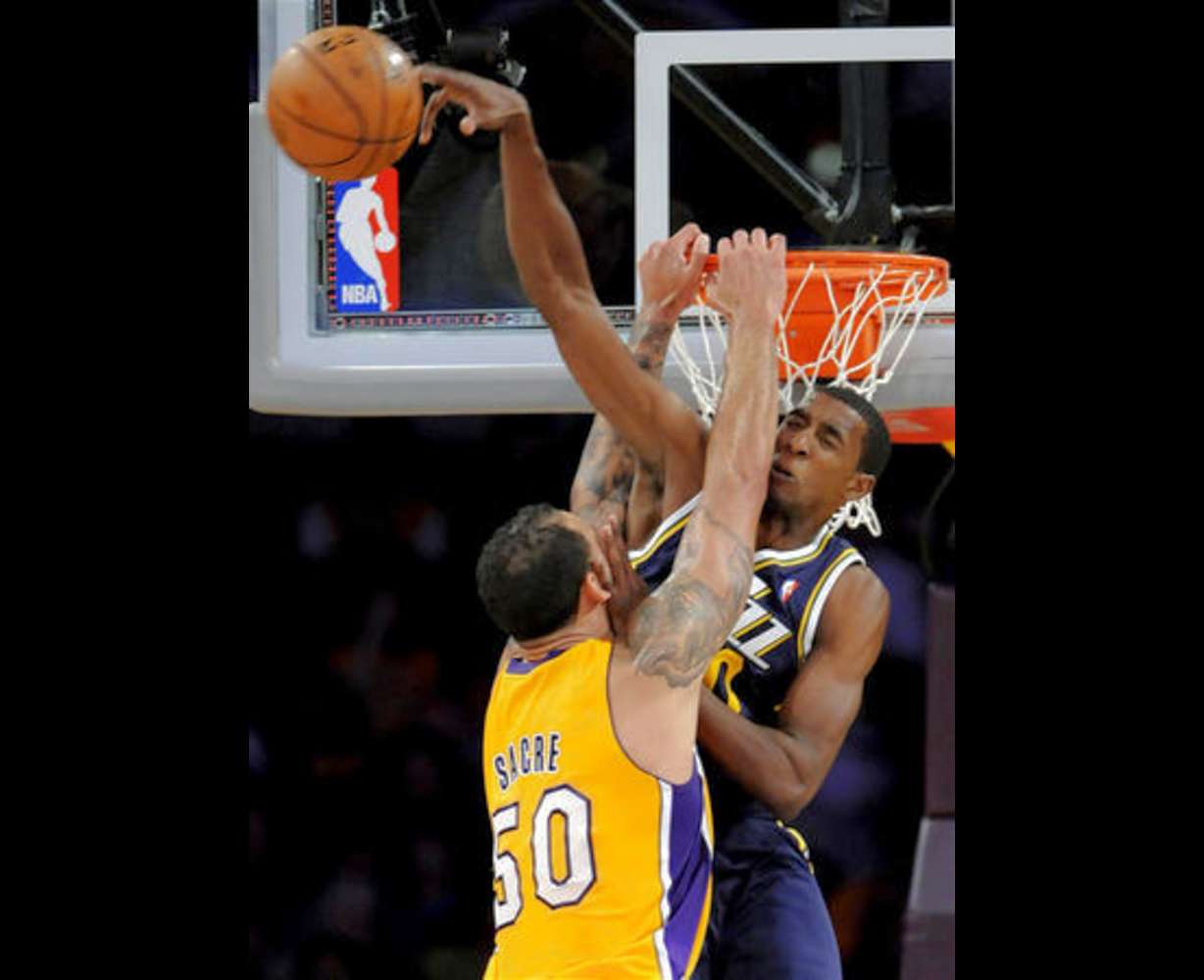 The Times wrote this about him, "Against Utah, Sacre continued making a strong case on why he deserves a roster spot with his nine-point performance on three-of-five shooting and 10 rebounds in 27 minutes."
Why does this matter for the Jazz? Because even with the great reviews Jefferson still got 10 and 8 and Kanter had 14 and 14. Howard will make this more of a challenge for sure, but if Kanter can get those kind of numbers against the Lakers second team, then it will put added stress to keep him playing more.
Kobe Bryant proved why he is still tops in the game, which might bring into question the ability of Gordon Hayward, "He has lost the ability to get past guys in the open floor, but makes up for it by drawing fouls and earning trips to the free throw line. Kobe went to the line 12 times in the first half, making 11 of them. He finished the first half with 17 points, seven rebounds and three assists, and helped lead the Lakers to a 46-35 lead." That was from Lakersnation.
Bryant is still an elite player and Hayward needs to be an improved defender consistently, but there are still times when players like Bryant and Durant will simply take over. He needs to then be big on offense. He ended the game with 10 points in 19 minutes, but missed his one 3-point shot.
The Times added this about him, "Bryant also appeared incredibly active on defense, communicating, double-teaming on rotations and marking his man, although his second half defensive effort wasn't quite as strong. Bryant enters this season not having to shoulder the burden as leading scorer. With that dynamic, Bryant demonstrated perfectly how the less-is-more approach will enable him to focus on areas of the game beyond just putting points on the board."
This is what Hayward needs to do to turn the corner. He needs to make shots so players like Bryant can't double-team and become a player that doesn't feel forced to score all the time, but consistently be there in case the team needs him.
The last area that might be an improvement for the Jazz is their transition offense. The Times said this, "Against Utah, the majority of its fast-break points came because the Lakers either looked confused on their defensive rotations or took its sweet time running back after a missed shot. Of course, preseason games don't matter. But this is a fundamental issue the Lakers should easily correct, but haven't."
Utah has had a major push in making the tempo faster and it seems to be working with two games filled with fast-break points. They averaged 26 fast-break points in wins and only 11 in the loss.
×
Related stories
Most recent Sports stories