PROVO — They are artists and storytellers, dreamers and doers. Now spread out across the nation, they share a common background, and each has a unique story to tell. They are the creators of "Reality Not Included."
Each of the artists behind the project studied animation at Brigham Young University, where the animation program has risen in recent years to be counted among the nation's elite.
Upon graduation, they found jobs scattered across the county but stayed connected through Facebook. That's how James Bourne tracked them down when he had the idea for a new project: a comic book series featuring the work of former and current BYU animation students.
"I was missing my friends, and I wanted to start something so we could all keep in touch," Bourne said. "At first I thought we might do an animated short, but that would have been difficult being so spread out. Then I thought, 'Why not a comic book?'"
It wouldn't be sponsored by BYU, but Bourne hoped it would represent the school well.
"It isn't BYU backed, but I hope it shows the animation skills the program helps develop," he said. "We're not just technicians. There is a real desire among students to show who we are as artists and storytellers, and I think this book is a good step for showing that."
Bourne originally thought perhaps five or six friends would respond to his call to action on Facebook, so he was surprised when no fewer than 40 people said they were interested in the project. About 35 are still involved.
Bourne said he had to decide between producing a book purely for the fun of it, or or making it something its creators could show the industry. He decided on the latter.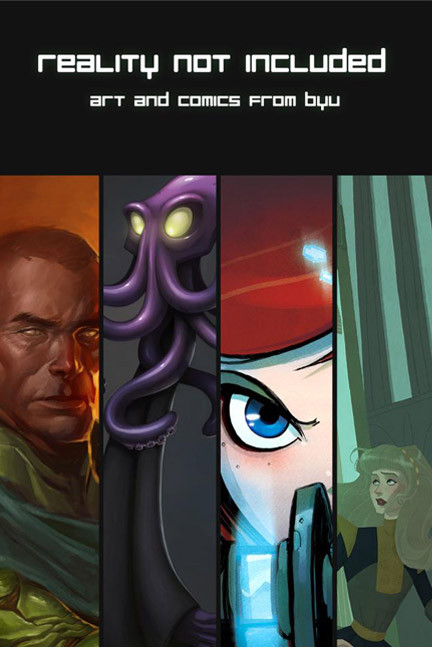 "I thought, 'I might as well take my chances,'" he said.
The process has been an interesting one, as the different artists have united for a project that, while made up of independent parts, should revolve around a theme: reality not included. The series has a wide variety of stories and styles, and is more of an anthology than a cohesive unit.
Bourne said his story is one of a down-on-his-luck man who escapes reality through a virtual dream cafe.
"He discover he is more of a prisoner there than in the real world," Bourne said.
The artists are largely left to their own devices, but Bourne makes sure to provide opportunities for feedback and to keep everyone on schedule.
"All of these creators …Walt Disney didn't do it on his own," he said. "There were a lot of people who helped see his dream become a reality."
The lesson Bourne said he has learned is one of perseverance.
"You can do anything if you set your mind to it," he said. "I could not have done this by myself. If you really want to commit to doing something — to taking action — there is nothing there to stop you but yourself."
Bourne and his team will present the comic anthology Nov. 16–18 at the Creative Talent Network animation expo.
×
Photos
Related Links
Related Stories