Estimated read time: 4-5 minutes
This archived news story is available only for your personal, non-commercial use. Information in the story may be outdated or superseded by additional information. Reading or replaying the story in its archived form does not constitute a republication of the story.
PROVO, UTAH (AP) - Brigham Young and Utah State combined for 82 points a week ago.
On Friday might, they managed just nine in a defensive struggle that saw the Cougars hold on for a 6-3 win.
BYU 6, USU 3
Game Day Coverage
Play of the game
With time ticking down in the first half Taysom Hill hit Cody Hoffman to move down the field then Hill connected with J.D. Falslev for a touchdown. This would come with :03 left in the first half and be the only touchdown of the game. It was a simple out for Falslev, but in the end it decided the game.
Quotables
"I never know how these games are going to go, These games take their toll on me. I would rather win easy but that doesn't happen very much." -Bronco Mendenhall
#box
"I might have lost a couple of years of my life because of the stress," cornerback Preston Hadley said of BYU's first win scoring six points or fewer since 1946.
The Cougars will take a win over an instate rival, especially with the meat of their schedule coming up, with a home game against No. 14 Oregon State followed by road trips to No. 9 Notre Dame and Georgia Tech.
With Riley Nelson still hampered by a sore back, freshman quarterback Taysom Hill stepped up again, passing for 235 yards and a touchdown.
In a game that saw more punts (13) than points, the lone TD came on a four-play drive that took just 25 seconds.
Hill completed three straight passes to Cody Hoffman, for 8, 28 and 22 yards, before finding JD Falslev open in the flat for the 3-yard score with 3 seconds left in the first half.
Hoffman, who has caught a pass in 25 straight games, believes BYU caught the Aggies by surprise when they didn't just run out the clock before halftime.
"That's football," said Hill, who finished 24 of 36. "We caught a few breaks, sped it up and made a few big plays."
The Aggies (4-2) had a chance to tie the game with 7:47 left but Josh Thompson pulled a 38-yard field goal attempt wide left.
BYU's defense has not allowed a touchdown in 13 straight quarters and held the Aggies' high-powered duo of Chuckie Keeton and Kerwynn Williams in check most of the game. Keeton completed 22 of 38 passes for 202 yards but was intercepted once and fumbled once. The Aggies have now lost 17 straight games against BYU in Provo.
This one wasn't typical.
"They matched us down in and down out, all the way down to the end of the game," BYU coach Bronco Mendenhall said.
"I never know how these games are going to go, These games take their toll on me. I would rather win easy but that doesn't happen very much."
BYU (4-2) held the Aggies to 243 yards total offense - their 12th straight opponent under 300 yards.
Kerwynn Williams had averaged 159 yards rushing the previous two games but managed just 18 yards on 14 carries Friday night.
By comparison, BYU finished with 145 on 45 carries, with Jamaal Williams gaining 71 including a key first down late and Hill adding 80 yards on 19 carries.
"We got beat by a very good football team in a very, very difficult place to play, and we'll continue to fight," said Utah State coach Gary Andersen. "The bottom line is we're 4-2, two games away from being bowl-eligible, which is huge, and we haven't started WAC play yet."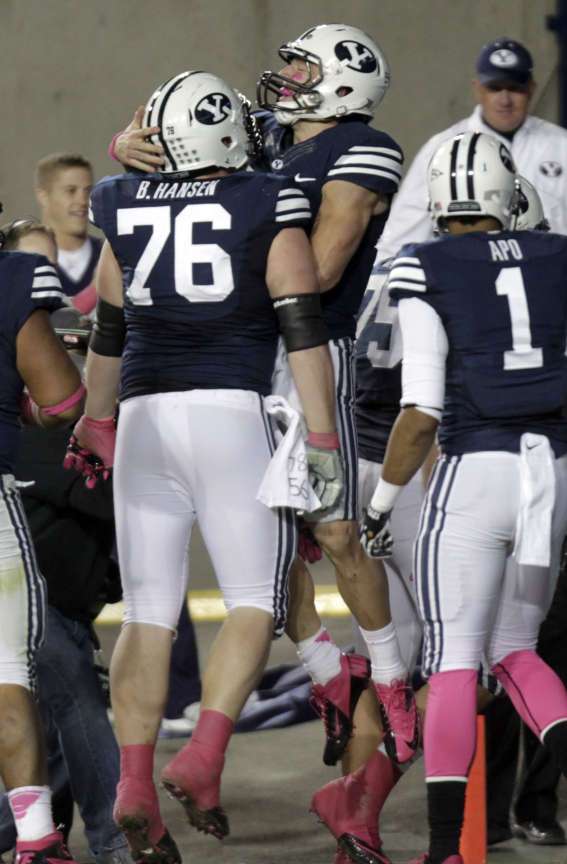 The Aggies are also six points from being undefeated, having lost by two on the road to Wisconsin and now by three to the Cougars.
Thompson's 26-yard field goal late in the first quarter accounted for Utah State's only points.
The game was a defensive struggle from the start.
The Aggies had not allowed a first-quarter point all season and they kept that streak going.
BYU, meanwhile, saw its defense make play after play against an Aggies team that won its last two games by a combined 34 points, while averaging 33 points and 502 yards offense. BYU limited the Aggies to 41 yards net rushing.
"Defensively we knew it was going to be a battle," Andersen said.
Utah State was attempting to sweep in-state counterparts Utah and BYU for the first time since 1974. The Aggies pulled off a 27-20 overtime win at home against Utah on Sept. 7. They also opened the season with a victory over Southern Utah.
Keeton, who was coming off a four-touchdown, 404-yard passing effort against UNLV that earned him Western Athletic Conference offensive player of the week, had his chances.
His 13-yard pass to Williams gave the Aggies a first-and-goal at the BYU 6. But Kyle Van Noy stuffed Williams for a 2-yard loss on third-and-goal from the 1, forcing Utah State to settle for the field goal.
"We just needed to get a stop," said Van Noy, who finished with two quarterback hurries, a tackle for a loss and two pass breakups. Ezekiel Ansah also had a huge game for BYU, with two sacks and three tackles for a loss.
The biggest disappointment for BYU was its kicking game.
Justin Sorensen's 34-yard field goal attempt with 4:25 left in the half was blocked by Paul Piukala.
Then, after Hill drove BYU 61 yards in 25 seconds, Riley Stephenson shanked the extra point left.
It wouldn't matter.
"I'm happy with the way our players hung in there," Mendenhall said of a few critical first downs to preserve the win. "It was exhausting for both teams in that they that laid it all out there. I'm just happy we won."
(Copyright 2012 The Associated Press. All rights reserved. This material may not be published, broadcast, rewritten or redistributed.)
×
Photos
Related links
Related stories
Most recent Sports stories