Estimated read time: 3-4 minutes
This archived news story is available only for your personal, non-commercial use. Information in the story may be outdated or superseded by additional information. Reading or replaying the story in its archived form does not constitute a republication of the story.
PROVO — Utah State headed to Provo in a very hyped game between a much improved Aggie team and BYU team that is still a big question mark. Pretty much everyone in the state had their eyes on this game and like pretty much every other college game in the state of Utah the kicking game played a huge factor.
BYU's freshman quarterback Taysom Hill got the start again over an injured Riley Nelson and the kid actually performed well. The score didn't reflect it, but Hill had 316 yards of total offense and 234 of those coming through the air.
"For how unsuccessful #BYU's offense has been on scoring, it's somewhat surprising to see that Hill is 15-for-21 for 142 yards and a TD," tweeted @rgrantjohnson.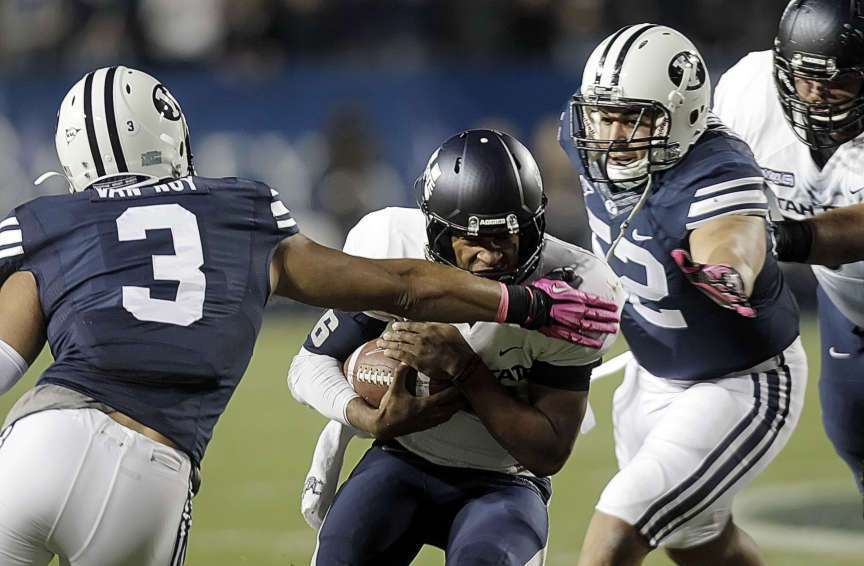 "Keep ur eye on freshman QB Taysom Hill from BYU. As soon as they find O Coordinator thats worthy, he'll be something else," tweeted @PuchiL5.
With a good performance from Hill it's still very likely that Riley Nelson will start next week against Oregon State.
"Bronco on Nelson: 'I'd like to rest him another full game and then bring him back next week (v. OSU)...that's the plan,' assuming recovery," tweeted the Voice of the Cougars Greg Wrubell @gregwrubell.
But some Cougar fans are hoping that Hill's performance against Utah State has changed his mind.
"A 100% healthy Nelson is still nowhere the near ability of Hill. Bronco's bromance with Riley better be over," @phred84044.
BYU's defense faced what was likely their toughest test yet in a solid Aggie offense led by QB Chuckie Keeton and their solid running back Kerwynn Williams. But the BYU D stepped up to challenge and showed they are likely the best defense in the state.
The D held Kerwynn Williams to just 18 yards and while Keeton looked solid at times the Cougars kept hitting him.
"#USU facing a 3rd and 5, Keeton scrambles and goes all out, but comes up short. Takes a hard hit out of bounds and gets up a little slow," tweeted @CacheSports.
While Hill had an impressive night numbers wise the USU defense managed to shut down the Cougars when they got down in the redzone.
"BYU's receivers aren't getting any separation from the USU secondary. The Cougars aren't the only ones performing well on defense," tweeted @MattZemek_CFN.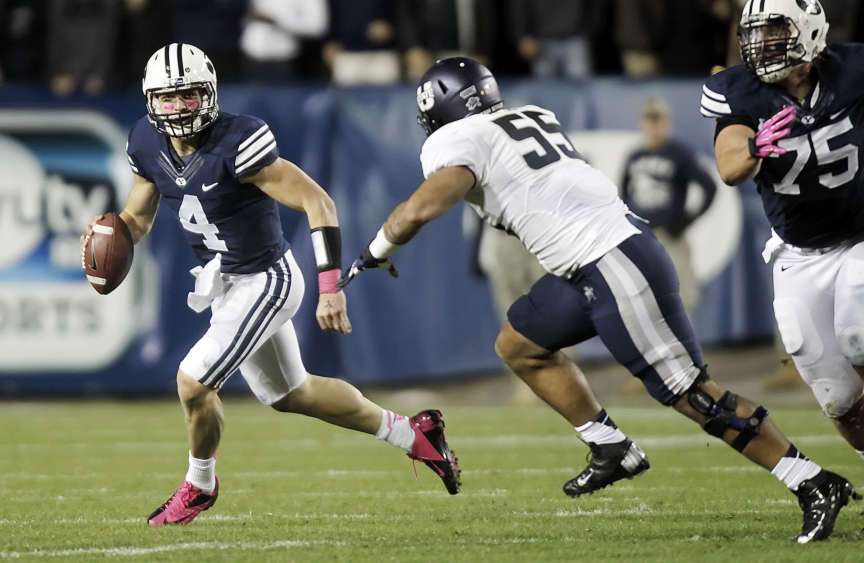 "Two things: 1) Utah State's defense is for real. 2) The transitive property of which football team is best is broken in Utah now," tweeted @jar155.
While both defenses looked solid and the offenses at least showed signs of life. The kicking game for both teams, however, is a totally different story.
"It is so frustrating watching a college football game where neither team can kick. I am looking at you #BYU and #UtahState," tweeted @Isley23.
USU missed a field goal and BYU had one blocked and botched a fake field goal. The Cougars also managed to miss a PAT that left them with only six points after a touchdown.
"I like the #BYU field goal kicking program. I saw my Grandma Fifekick better at age 99," tweeted @nordasguy.
"Dear BYU an USU kickers, ALL YOU DO IS KICK. What the heck?" tweeted @Madison_McBride.
"#BYU need to pick up a soccer player to kick some field goals... when u score, u supposed to get 7, not 6," tweeted @MarkHenryDC.
If Utah State wants to bounce back they'll need to clean up their game as they head into a game against San Jose State that appears to be tougher than they had anticipated. And if BYU hopes to win a game the next three weeks they need to figure out how to find the end zone and kick field goals.
×
Most recent Sports stories