Estimated read time: 5-6 minutes
This archived news story is available only for your personal, non-commercial use. Information in the story may be outdated or superseded by additional information. Reading or replaying the story in its archived form does not constitute a republication of the story.
LOGAN — He's retired now — probably for good, even though lifelong coaches never really quit — but Ron McBride is still finding ways to torture the BYU football program.
Almost 20 years removed from his team first putting "34-31" on the scoreboard against BYU, the former Utah coach established a foundation that has helped turn Utah State into a menace. By beating BYU on Friday night, the Aggies would own the undisputed title as Utah's best college football program this season.
Who would have thunk it?
And even if the Cougars win, Utah State has still risen to the levels where it has the audacity to expect BYU to agree to a home-and-home series from now on. Leave those 2-for-1 contracts to the lightweights.
To even mention the possibility of being the state champion would have been nothing more than an absurd claim only a few years ago. But thanks in part to USU coach Gary Andersen's decision to pattern his recruiting philosophy after McBride's plan, Utah State belongs in the same discussion with the Pac-12's Utah and the independent that has its own contract with mighty ESPN.
Instead of mining the country for talent during his tenure, McBride chose to emphasize in-state high school talent and specifically target Polynesian players. Call it pure genius, plain and simple, on both accounts.
Utah was a joke of a program when McBride assumed control after the 1989 season. All he did was post a record of 88-63 in 13 seasons, guiding a program that had been to three bowls in 97 years to six postseason appearances.
Oh, and along the way, he won six of his last 11 games against BYU, which had won the previous 16 of 18 games. Without the Godfather, there's no Fiesta Bowl and maybe even no Sugar Bowl. And dare we say no Pac-12?
After stepping down at Weber State last year, McBride has not quietly eased into retirement. He's turned into a football guru, imparting wisdom to anyone who asks. Credit Andersen for picking the brain of his former coach (McBride coached the offensive line when Andersen played center for the Utes in 1985-86).
Andersen talks regularly with his mentor, who hired him as an assistant coach at Utah. During an interview Monday with "DJ and PK" on 1280 AM and 97.5 FM, Andersen said he expected McBride to make the trip up to Logan this week.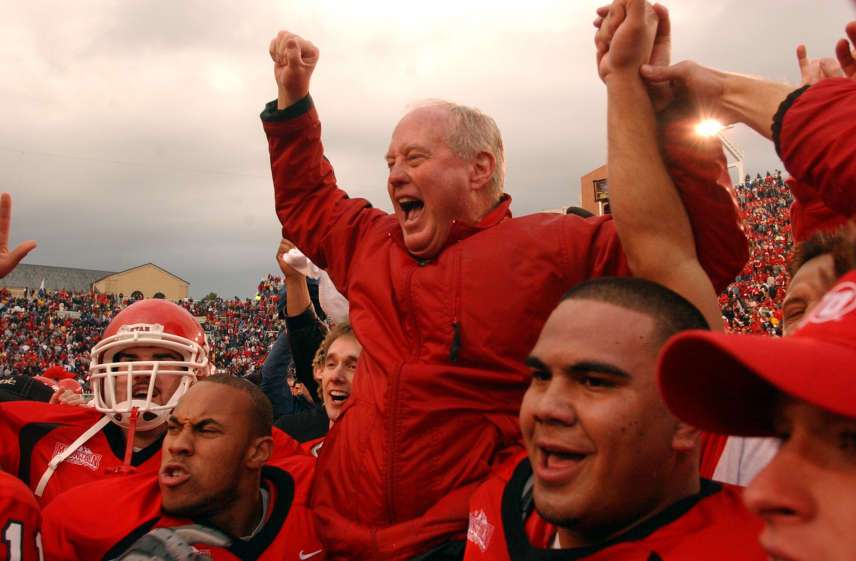 "I just love him being able to evaluate me," Andersen said. "I just really value those moments I can get with him."
Utah State's roster lists more than 50 players from Utah, ranging from virtually every county and high school classification. The Polynesian contingent is growing.
Like McBride did, Andersen embraces recruits who desire to serve church missions. For those Utah coaches who didn't pursue potential missionaries, they got the fate they deserved. Only fools would deliberately choose to ignore a significant portion of the state's recruiting base.
Andersen also has an eye for talent, developing former walk-ons such as Jake Doughty and Zach Vigil into starting linebackers. It's added up to a 4-1 record, Utah State's best start in 34 years.
Reaching such lofty status, the Aggies aren't interested in the same old deal with BYU. The Utah State administration is ready to agree to another contract, as long as the games are rotated between Provo and Logan.
Right now, Utah State and BYU are scheduled to play one another in each of the next three years. BYU will play in Logan in 2013, and USU will play in Provo in 2014 and 2015
"We are going back there for the second time in a row," Andersen said. "Hopefully, this is the last time we have to go back there two times in a row. It's a very difficult place to play. I think we go every year to very difficult venues, but from what I hear none of them match BYU's stadium or Utah's stadium. I know it goes the same way about our place, because they don't want to come here and play us anymore, obviously."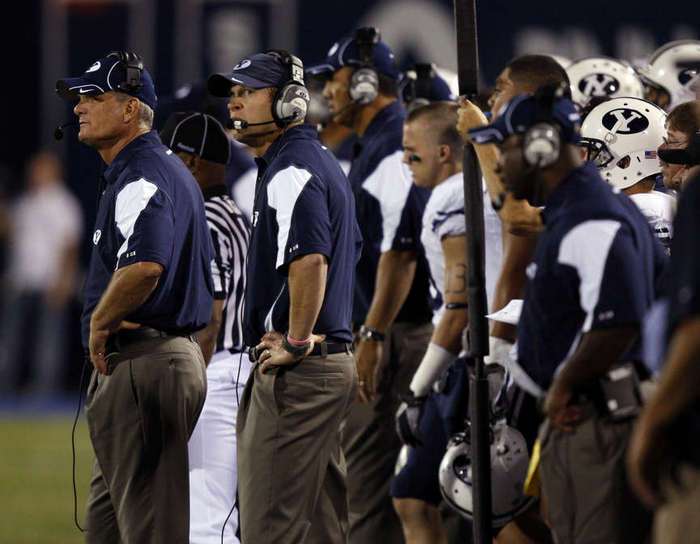 As every BYU fan is well aware, USU embarrassed the Cougars on national television two years ago in Logan. The morning after the game, Bronco Mendenhall fired assistant coach Jaime Hill and named himself the defensive coordinator.
Mendenhall appreciates USU's contract desires but isn't in a hurry to change the situation.
"Obviously to our advantage 2-for-1 is better, so I'd like to hold on to that as long as possible," he said.
This could be a stalemate that lasts for a while, considering neither side looks to be willing to budge. Given BYU's status as an independent and needing to fill a 12-schedule every year, USU might hold the upper hand.
As an unaffiliated observer, it's hard to argue USU's stance. If the Sun Belt's Middle Tennessee State can get a home-and-home with BYU, going forward USU deserves the same respect as a Mountain West member.
The guess here is eventually BYU will cave in. But the administration should demand the game be played annually on Thanksgiving weekend. A late November matchup between the two schools guarantees it would be the biggest game in the state that weekend each year.
×
Most recent Sports stories