Estimated read time: 2-3 minutes
This archived news story is available only for your personal, non-commercial use. Information in the story may be outdated or superseded by additional information. Reading or replaying the story in its archived form does not constitute a republication of the story.
Nicole Gonzales reporting Winter is officially here, with the first snow storm of the season causing a lot of problems on the roads.
Early this morning, I-15 in Davis County was an absolute nightmare. Then the snow moved in to Salt Lake City and things got messy.
Snow has been falling all morning long in Davis County. Drivers in Cherry Hills have had lots of trouble merging onto I-15.
Drivers were also warned of icy conditions on Parley's Summit as they passed through the 6200 South area on I-215.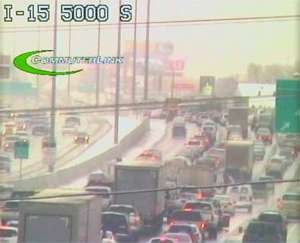 Motorists trying to travel on northbound I-15 just south of 3300 South have been stuck in what looks like a parking lot because of an eight-car pileup that officers say was due to people driving without caution.
"I think speeds were too fast for the conditions. Like I said before, the speed limit says 65, and people are still driving that in snow. If you drop it down to 40 miles an hour, or the speed you can drive in, you'll be fine," explained Utah Highway Patrol Trooper Donavan Lucas.
"I have to agree," driver Janica Gines said. "When I saw it snowing yesterday I thought, 'Here we go.' I think it takes a while for people to start remembering how to drive in all of it. Plus, when it's icy that just adds to everything."
One person was transported to the hospital because of a minor injury.
If you're trying to travel through Salt Lake, the KSL traffic center recommends taking side streets like State Street or 700 East. But be aware that those roads are starting to pile up as well.
- - - - - -
×
Related links
Most recent Utah stories