Estimated read time: 2-3 minutes
This archived news story is available only for your personal, non-commercial use. Information in the story may be outdated or superseded by additional information. Reading or replaying the story in its archived form does not constitute a republication of the story.
SALT LAKE CITY — Not only are vipers among the most scary and venomous snakes, they are also apparently miracle workers - virgin births in vipers have been seen in the wild. As a result, a few biologists now think that immaculate conception is much more common in the vertebrate world than previously thought.
Virgin births have been witnessed among vertebrates before, but mostly in captivity. Various lizards, snakes and sharks - even birds - are known to give birth without any sexual genetic contribution from a male. But in the wild, virgin birth, or parthenogenesis, is pretty rare.
Invertebrates like insects reproduce asexually often, but among animals with a spine, it's not common. There is one species of lizard, the New Mexico whiptail, that is made up entirely of females that reproduce by parthenogenesis without any males at all. But the New Mexico Whiptail is a pretty bold exception.
Now, researchers collaborating from California, North Carolina and Oklahoma have observed virgin birth in two different species of pit viper in the wild, not in captivity. In 22 litters of copperhead vipers there was one virgin litter and in 37 species of cottonmouth viper, there was also one virgin litter. In other words, between 2 and 5 percent of births among these vipers was totally asexual.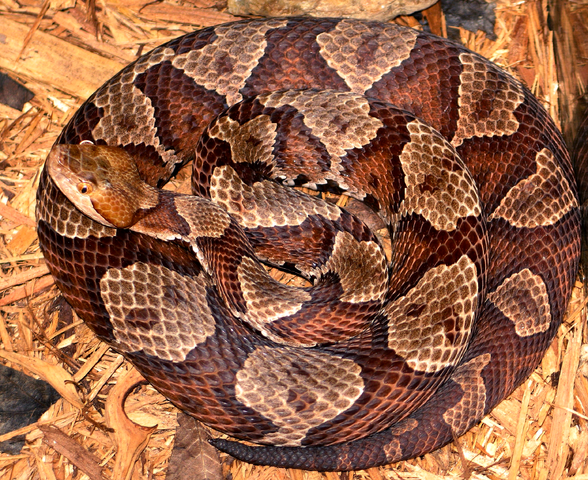 "We just sat there stunned at the discovery," said molecular ecologist Warren Booth, speaking to LiveScience. "This is something that we always believed existed, but in order to investigate it, it would take a massive amount of work in the field. To detect it in both species in our first attempt was astounding."
It appears that it is not just pressure to reproduce in the absence of males that causes these births. In boas in captivity, virgin births occur regularly even when males are readily available. This study goes against the common-sense idea that snakes reproduce asexually only when males aren't available. For whatever reason, there seems to be some benefit from asexual reproduction even when males there ready to mate.
Reptiles seem to be especially likely to reproduce asexually, partly because they lack a type of genetic inheritance found in almost all mammals called genomic imprinting. Imprinting basically means that certain genes are expressed only when they come from a specific parent. So if an entire genome comes from only a female mammal, the offspring is very unlikely to survive since many of those genes won't be expressed. Reptiles don't have genetic imprinting, and thus if two reproductive cells from the same female fuse to form an embryo, it is much more likely to be viable.
×
Related links
Related stories
Most recent Science stories