Estimated read time: 2-3 minutes
This archived news story is available only for your personal, non-commercial use. Information in the story may be outdated or superseded by additional information. Reading or replaying the story in its archived form does not constitute a republication of the story.
ZION NATIONAL PARK — Many people are spending time out recreating this summer, and while exploring the beautiful scenery of Utah, it is always smart to be prepared for any scenario that can come you're way, as one group found out.
On Aug. 25, a group of 13 set out to hike "Fat Mans Misery", a famous slot canyon hike in Zion National Park in Southern Utah. The group checked the weather and researched the hike well, Stgnews.com reports.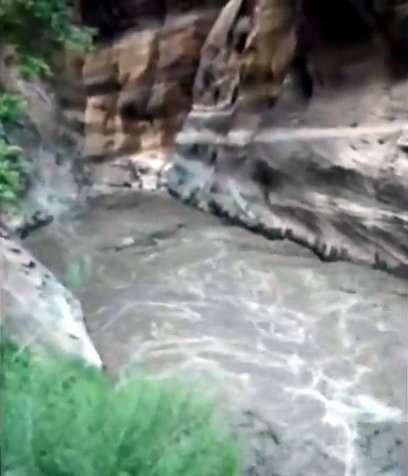 While the group was crossing a stream mid way through the hike, they noticed a change in the stream and heard the sound of rushing water and quickly realized it was a flash flood. One of the hikers was able to video part of the flash flood.
"Really, there is no way we could have anticipated the flash flood because the weather didn't show any activity up in that area for Saturday," said Joeseph Holland to Stgnews.com. "The best thing that happened was that we were prepared for a worst-case scenario."
The group had to rig up a rope system to get everyone onto the same side to higher ground, because the flood had split the group up on both sides of the stream. Two of the adults then rock climbed and hiked out of the canyon to get cellphone reception to let their families know of their situation. They made a make shift camp with a small camp fire and survived through the night with limiter supplies.
The group made their way out of the canyon safely the following morning, lucky everyone was OK.
Mike Whitelock is an author and writer.
×
Most recent Utah stories