Estimated read time: 5-6 minutes
This archived news story is available only for your personal, non-commercial use. Information in the story may be outdated or superseded by additional information. Reading or replaying the story in its archived form does not constitute a republication of the story.
LOGAN — Utah State football is no longer a punch line.
Gary Andersen, in his three years as head coach, has changed the culture of the program and turned it into a winner. The Aggies won 7 games last season for the first time since 1993 and reached a bowl game for the first time since 1998.
"It was very rewarding as a head coach to see those kids faces, to let them reach something that probably 3 or 4 years ago they felt they had no chance of reaching," says Andersen. "To be in the locker room and be around the young men in that situation was something I will never forget."
Utah State Aggies
Tough 5 game stretch
Fri 9/7
Utah Utes
Sat 9/15
@ Wisconsin Badgers
Sat 9/22
@ Colorado State Rams
Sat 9/29
UNLV Rebels
Fri 10/5
@ Brigham Young Cougars
Now Andersen faces new challenges. Fans now expect winning seasons and trips to bowl games every year. Winning will get more difficult when Utah State joins the Mountain West Conference in the 2013 season. The invitation was vital to the future growth of the program.
"To be stabilized with hopefully a TV deal and all the stuff that comes with a major conference affiliation is huge for us," he says. "It helps us in recruiting and it helps us build some rivalries outside of our state. It's a quality conference and a great opportunity for us."
Before the Aggies join the MWC they are focused on their final season in the WAC. Defending champion Louisiana Tech are the favorites to repeat as champs. Andersen and the Aggies would love to leave the conference as champions.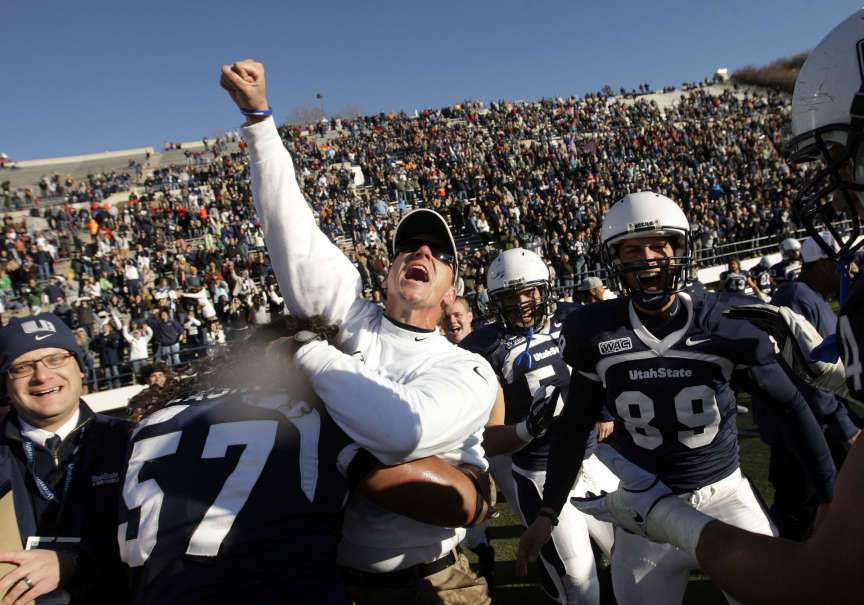 "You're going to have to play well every week to win it but it would be a great accomplishment for our kids," he says. "It would be something the University and we all could be very proud of."
Utah State had three players selected in the NFL draft in 2012, more than Utah and BYU combined. It's a fact Andersen is very proud of but now he must find a way to replace the talent and leadership void left by Robert Turbin, Bobby Wagner and Michael Smith.
The leadership, the continuity they had with each other and their position groups was special and we'll miss that," he says. "That's going to be big shoes to fill."
The question this season is who fills those shoes?
The answer at running back is Kerwynn Williams. The senior managed to rush for 542 yards and 3 touchdowns last season in a backfield with two guys now playing in the NFL. He will get a chance to show what he can do when he gets a bulk of the carries.
"Kerwynn is ready to take that next step," Andersen says.
Andersen also hopes to get leadership from his quarterback position. The biggest question for the program in fall camp is which quarterback will win the job. Chuckie Keaton was impressive as a freshman and almost led the Aggies to victories over Auburn and BYU. When Keaton suffered an injury Adam Kennedy stepped in and rallied the Aggies to a wild comeback in Hawaii, the first of 5 consecutive wins that landed the team its first bowl bid in 13 years. Both quarterbacks have shown they have talent and the ability to lead. Andersen and the coaching staff will have a difficult decision to make this fall.
"They're both have established their leadership abilities, they've both established their work ethic," he says. "They've both established that they're not interested in being a locker room warrior and building a case for themselves."
Andersen said he plans to allow the quarterbacks to take contact in fall camp in order to help decipher the differences in the two quarterbacks.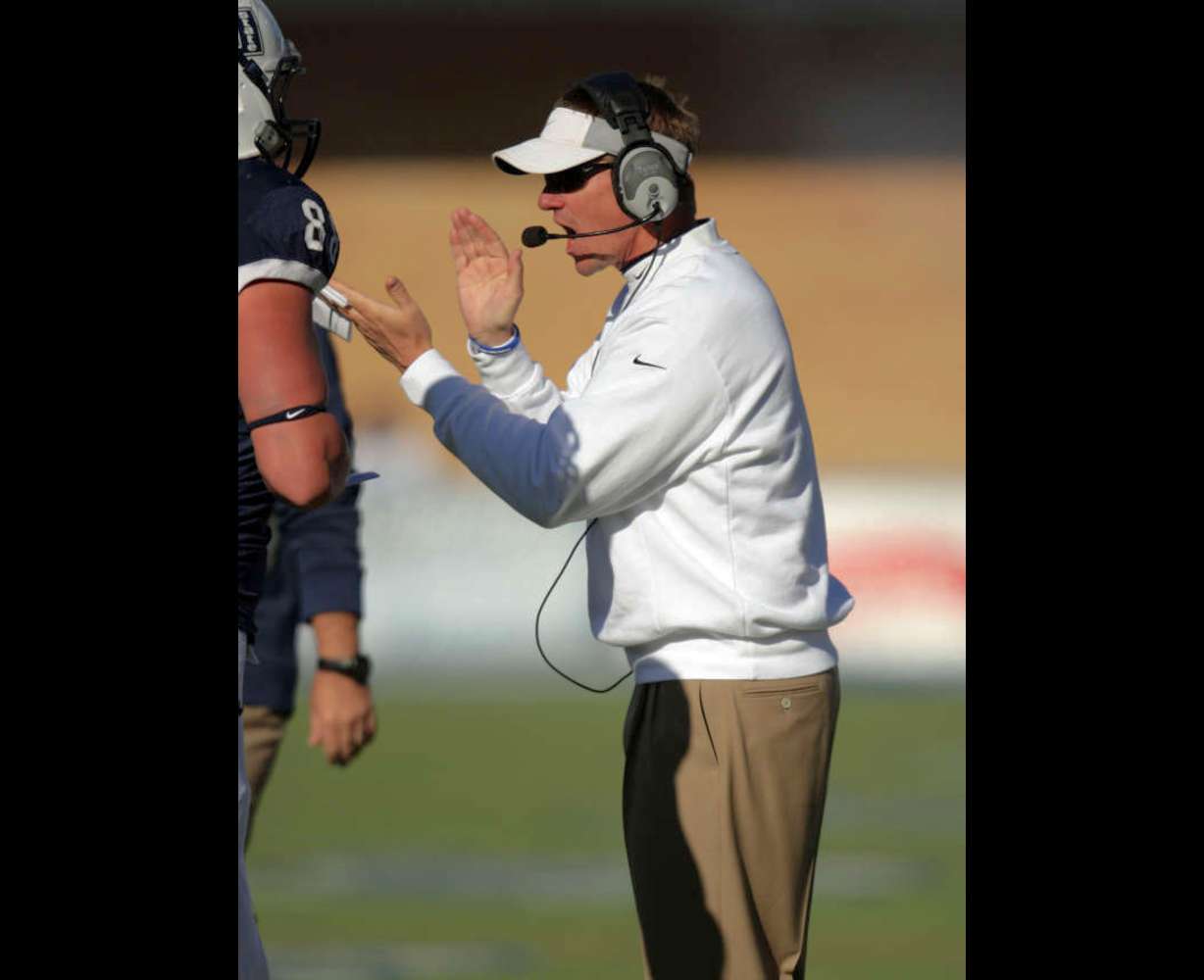 "At the end of the day it's going to be a very tough call but they've been head-to-head in two situations and they'll be head-to-head again," he says. "May the best man win at the end. I believe this, there is room for both of them to play and I think they'll both have very successful years."
Whichever quarterback earns the starting job, they will get to lead the Aggies through a challenging non-conference schedule that features BYU, Utah and a trip to Camp Randall to face defending Big Ten champion Wisconsin.
The Aggies have come very close to knocking off a big time college football program in recent years. They battled Texas A&M in 2009, gave Oklahoma a scare in 2010 and we all know what happened last year at Auburn. The Aggies are still longing for that signature win over a national power that would earn respect for the program around the country. Andersen is excited for another chance this fall at Wisconsin.
"It's unbelievable what those games do for us in recruiting," he says. "It would be huge to get a win on those stages," he says. "It's really important for us to go and play well."
There were changes in the coaching staff during the off-season. Matt Wells replaces Dave Baldwin as offensive coordinator and Dave Aranda takes over defensive coordinator duties from Andersen as he tries to place more focus on the responsibilities that come with being a head coach.
"It was time that I take a step back and be able to look at the program as a whole," he explains as the reason for the decision. "I want to be more involved in recruiting and I want to wake up every single morning and walk in the office and know that I can put the kids in the program first and that is hard to do when you are a defensive coordinator."
Utah State opens the 2012 season at home against Southern Utah on Thursday, August 30th.
×
Most recent Sports stories