Estimated read time: 3-4 minutes
This archived news story is available only for your personal, non-commercial use. Information in the story may be outdated or superseded by additional information. Reading or replaying the story in its archived form does not constitute a republication of the story.
SALT LAKE CITY — Some people try to count the number of stars in the sky. Others try to count the number of preseason stars for one Utah star named Star.
Confused? Me too.
Utah's defensive tackle Star Lotulelei has been added to yet another preseason watch list, this time being recognized by the Rotary Lombardi Award which is given to the nation's top college lineman or linebacker.
Could he be the NCAA's top defensive player?
He's already been named to the Bednarik Award and the Bronko Nagurski Trophy watch lists, which both honor the nation's best player on the defensive side of the ball.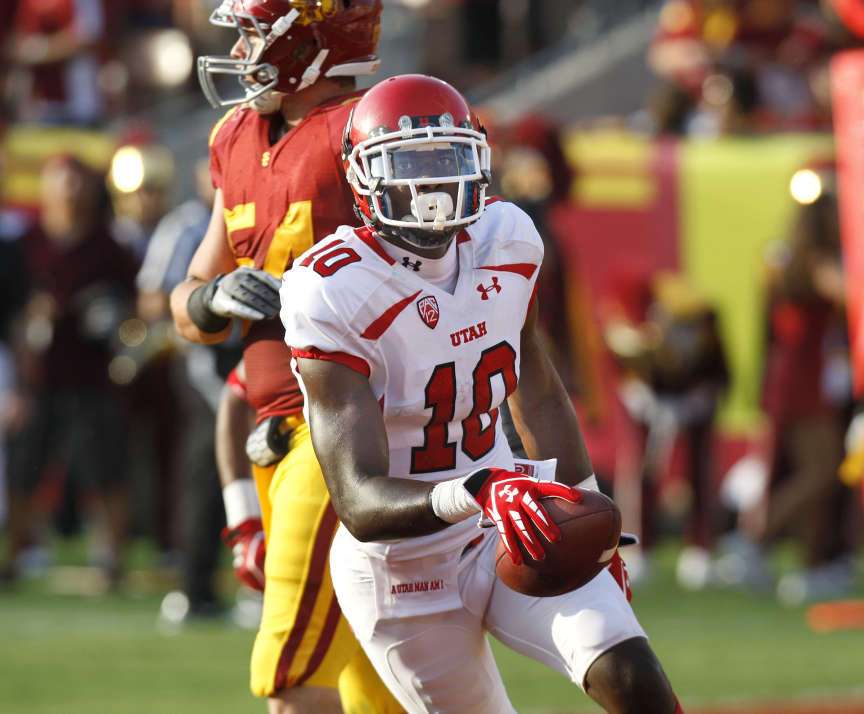 He has also been added to the Outland Trophy watch list, which recognizes the NCAA's top interior lineman.
Obviously we won't know for sure until the end of the season, but it is recognition well deserved for the 6'4", 325 pound senior.
Lotulelei isn't the only Ute that has been given preseason recognition. Senior wide receiver DeVonte Christopher has earned a place on the Biletnikoff Award watch list, given to the nation's best wide receiver.
Christopher's recognition makes five Utes that have now made preseason watch lists. Along with Lotulelei and Christopher, senior running back John White, senior center Tevita Stevens and senior punter Sean Sellwood have also been nominated. Below are the individual watch lists for each player.
Player
Award
Given To
Notes
**DT Star Lotulelei**
Bednarik Award
Top defensive player
Lotulelei was the Pac-12's best defensive lineman in 2011, making first-team all-conference and winning the league's Morris Award. He has been named a preseason first-team All-American by Phil Steele and Blue Ribbon Football Yearbook and is Blue Ribbon's preseason Pac-12 Defensive Player of the Year. Some analysts have projected the 6'4", 325 pound senior as the No. 1 pick in the 2013 NFL draft.
Bronko Nagurski Award
Top defensive player
Outland Trophy
Top interior lineman
Rotary Lombardi Award
Top lineman or linebacker
**C Tavita Stevens**
Rimington Trophy
Top center
Stevens, who moved to center last season after two years as a starting offensive guard, has played in all 39 games in his three years at Utah with 36 starts. He is one of 51 members of the Rimington Trophy Watch List, which includes five Pac-12 centers.
**P Sean Sellwood**
Bednarik Award
Top punter
Sellwood has been Utah's starting punter since 2009 when he was a Freshman All-American by Rivals.com and Phil Steele. Sellwood ranks in the top five in school history in career 50-yard punts (36), total punts (152) and punt yards (6,562).
**RB John White IV**
Maxwell Award
Top player
White, a Heisman candidate, who finished second in the Pac-12 and 11th in the nation in rushing (116.8 yards per game) a year ago as a junior, broke a 29-year-old school record by rushing for 1,519 yards. Second-team all-Pac-12, honorable mention SI.com All-American and the Sun Bowl MVP, White led the league and ranked third in the nation in carries (316) in his first NCAA season.
**WR DeVonte Christopher**
Biletnikoff Award
Top wide receiver
Christopher, Utah's leading receiver for the past two seasons, has five career 100-yard games. In 11 games last year (he missed two games with an ankle injury), he caught a team-high 42 passes for 663 yards and five touchdowns. Christopher caught the game-tying touchdown pass in the Sun Bowl on fourth-and-14 and Utah went on to beat Georgia Tech in overtime.
×
Related Stories