Estimated read time: 3-4 minutes
This archived news story is available only for your personal, non-commercial use. Information in the story may be outdated or superseded by additional information. Reading or replaying the story in its archived form does not constitute a republication of the story.
SALT LAKE CITY — Expectations for Marvin Williams in Atlanta were almost impossible to live up to. He was the 2nd overall pick in the 2005 Draft, a draft loaded with talent. He was selected ahead of Deron Williams and Chris Paul who have become superstars. He won't have to worry about those expectations in Utah as he begins a new chapter in his career.
"I'm excited. I'm definitely excited, "he says about becoming a member of the Utah Jazz. "I've been in Atlanta the last seven years and that's all I've ever known. A new opportunity to play with new guys, a new coach, live in a new city, it's all going to be something new for me so it's definitely an exciting time for sure."
Related:
Williams has had many battles against the Jazz during his career including last year's four-overtime classic in Atlanta. Those battles have left a lasting impression on him.
"They compete," he remembers. "Every last one of us in the locker room was like, man, Utah never went away. The Coach kept coaching to the end of the game. Players kept playing to the end of the game. It didn't matter who was out on the floor. It's exciting to be a part of a team that plays that hard."
He also very aware of the passion that Jazz fans bring to the arena every night. He looks forward to getting cheered by Jazz fans instead of jeered by them.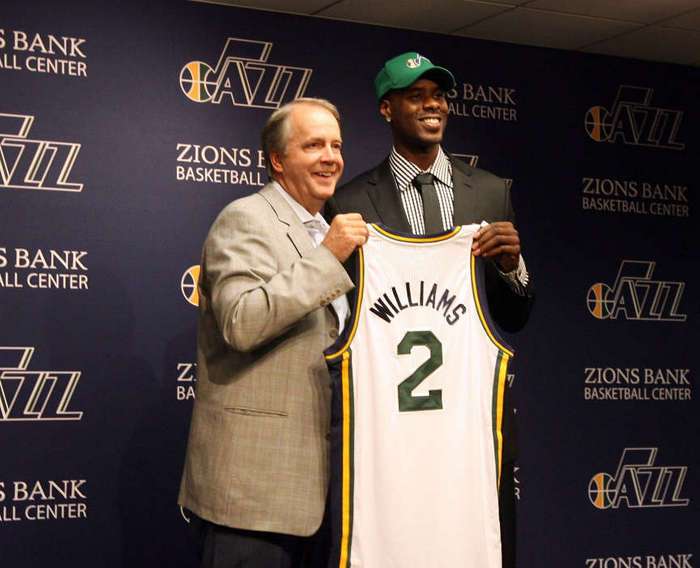 "Every time I've come here it's been very, very tough to sneak a win out of this place," he says with a grin. "It's always so loud. So any time you get a chance to play for an organization like that its really going to be fun."
He downplays the expectations he dealt with in Atlanta that came with being the 2nd overall pick.
"The only expectations I feel I have to meet are my own," he says. "I don't play basketball to meet people's expectations."
He doesn't know what role he will play with the team and hasn't had a chance to meet with Kevin O'Connor or Ty Corbin who are in Orlando for Summer League. He will meet with them soon in Chapel Hill where he is attending classes at the University of North Carolina.
"You know, I've been in the league, this is coming up on my 8th year," he says. "I've been to the playoffs before so I've won a little bit. Hopefully I can just come in and play my game. Hopefully my game really fits in with the Utah Jazz and I can help take this organization to the next level."
Related:
Marvin is also excited to move back West. He grew up in the Seattle area and is excited to be closer to family. He had no reservations about coming to Utah, with the exception of maybe one thing.
"I know it gets cold up here. I know it snows a lot," he says with a laugh. "I don't know much about Salt Lake City I'll be honest with you but I didn't know much about Atlanta either. I'm definitely excited to be back out Wes. My family is from the Seattle area so they'll be a little closer to me now. I'm sure they are excited about that too, so, no, there wasn't one negative thought at all in my mind about going to Utah for sure."
×
Photos
Related links
Related stories
Most recent Sports stories